Asia's Big LNG Buyers Need More Contracts: WoodMac
Uncontracted demand by the world's seven largest LNG buyers could quadruple to 80mn metric tons/yr by 2030, forecasts consultancy Wood Mackenzie.
The seven - CNOOC, CPC of Taiwan, Japan's Jera, South Korea's Kogas, PetroChina, Sinopec and Tokyo Gas - together account for more than 50% of the global LNG market. After a number of quiet years, these northeast Asian buyers (three of which are Beijing-based) have resumed global LNG contracting activity, with over 16mn mt/yr contracts announced this year.
WoodMac research director Nicholas Browne said China's quest for a lower-emission economy means its demand for gas and LNG has grown significantly, a trend that would continue.
The consultancy predicts that 2019 could be a record year for LNG project sanctions, with over 220mn mt/yr targeting final investment decision (FID). Some of the less prepared or competitive will slip into 2020 and beyond but nonetheless a bumper year beckons, it said, adding that front-runners to achieve FID include the $27bn Arctic LNG-2 project in Russia, at least one project in Mozambique and three in the US, with some expansion and backfill projects in Australasia also in the running.
While oil indexation will continue to dominate Asian LNG markets, buyers there may be more inclined towards hub indexation to boost diversity and enable sales to Europe, said Browne.
US LNG developer Tellurian last week initialed a 15-year supply agreement to Swiss trader Vitol for 1.5mn mt/yr based on Platt's Japan Korea Marker (JKM), one such index.
NGW Magazine recently reported that most analysts forecast a global LNG supply deficit of about 65mn mt/yr by 2025, with developers keen to fill that gap in the expanding market; the article included detailed analysis of the export projects looking to achieve FID between now and end-2019.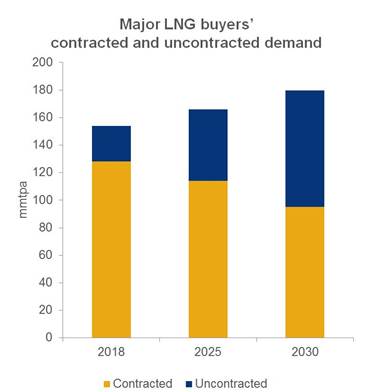 Graphic credit: Wood Mackenzie