Gazprom urged to release more gas
Gazprom's flows were in September down both vs last year (-8.7%) and versus last month (-5.3%).
Gazprom's Europe Monthly Exports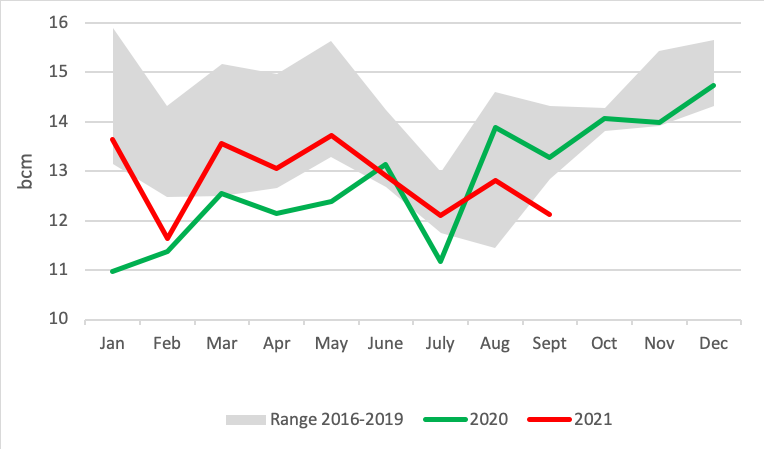 Source: Gazprom, Entsog, thierrybros.com
Year-to-date, Gazprom exported 4.6bn m3 more than in 2020 (+4.2%) but 9.5bn m3 less (-7.6%) than the 2017-2019 average. In light of the pandemic, we should compare 2021 with pre-2019 and not 2020, when the economy was severely affected by the pandemic.
Gazprom[1] produced 17.3% more gas in January–September of 2021 than in the same period of last year and exported to the countries beyond the former Soviet Union 15.3% more. The difference with our European numbers can be explain partially by the different geography (exports to Turkey outside our European number grew by 138.3%). The increased production benefited first Russia and then the countries the closest; the further away from the field, the lower the increase.
Gazprom's Europe Jan-Sept Exports from 2017 to 2021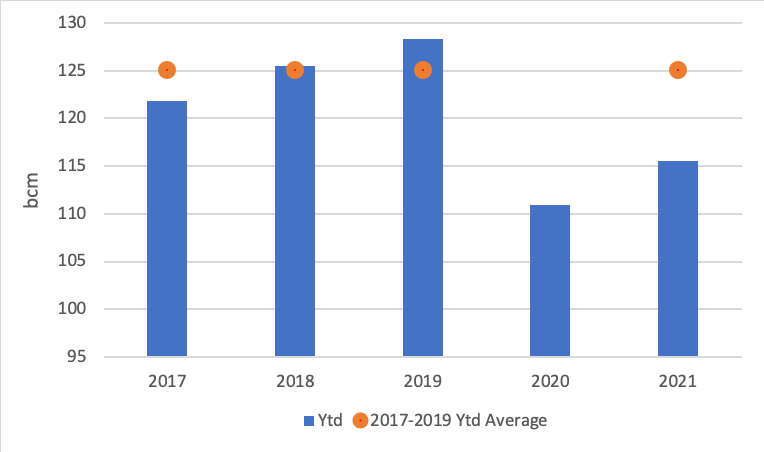 Source: Gazprom, Entsog, thierrybros.com
The transit deal signed in December 2019 between Gazprom and Naftogaz provides for 40bn m3 of transit volumes in 2021. As the 40bn m3 should represent a uniform flow of 110mn m3/day, any lower historical flow cannot be mitigated by higher contracted flows. For higher flows, Gazprom needs to book additional capacity with the operator Gas Transmission System Operator of Ukraine (GTSOU), as it already did last year. But Gazprom seems, so far, unwilling to do so, with transit volumes via Ukraine capped at the maximum contracted allowances.
On October 1, Hungary and Croatia started receiving Russian natural gas via a new route[2]. As the gas is now supplied by the TurkStream gas pipeline we should see further increase in volumes via this pipe.
Split of Gazprom's Europe Monthly Exports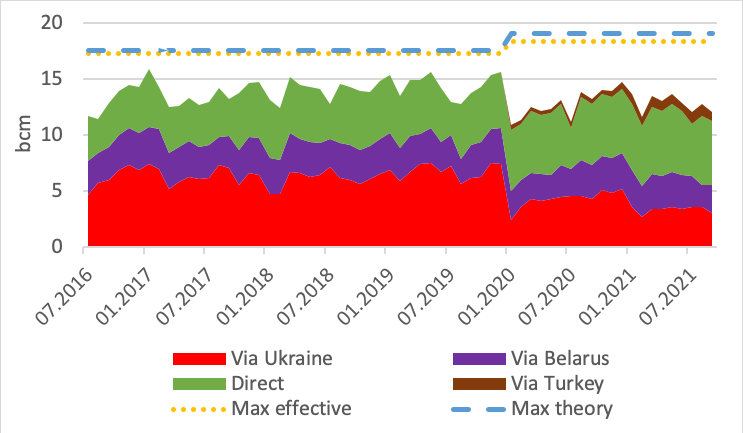 Source: Gazprom, Entsog, thierrybros.com
LNG send outs were again down versus last year as high prices in Asia are still making Europe slightly less attractive. Year-to-date, Europe LNG regasifcation is down by 20bn m3 versus last year, but fortunately up 8bn m3 vs the historical pre-Covid average.
European (excl. Malta) LNG send outs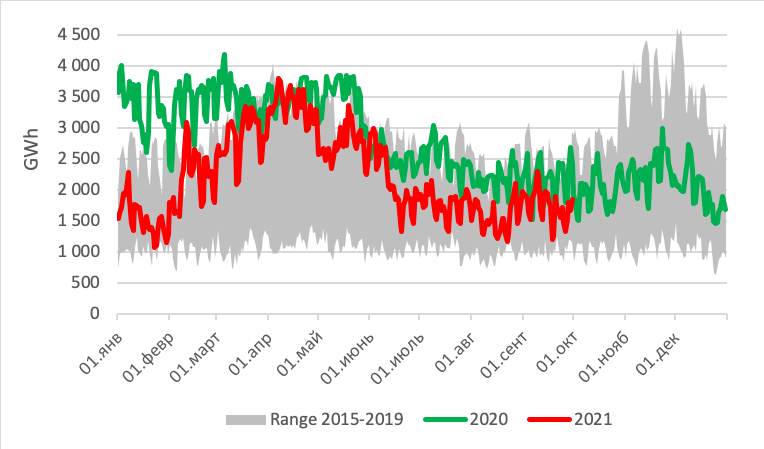 Source: GIE, thierrybros.com
On April 19, Europe's gas storage was at its lowest (29.1% full) before a delayed feeble injection period. Persistent limited Russian and LNG flows are pushing storage lower than its 2015-2019 historical range, leading to record high TTF prices. Storage levels are starting the new gas year at a worrying 9bn m3 below the past record low (2018) and 17bn m3 lower than the historical average. In 2020, withdrawal started on October 12, leaving us not very long to continue to inject.
European storage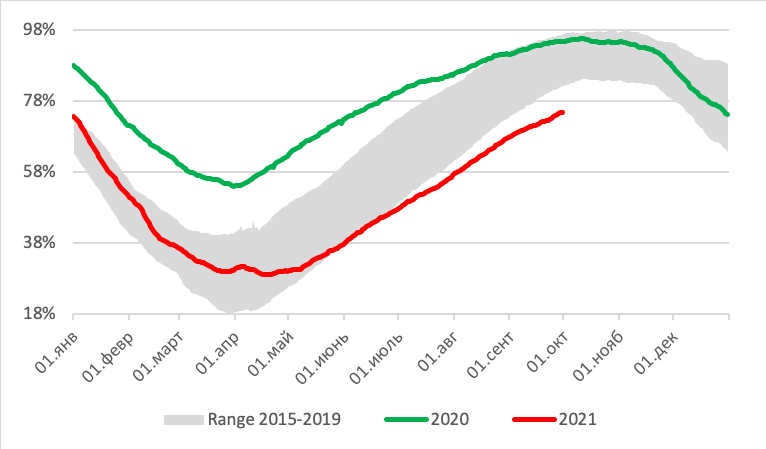 Source: GIE, thierrybros.com
As the "energy crunch" is worsening with record breaking electricity, gas and CO2 prices in Europe, on September 21 , the IEA asked[3] Gazprom for more gas to be exported to Europe. But I believe Gazprom is waiting for the EU Commission to take an official position before exporting more. It needs in particular the insurance that if its market share increases (and it will if it exports more), the EU will not initiate a competition inquiry on its spare capacity use [4]. But unfortunately for final customers that are going to face skyrocketing energy bills, no policymaker in Brussels seems to notice/care as they are focused on their net zero 2050 hydrogen scenarios and don't want to be seen as moving from dogmatism to pragmatism. And the longer it takes for this to happen at the EU level, the less spare capacity Gazprom will effectively have as the winter is starting soon.
The grand EU 'Green Deal' or 'fair energy transition' launched by Ursula von der Leyen when taking the helm of the EU Commission back in December 2019 is turning under her own eyes into an unfair climate disaster where customers pay more and EU emissions are worsening.
Gas spare production capacity (on an annualised level)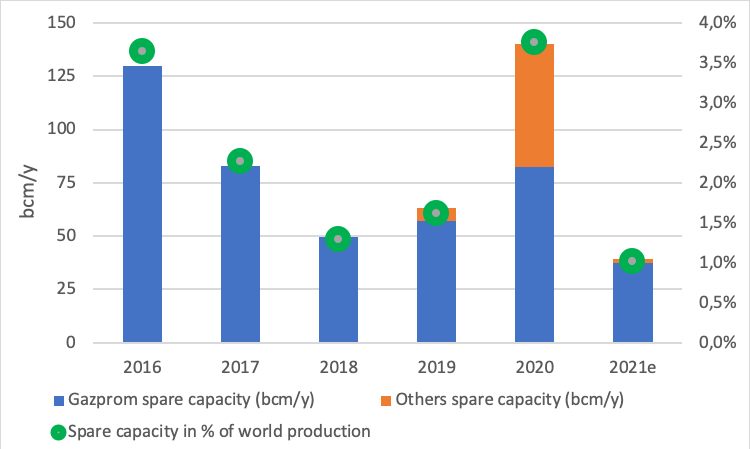 Source: thierrybros.com
Gazprom's exports to the EU (volumes and market share)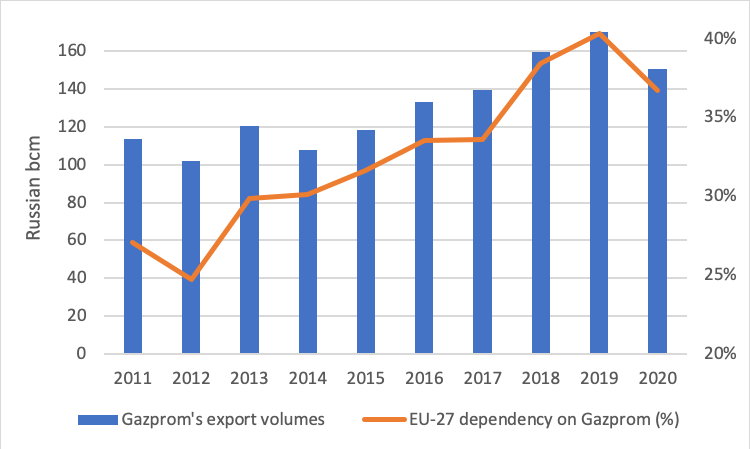 Source: Gazprom's export, BP Statistical Review, thierrybros.com
On September 24, the Dutch government announced that the output at Groningen will be cut by more than 50% to 3.9bn m3 in the 2021/2022 gas year, which will be the last year of regular production. This policy will not help ease the gas crunch, and potentially lead to Gazprom increasing its market share further.
Groningen yearly production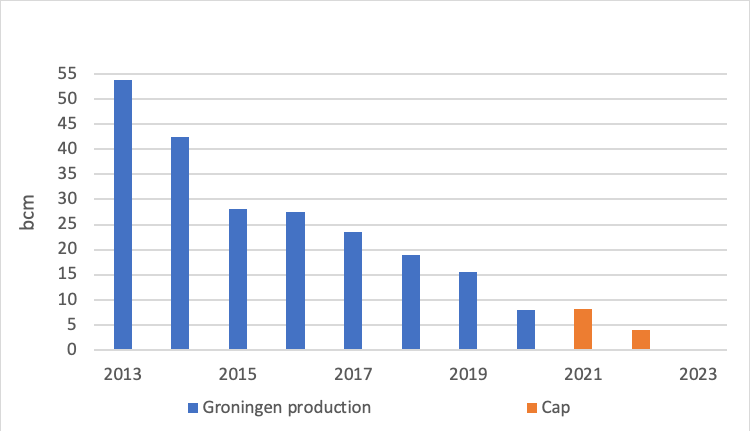 Source: NAM, thierrybros.com
The Nord Stream saga continues. Now that the pipe is fully built[5], they are still numerous hurdles ahead (certification[6], insurance, formation of a new German government, etc.).
Dr. Thierry Bros
Professor at Sciences Po Paris & Energy Expert
October 2, 2021
---