What is the outlook for hydrogen? [Gas in Transition]
What is the outlook for hydrogen? Few questions are as difficult to answer in the energy business today as this one. Views differ widely.
If you ask the Australian "iron ore billionaire" Andrew "Twiggy" Forrest, the answer is: huge. In a speech to the Clean Energy Council's "Infinite Australia" webinar in August, Forrest said the renewable (green) hydrogen industry could grow to A$16 trillion (US$12 trillion) by 2050, "way more than any industry that exists today."
Advertisement:
The National Gas Company of Trinidad and Tobago Limited (NGC) NGC's HSSE strategy is reflective and supportive of the organisational vision to become a leader in the global energy business.
Forrest's own plan with his new company Fortescue Future Industries (FFI) is to make green hydrogen the "most globally traded seaborne energy commodity in the world". His ambition is to produce 15mn metric tons by 2030 and 50mn mt by 2050. To compare: the US produces some 10mn mt/yr of "grey" hydrogen today.
Clouds of smoke
"We've secured agreements with countries all over the world to develop significant renewable energy sources to produce renewable green hydrogen. We will also aggressively pursue projects across Australia and develop renewable energy at an unprecedented scale," Forrest said.
FFI has over AU$1.1bn to invest, "and no debt". "It is a renewable green hydrogen company, plus green ammonia and green products, and they will all come together to finally crack the code to decarbonising heavy industry, including our own," said Forrest, who is still chairman of the Fortescue Metals Group, which he founded in 2003.
"It's a plan we've been thinking about for ten years, working on for four, and gone into overdrive over two years ago," he explained.
He told the audience of his personal experience in August: "Last week, I bore witness to their efforts [at Fortescue Metals Group]. Instead of the huge clouds of smoke and noise I am used to when major equipment starts, like haul trucks and bulk trains – I was greeted with silence, which I thought was the sound of the future. And no smoke. The vision of the future. I became only the third person in the world to drive a hydrogen fuel cell haul truck, which operated at least as well as its diesel-driven predecessor, whilst witnessing also ammonia firing train engines and ship engines. 130 days. That's all it took for these massive technical breakthroughs to happen in my company."
According to Forrest, Australia's "greatest natural resource isn't iron ore, it isn't gold, it isn't gas, it's certainly not oil or coal, it is green hydrogen. Hydrogen is by far the most common element of the universe. We aren't going to run out of it anytime soon. It makes up 75% of the mass of the universe. To make it, all you need to do is run electricity through water. When that electricity is from 100% renewable electricity, the result is green hydrogen, the only clean source of energy in the world, and one that could replace up to 75% of our emissions, if we had the technology and the scale today."
Forrest, who admitted that his company's hydrogen achievements could not have been made without "government and public support", roundly rejected the idea of blue hydrogen made from gas with carbon capture and storage (CCS). "We do not have time to invest precious attention and resources into false solutions, and I fear this distraction will undermine the global effort for real renewable green hydrogen."
"The oil and gas sector," he said, "is preying on public hope, and the political opportunism this allows – by allowing the colours of the rainbow and calling it clean hydrogen, which of course, being made from fossil fuels, it is anything but. Blue, grey, pink, yellow hydrogen is not renewable green hydrogen. They are made from fossil fuels, which studies now confirm are more carbon emitting than if they were simply burnt as fossil fuels."
Australia takes lead
Australia certainly seems to be the place where hydrogen is happening. Not surprisingly given the large wind and solar resources of the country. In recent weeks one after the other announcement was made of new mostly "green" hydrogen projects.
For example, BP had a feasibility study carried out which concluded that "production of green hydrogen and ammonia using renewable energy is technically feasible at scale in Australia," adding that "Western Australia is ideally positioned for green hydrogen and green ammonia production." The oil company is planning to build a 34.5 MW demonstration plant north of Perth with a view to ramping it up to 2 GW electrolyser facility to be fed by 4 GW of wind and solar capacity.
In August, the Australian website Reneweconomy reported that "the $10bn Clean Energy Finance Corporation is looking to make its first significant investment in green hydrogen". The CEFC has played a key role in Australia's emissions reductions to date," notes Reneweconomy. It has allocated A$7.4bn in a range of renewable energy technologies. In the coming years it CEFC expects to invest in "some significant green hydrogen projects."
The CEFC has around A$300mn earmarked for green hydrogen, but the biggest allocation it has made to date is A$750,000 to an innovative electrolyser production technology developed at the University of Wollongong, according to Reneweconomy.
In other announcements, Australia's biggest energy retailer Origin Energy and the country's most successful renewable energy developer, Neoen, have signed deals with leading Japanese companies to develop green hydrogen and green ammonia opportunities.
Origin's agreement is with global shipping major Mitsui OSK Lines "to jointly investigate opportunities to support export-scale green ammonia in Australia, with green ammonia projects up and running and supplying downstream markets from 2026."
Origin is "looking at a number of export scale green hydrogen opportunities across Australia, including in Bell Bay, Tasmania." The company made an agreement with Eneos, which wants to develop an Australian supply chain for an "affordable and stable supply of CO2-free hydrogen (green hydrogen) produced from renewable energy."
Premature
All told, Australia has 35 green hydrogen projects in the pipeline with a total of 38 GW of capacity, according to a report from Norwegian consultancy Rystad Energy. They are owned by a range of players "including big miners BHP, Fortescue and Anglo American, gas company Woodside, financial firm Macquarie Capital, and electricity companies including Origin, Jemena, Stanwell and Pacific Hydro – as well as renewables and hydrogen specialists like Countrywide, Austrom and Hydrogen Renewables Australia."
Yet, to speak of a green hydrogen revolution in Australia would be premature. Most of the projects have yet to materialize, notes Rystad. According to the consultancy, their viability depends upon "massive cost reductions". Currently it costs A$5 to produce one 1 kg of green hydrogen in Australia. The government has a target to reduce this to A$2. That is "unlikely to happen without massive subsidies", said Rystad.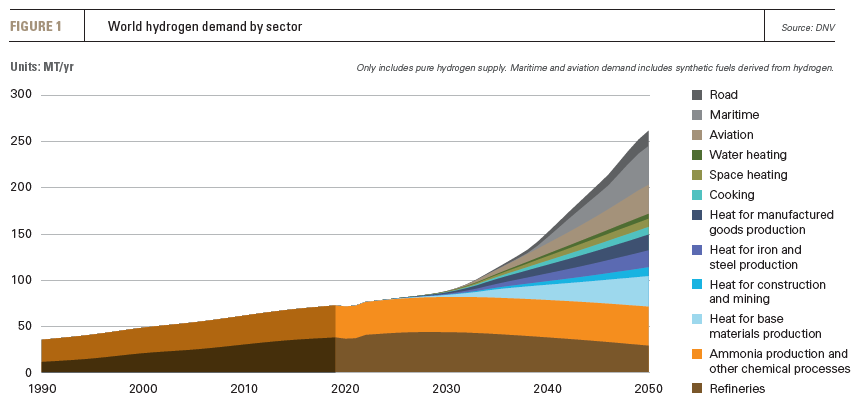 Three things need to happen, according to the report. First, the cost of electrolysers needs to fall. Second, the cost of solar and wind power needs to be reduced. And third, hydrogen producers have to "figure out a way to get maximum usage out of their electrolysers". All of this is unlikely to happen "over the next decade", said Rystad.
Similar points are made in a short paper by Andrew Montford of the Global Warming Policy Forum, a UK group sceptical of current climate policies. Montford presents calculations of the cost of green hydrogen based on offshore wind power, which is the most widely available source of renewable energy in the UK. He concludes that the cost would be "at least" £7.26 per kilogram of hydrogen, of which £6 is ascribed to the cost of the electricity. This is exclusive of the cost of building a new distribution network.
Translated into kWh, the minimum cost would be 19p/kWh, compared to 4p/kWh for natural gas when applied to domestic heating. In electricity generation and personal transport, green hydrogen made from offshore wind power would also be highly uncompetitive, notes Montford.
Many takers
In the new edition of its annual Energy Transition Outlook, published on August 31, international energy consultancy DNV presents a positive outlook for hydrogen, but still a far cry from Andrew Forrest's vision that sees hydrogen becoming the number one source of energy in 2050.
According to DNV, world hydrogen demand is likely to increase from around 75mn mt/yr today to over 250mn mt/yr in 2050. That's a three-fold increase, but hydrogen would still be just 5% of the total energy mix by mid-century.
DNV sees limited potential for hydrogen in the building sector. Only 1.8% of energy use in buildings will come from hydrogen in 2050, according to the report. In road transport, hydrogen would supply just 3% of energy worldwide in mid-century. The report notes that hydrogen fuel cells are "only half as energy efficient, more complex and more costly" than battery electric vehicles.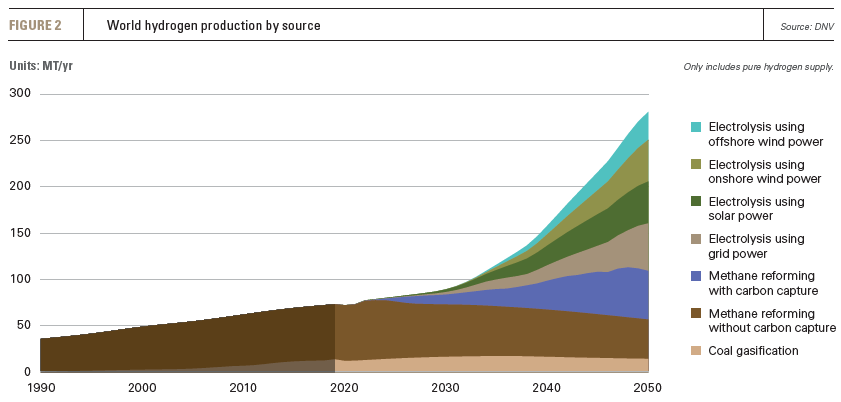 DNV does see solid potential for hydrogen in maritime transport, aviation (in the form of synthetic hydrogen-based fuels) and particularly in industrial heat applications, where the market share of hydrogen could be 90% in 2050.
When it comes to the supply of hydrogen, DNV also has a different vision than Forrest: blue hydrogen will continue to be a major source, although it will be overtaken by green hydrogen in the 2040s.
DNV assumes that "economy scale-up and systems learning, as well as increased availability of cheap electricity in the long run, will make electrolysis-based hydrogen production more competitive."
It notes that as the amount of variable renewable electricity production grows, grid-based electrolysis will increasingly be able to make use of favourable hours when there are surpluses of electricity available. This will reduce costs considerably. However, it adds that "there are many takers for such cheap electricity: demand response, pumped hydro, battery electric vehicles (storage) and utility-scale batteries."
China and US
Certainly both China and the US, the two biggest energy players, have no intention of excluding blue hydrogen from their energy mix. Independent Commodity Intelligence Services (ICIS) reported recently that under the Beijing Hydrogen Industry Development Implementation Plan (2021-2025), China is planning to build a $15bn hydrogen industry chain in the Beijing area.
"Building up a comparatively mature hydrogen industry is targeted before 2025, with 10-15 top industry players that are globally competitive," notes ICIS. "By 2023, Beijing plans to set up 37 hydrogen filling stations and have 3,000 vehicles using hydrogen fuel battery. The same number of filling stations will be installed by 2025 and the number of hydrogen-powered vehicles will exceed 10,000 units, based on the plan."
At the same time China's Sinopec is planning to spend $4.6 billion on hydrogen by 2025, according to Reuters. This is part of a "pivot" to "natural gas and hydrogen" which the oil company is pursuing. Sinopec will "expand forcefully into making hydrogen from renewable energy", in addition to producing hydrogen from natural gas, notes Reuters.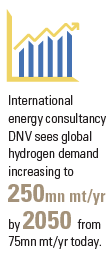 Strikingly, Sinopec, like Beijing, is particularly targeting the transport market. It seems that in China there is a stronger belief in the possibility of hydrogen for use in transport than is prevalent in Europe and North America.
In the US, Bakken Energy recently announced that it has reached an agreement with Midwestern utility Basin Electric Power Cooperative to purchase the Great Plains Synfuels Plant in North Dakota, which currently produces synthetic natural gas from coal. In partnership with Mitsubishi Power Americas, Bakken plans to transform the plant into the nucleus of a clean hydrogen hub that will produce the fuel, according to an article in E&E News.
The North Dakota plant will produce about 310,000 mt/yr of blue hydrogen and capture 95% of its carbon emissions, Basin Electric said. "Clean hydrogen production facilities typically take up to 10 years to become operational, notes E&E News, "but Bakken Energy CEO Mike Hopkins said the North Dakota hub will cut that time in half and slash costs by repurposing the existing equipment at the plant."
---
Download your complimentary copy below: