WB, Azerbaijan Sign Tanap Loan
World Bank and the the government of Azerbaijan January 16 signed a $400mn loan agreement funding the TransAnatolian gas pipeline (Tanap) that will deliver Caspian gas to Turkey and Europe.
Tanap, part of the southern gas corridor project (SGC), will transport natural gas from the Shah Deniz field in Azerbaijan to and across Turkey, and further to Europe, aiming to diversify Azerbaijan's gas export markets and improve the security of the energy supply in Turkey and southeastern Europe, the bank said.
Besides Tanap it includes the development of the Shah Deniz 2 field; an expansion of the South Caucasus pipeline across Azerbaijan and Georgia to Turkey; and the TransAdriatic pipeline (TAP), which carries the gas through Greece and Albania and under the Adriatic Sea to southern Italy.
The loan will be provided by the International Bank for Reconstruction and Development with the guarantee of the government. The deal was signed by the SGC Joint Stock Company (SGCC) head Afgan Isayev and WB regional director for the South Caucasus, Mercy Tembon, in Baku.
"We are very pleased to sign today the legal agreements for Tanap, culminating many months of the hard work of teams from the WB and Azerbaijan", she said. "We strongly believe that this project will bring many benefits to the people of Azerbaijan by improving the country's regional trade and competitiveness, and expanding its exports."
Reflecting the importance of SGC for all the countries involved, a number of international financial institutions supports it. WB also approved $400mn loan for Botas, Turkey's pipeline company and also a shareholder of Tanap.
Asian Infrastructure Investment Bank (AIIB) is co-financing the project together with WB and it approved a $600mn loan for Tanap in December 21. Asian Development bank approved a $1bn loan for Shah Deniz expansion December 7.
Tanap accounts for over half the 3,500-km SGC, beginning at Turkey's border with Georgia and ending at the Greek border where it feeds into the TAP which will convey the gas to European markets. Construction of the upstream and midstream elements of the integrated project is already under way.
Southern Gas Corridor project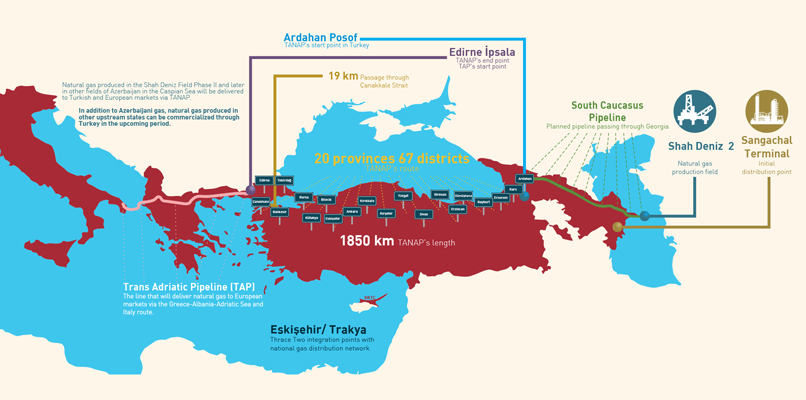 (Source: Tanap)
Azerbaijan is also waiting for approval of a guarantee of some $1.2bn on the loan for the Tanap by the Multilateral Investment Guarantee Agency (MIGA).
"The guarantee is expected to help draw in commercial banks that will contribute to long-term financing needs of the project. Reinsurance capacity is also expected to be mobilized," SGC sources said.
Azerbaijan desk