Wartsila's Chinese JV Plant Formally Operational
CSSC Wartsila Engine Co, the joint venture company formed between Wartsila and China State Shipbuilding Corporation, has formally opened its new production facilities at Lingang, Shanghai, Wartsila said January 9.
The new 20,000 m² production plant is the first in China capable of locally producing large-bore, medium speed diesel and dual-fuel (DF) engines. The plant will also manufacture medium-bore, medium speed diesel and DF engines. Wartsila 26, Wartsila 32, Wartsila 34DF, Wartsila 46F and Wartsila 46DF engines will be produced at the factory, which has a planned production capacity of 180 engines annually.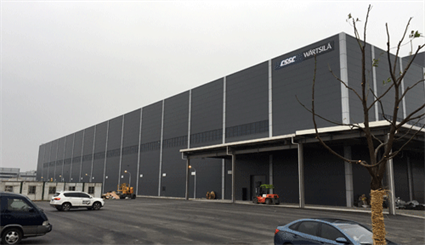 The newly inaugurated plant in Shanghai (Credit: Wartsila)
CWEC has already booked orders for more than 70 engines and is focused on the cruise, ferry, LNG carrier, offshore, special vessel, and large container ship markets.
"It is an honour to be sharing this day with our joint venture partners, CSSC, one of China's most modern industrial corporations. Together, we are supporting China's shipping industry's move into the age of LNG fuel," commented Wartsila's president & CEO, Jaakko Eskola at the opening ceremony.
Three separate agreements were signed during the day's events. The first was a three-party strategic co-operation agreement between CWEC, Wartsila, and Hudong-Zhonghua Shipbuilding Group, a subsidiary of CSSC. The three companies will work closely on new build vessel project opportunities for engines and other marine equipment.
The other agreements signed were letters of intent with ENN (Zhoushan) LNG Co (ENN) and Ningbo Xinle Shipbuilding Group. The LoI with ENN is for the supply of Wärtsilä 34DF dual-fuel main engines for an 8,000 m³ LNG bunkering vessel. There is an option for a second such vessel. The LoI with Xinle is for Wärtsilä 34DF dual-fuel engines for two 7,500 DWT cement vessels.
The joint venture was established in July, 2014 with CSSC holding 51% of the shares and Wartsila the remaining 49%.
---
Natural Gas World welcomes all viewpoints. Should you wish to provide an alternative perspective on the above article, please contact editor@naturalgasworld.com
Kindly note that for external submissions we only lightly edit content for grammar and do not edit externally contributed content.