Fort St John mayor Lori Ackerman: voice of reason
The Peace Region in the northeast corner of the Canadian province of BC is a sparsely-populated – less than 70,000 residents – mix of mountains, foothills and plains covering some 120,000 km2 – about the size of North Korea, which is home to more than 25mn people. With those demographics, it's the least populous region of BC – but it is also Ground Zero for the province's – and Canada's – emerging LNG industry.
Virtually all of the feed gas for both the 14mn mt/yr first phase of the LNG Canada project at Kitimat, on BC's northern coast, and the much smaller 2.1mn mt/yr Woodfibre LNG project further south, at the head of Howe Sound north of Vancouver, will come from the prolific Montney shale gas basin. And the great majority of that basin lies within the boundaries of the Peace River Regional District – Peace Country, as it's known by locals.
Fort St John is the largest city in Peace Country, but with a population of about 21,000, that's not saying too much. Still, it's the service hub for most of the Montney basin, in particular Anglo-Dutch Shell's Groundbirch field, just south of the city, where much of LNG Canada's natural gas will come from.
And in the city's back yard is BC Hydro's Site C dam project, a mere seven km from mayor Lori Ackerman's office and the expected source of power for much of BC's future "green" LNG output. Site C is currently under construction and when completed in 2025 will deliver 1,100 MW of generating capacity and 5,100 GwH/year of electricity into the province's grid to help provide power to LNG Canada, Woodfibre LNG and the planned Chevron-Woodside Kitimat LNG facility, an 18mn mt/yr liquefaction and export terminal situated on the Douglas Channel about 10 km as the crow flies from the LNG Canada site.
To say Canada's resource industries – not just oil and gas, not just electricity, but also forestry and minerals – are important to Fort St John is something of an understatement. And to say mayor Ackerman supports those industries is an even greater understatement.
For much of her nearly 30 years as a resident of Fort St John, including her two terms on city council between 2005 and 2011 and her three terms and counting as the city's first female mayor (first elected in 2011, acclaimed in 2014 and again in 2018), Ackerman has been a vocal supporter of the resource industries in the Peace Country, throughout BC and across western Canada.
Tirelessly engaging with First Nations, with politicians from the Lower Mainland of BC and the national capital of Ottawa, where the oil and gas industry is seen by many as something dirty and embarrassing, and with environmental groups who would like nothing more than to see Canada's energy industry die a death from a thousand cuts, she has brought a civil, non-industry voice to the conversation.
And for bringing that voice of reason to the conversation, the Energy Council of Canada (ECC) – the country's official representative to the World Energy Council – named her its Canadian Energy Person of the Year (CEPY) for 2019, just the second time someone from outside the industry has been recognised since the award was created in 2001.
But it's a fitting recognition – many local communities across western Canada grow alongside the oil and gas industry, and as both grow, the communities are charged with managing unique development opportunities and must chart a sustainable path through the many ups and downs that the resource industries experience.
"Balancing economic highs and lows while moving toward a sustainable future for both the community and the energy industry requires vision, tenacity and strong leadership," ECC president Jacob Irving says. "Canada is fortunate to have a leader like Lori Ackerman who sees the big picture and the local reality and is able to fit the two together for mutual benefit – there is a lot we can learn from mayor Ackerman."
True Prairie Girl
A native of Manitoba, three provinces to the right of BC, Ackerman – who's father was with Canada's national police force, the Royal Canadian Mounted Police and who's mother was a nurse – grew up in towns and cities across western Canada, eventually ending up in the late 1970s in White Rock, a small city just outside Vancouver, in BC's Lower Mainland.
"White Rock is about a half-hour drive from downtown Vancouver, where I worked," she told NGW in an interview. "One day, we got a 'snow storm' and it absolutely paralysed everyone, and that half-hour drive into work turned into an eight-hour marathon to get home again. I decided then and there that I needed to get back to some real Prairie-type weather, so my fiancé and I headed up here to Peace Country – we (and by that I mean my second husband and I) have been here ever since."
Since her arrival in Peace Country in 1980 – and her move into Fort St John in 1988 – Ackerman has raised three children, then three step-children with her second husband Andy (together, they have 12 grandchildren), and for much of that time she was a stay-at-home mom, more out of necessity than anything else.
"I'd always planned on going to college, but in my late teens there were a lot of health issues in my family – my mother was diagnosed with cancer, then my brother with a brain tumour – and college kind of moved to the back burner."
Back to school
While her kids were growing up, Ackerman maintained a full volunteer commitment in Fort St John, working with non-profit organisations that ran the spectrum from Scouts to the Chamber of Commerce to the Homeless Shelter Society. And it was during this time that she put into practice a credo her mother and father had instilled in her since childhood: "you only get from your community what you put into your community, and not one iota more."
When her youngest was in school full time she launched her long-delayed post-secondary education by enrolling in Fort St John's Northern Lights College, where she took a business management program, emerging in 1997 into what was a fairly shallow career pool in the young resource city. The only available job was as the business administrator for the Salvation Army, a Christian-based charity that ran a thrift store and the community's small food bank.
Over the next three years, Ackerman grew the Army's profile dramatically in Fort St John, opening the city's first staffed homeless shelter, expanding the food bank, establishing a five-day-a-week soup kitchen and creating a Christmas hamper program for the community's less fortunate.
"Those were the early days of the oil and gas industry in Peace Country, when the working season was limited to the winter months, when big equipment could move onto the frozen muskeg – we called it the 100 days of hell," she recalls. Fort St John was still a largely transient town, with workers arriving in the fall to work the fields over the winter, then leaving in the spring when drilling ended.
"It wasn't until the industry started using rig mats to build summer roads and drilling locations that the work got to be year-round," she says. "That transformed the face of Fort St John because now there was a reason for people to stay year-round – families could start putting down roots, start building a community, start building a city."
Innovation up close
Ackerman left the Salvation Army in 2002 to take a position as executive director of Sci-Tech North (the Science, Innovation and Technology Council for NEBC), where she worked with Peace Country entrepreneurs and innovators to help them take their ideas from concept to commercialisation.
"That was where I really got the chance to see the innovations the oil and gas industry were putting to work every day, and that was when I began to really push hard to promote the resource industries and the resource technologies that were being developed," she says. "Many people don't realize that the rigs and the processes in the petroleum industry, the saw mills, the pulp mills in the forestry industry, are not the same as they were 40 years ago. Technology has changed the industry so much, and I was blessed to see that in our innovators here."
When she was first elected to council, Ackerman saw the need to spread the innovation story beyond the confines of Fort St John and Peace Country, and she started bringing politicians and environmental groups up north to see first-hand what the resource industries – and especially oil and gas – were doing to leave a lighter environmental footprint.
She's been doing that ever since, but in the last couple of years she's seen Canada's oil and gas industry lose the reins of the conversation around energy resource development, and the result is a dramatic flight of capital out of the sector and a slow, painful choking of the industry's growth opportunities.
"I have watched this for the last two years, and honestly the understanding of the energy industry has literally disappeared," she told her Canadian Energy Person of the Year investiture dinner in Calgary early October. "There is no concept of the investment and the infrastructure that is behind a simple light switch, a plug-in, a thermostat. That's been lost, and we see that each and every day, that misunderstanding."
Dispelling fear
And that misunderstanding, she says, has morphed into a fear of the unknown, a fear that is being fed by environmental activists and Hollywood celebrities who spread half-truths and outright lies about the industry, all in the cause to fight climate change.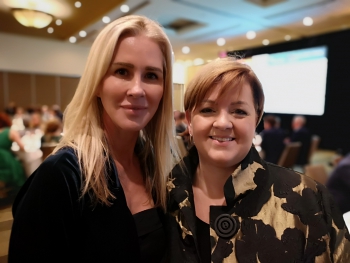 That information gap, she told her CEPY audience, must instead be filled with a respect for the rule of law, with respect for the rights of First Nations, with respect for the environment and with respect for the cultural identity of the community.
"We are Canadians, and I believe…that we can have a strong energy industry that is understood and valued, that is efficient, effective, leaves a lighter footprint, continues to provide for our quality of life, improves our life expectancy, and brings revenues to our provinces and to our nation so we can hire those nurses and teachers and our RCMP, those things that bring a foundation to our community. It may not be easy, but this is not the first battle that Canadians have fought, and won."
Ackerman doesn't speak of defeat at the hands of the energy industry's opponents; rather, she speaks of opportunities and partnerships, of the possibilities a strong oil and gas sector can bring to Fort St John, to BC, and to Canada.
"The path to success will often look like a maze, but I realize that I have made it through many mazes, and I will make it through many more," she said. "And one other thing I've learned – if you ever feel yourself too small to be effective, you've never spent the night in a tent with a mosquito."
Watch Lori Ackerman's interview with Rex Murphy here.