US To Maintain Southern Corridor Support: Envoy
Washington will continue its support for the implementation of the Southern Gas Corridor (SGC) project despite the political changes in Europe and the US, said Amos Hochstein, special envoy and coordinator for international energy affairs at the US State Department.
He was in Azerbaijan two days after the US president-elect Donald Trump nominated ExxonMobil CEO Rex Tillerson to head the State Department. According to industry sources, the purpose was to reassure the government about the next US Administration's approach to Caspian energy and the southern gas corridor.
Hochstein said Washington will go on supporting the SGC project's implementation in the same way as once it supported and realised the importance of the Baku-Tbilisi-Ceyhan pipeline.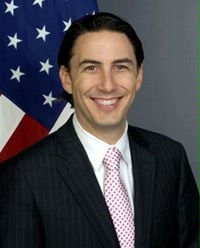 US special envoy Amos Hochstein (Photo credit: US Department of State)
"SGC is important not only for Azerbaijan, but also critical for energy and political security of Europe," he told a press conference in Baku December 15. A fuller account will be published in the forthcoming issue of NGW January 11. Trump is due to be sworn in January 20.
Azerbaijan Desk