US Spot Prices Plummet on Weather, Supply: EIA
US natural gas spot prices fell across the US at most locations in the week January 29-February 5, the Energy Information Administration said February 6. Mild weather was the main reason. Gas production has been at near-record levels although exports have also risen sharply with start-up of LNG terminals.
17 LNG vessels (eight from Sabine Pass, three each from Corpus Christi and Freeport, two from Cameron, and one from Cove Point) with a combined LNG-carrying capacity of 62bn ft³ departed the US between January 30 and February 5, 2020, according to shipping data compiled by Bloomberg.
Another source of demand, power generation, was low as very few nuclear power plants have been taken offline for maintenance.
As a consequence, storage withdrawals have been low. The average rate of withdrawal from storage is 13% lower than the five-year average so far in the withdrawal season (November through March).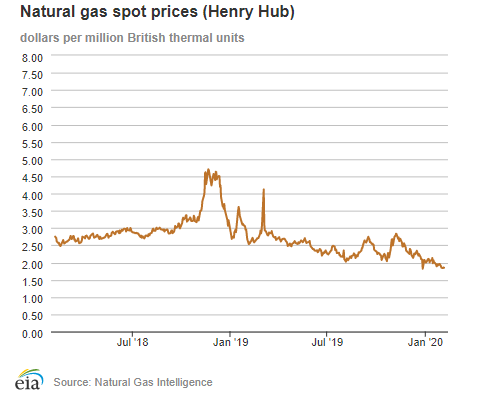 The Henry Hub spot price for March remained unchanged over the week at $1.861/mn Btu. The February contract had expired January 29 at $1.877/mn Btu. And the 12-month strip from March 1 dipped 3¢/mn Btu to $2.147/mn Btu.
Dry natural gas production in January averaged about 95bn ft³/day according to IHS Markit data and was the third-highest monthly production on record, lower than only November and December 2019. The total average total supply of natural gas remained the same as in the previous report week, averaging 99.7bn ft³/d.