US LNG Exports Up 51% Yr/Yr in July: Kpler
US LNG exports reached 3.16 mt in July, an increase of 51.2% year-to-year, data intelligence firm Kpler told NGW.
Kpler analysts expect volumes to dip slightly in August, as several trains have been offline for maintenance during this month, with the 22.5mn mt/yr Sabine Pass LNG terminal reduced to 66% of production capacity.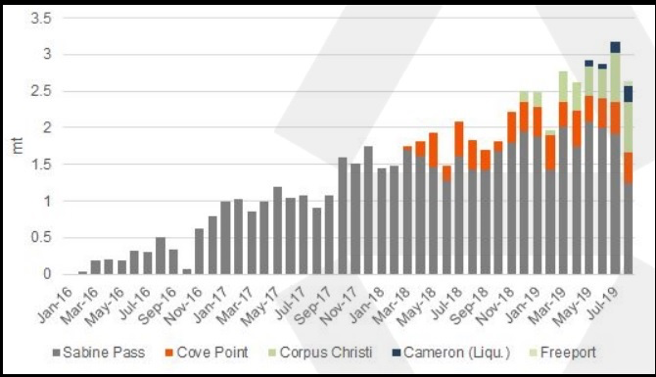 US monthly LNG exports (by origin installations), Source: Kpler
According to statistics released by the Energy Information Administration (EIA) on August 19, natural gas deliveries to US facilities that export LNG set a monthly record in July 2019, averaging 6bn f3/day (5bn m3/month) or 7% of total US dry natural gas production.
The report says pipe gas deliveries to Mexico and to LNG export terminals reached 10.9bn f3/day in July and averaged 10bn f3/day in the first seven months of this year, 30% more than in the same period of 2018.
In 1H2019 two new liquefaction trains came online: Cameron LNG Train 1 in Louisiana in May and Corpus Christi LNG Train 2 in Texas in June. Total US LNG export capacity currently stands at 5.4bn f3/day across four facilities and nine liquefaction trains.