'Unleashing LNG' is the world's largest green initiative: EQT
A four-fold increase in US LNG capacity by 2030 to displace coal-fired power in Asia and Southeast Asia could reduce global CO2 emissions by an incremental 1.1bn metric tons/year, according to a senior executive of EQT, the largest natural gas producer in the US.
Speaking to the North American Natural Gas Summit, hosted by the Canadian Gas Association and the American Gas Association in early March, Will Jordan, EQT's executive vice president and general counsel, said his company has been advocating for a year about the global environmental benefits of "unleashing" US LNG. The Paris Accord and its system of nationally defined contributions to measure emission reductions, "really puts borders around climate change and emissions."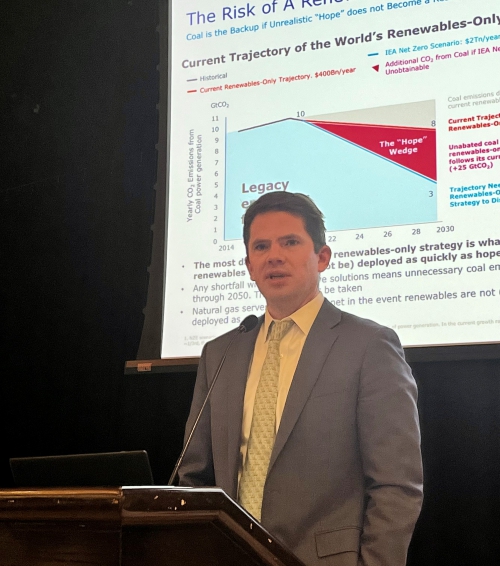 "We don't have control over our path to net zero: we can control what we do within our borders and we can provide economic opportunities for those outside our borders," he said. "Otherwise, we can have treaties and paper discussions but we are going to get to the point quickly where we understand that approach is one that is not working."
EQT does have control over its own path to net zero, which Jordan said should be reached in about two years by relying on aggressive measures to reduce field emissions – a $28mn programme to replace more than 9,000 pneumatic devices, which leak methane every time they operate – and nature-based offsets to cover much of the remainder.
The pneumatics replacement programme cut EQT's emissions from its 6.5bn ft3/day of natural gas production by about 305,000 metric tons/year, while offsets are expected to cover another 300,000 mt/yr, he said.
Nationally, the US reduced greenhouse gas (GHG) emissions by an estimated 960mn mt between 2005 and 2020, with 61% of that reduction achieved by replacing coal-fired generation with natural gas generation at more than 200 coal-fired plants.
"That coal to gas switching in the US – just that one emissions reduction solution – had the same impact as all of the United Kingdom, Italy, Germany and Japan combined," Jordan said. "That is the power, scale and speed of natural gas."
Now EQT wants to take that model to the rest of the world, where he said 55bn ft3/day of US LNG capacity could take a big chunk out of an estimated 175bn ft3/day of coal-to-gas switching demand.
"Coal is, without a doubt, the issue we have to address first, foremost and swiftly," Jordan said. "International coal represents roughly 50% of all emissions – that is a staggering number. The amount of increase in emissions from coal alone in 2021 – about 500mn mt of emissions – had the impact of wiping out every investment the US has ever made in solar."
Switching that coal capacity to renewables would cost an estimated $10-$16 trillion, and most of that cost would fall to Asian economies least able to afford it, Jordan added.
"I don't think that is logical; I don't think that is practical," he said. "I think that means we are going to continue down the path of having what we've had for the last few years, which is all-time high emissions year after year after year."
Only two energy sources, natural gas and nuclear, can help with the climate challenge, he said, and both are being suppressed.
Using LNG from the US, Jordan said, would have the same climate impact of electrifying every car on American roads, putting solar on every home in America and doubling US wind power generation.
"It would be bigger than all three mainstream green initiatives combined," he said. "It's also twice as impactful as Germany's renewables program, it also is free – entirely funded by industry. It would be the biggest emissions reduction proposal ever made."
EQT CEO Toby Rice has been advancing this proposal for more than a year, Jordan said, and so far, he has met with no push back from environmental groups. In fact, one such group, the Clean Air Task Force, has validated and even strengthened EQT's calculations, coming up with a 58% reduction in life-cycle emissions using EQT's own gas and a 53% reduction using northeast Pennsylvania gas in general, compared to EQT's calculation of a 48% reduction.
"The numbers are here, and the numbers are true," he said. "The reversion to natural gas is inevitable. It's not that I have too rosy a view on things, it's just physics and math. It is our job to make that inevitability accelerate as fast as possible – if we are going to be serious about climate change, we can't keep playing around. We have to move fast."