Uniper Takes on Newbuild LNG Carrier
German firm Uniper has confirmed to NGW January 12 that it took delivery of LNG carrier Flex Endeavour from Norwegian shipowner Flex LNG the previous day.
Flex in turn took delivery of it at the South Korean DSME (Daewoo) shipyard January 9 where it was built, and was expected to take delivery of a sister vessel Flex Enterprise from there this week also.
Late December Flex said it signed a time-charter for the 173,400 m3 cargo capacity vessel with Uniper Global Commodities (UGC) lasting 15-18 months and said it expected this to begin this week.
Speaking January 12, UGC's vice president for transportation and terminals Niels Fenzl told NGW: "With the charter of the newbuild vessel from Flex LNG, Uniper adds another building block for its goal to expand its LNG business. LNG shipping is the backbone to foster the growth of our global LNG supply portfolio."
Uniper says it is not its first newbuild LNG carrier charter. "We also took the Kita LNG on charter for her maiden voyage some years ago. Particularly in the case of the Flex Endeavour, this allows us to benefit from the latest technology in fuel efficiency," a spokesperson added. Kita LNG's shipowner is Oceanus LNG and it is managed by Greek operator TMS Cardiff Gas.
Uniper had been expected to deploy the newbuild charter to offtake cargoes from Freeport LNG in the US, which is not yet completed. But the German company commented January 12: "Flex Endeavour will form part of our LNG portfolio and will be used accordingly for the transportation of cargoes or sub-charter opportunities."
Flex CEO Jonathan Cook said January 9 his company "was pleased to take delivery of its first two newbuildings this week and looked forward to delivering Flex Endeavour "to Uniper, a first-class charterer."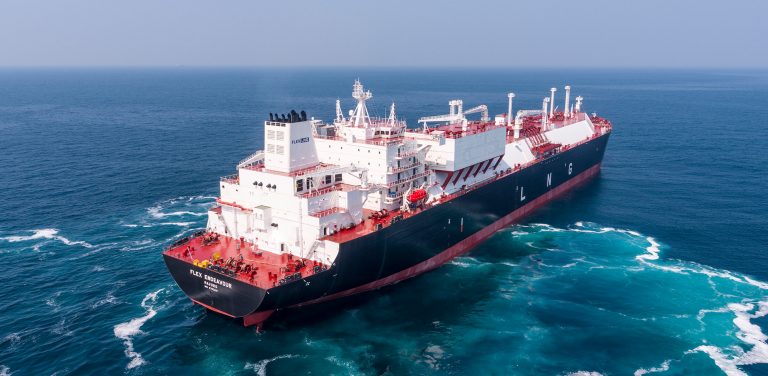 Flex Endeavour, on sea trials in October 2017 (Photo credit: Flex LNG)