UK's Labour Sets out Radical Agenda
With the UK's June 8 election just three weeks away, the opposition Labour Party released May 16 its manifesto, with radical proposals to re-nationalise energy infrastructure and to ban fracking.
Labour – still trailing the governing Conservative Party in election polls – proposes a three-stage programme. First, it outlines how control of National Grid and regional energy supply networks should be enabled by "altering the national and regional network operator license conditions."
It will support the creation of "publicly owned, locally accountable energy companies and co-operatives to rival existing private energy suppliers, with at least one for every region." This contrasts with the idea of a state-owned energy supplier featured in some leaks of the manifesto last week. However, even regional publicly-owned suppliers would represent a concern or challenge to the incumbent UK Big Six suppliers.
Further, Labour May 16 said it will legislate to permit publicly-owned local companies to buy regional grid assets to "ensure that national and regional grid infrastructure is brought into public ownership over time." That may sound like a threat to the various international owners of regional gas distributors such as Cadent and Scotia Gas that have invested billions of dollars to buy such assets.
The words "over time" could be critical for these proposals, as any incoming Labour government may face criticism if it devotes too many financial resources to buying back assets – including water companies – while UK national debt remains very high.
Reacting, National Grid said: "'Privatisation has delivered better performance at a lower price to bill payers, with network costs falling considerably over the last 20 years. This focus on efficiency and investment has helped the UK to recently have its first day of coal-free power generation as well as still enjoying a world-class level of reliability."
The CEO of networks lobby group Energy Networks Association, David Smith, concurred, saying of his industry that "performance and customer satisfaction rates have never been higher. The current market is working well – not only has it reduced costs for customers by 17% since privatisation, but it has delivered significant levels of investment in that time. A further £45bn ($58bn) is already forecasted to be invested in the next six years to deliver the kind of energy infrastructure that will help ensure our economy is fit for the future."
Labour leader, Jeremy Corbyn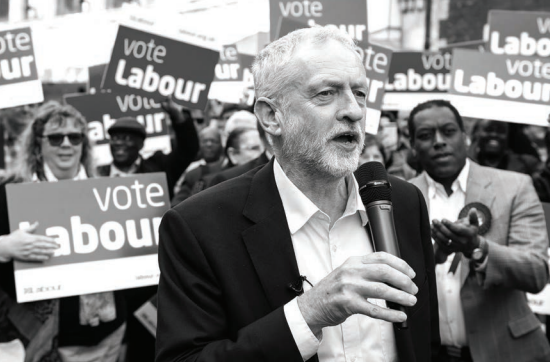 (Photo source: Labour's 2017 manifesto)
Nonetheless, Labour commits to launching a "£250bn fund for investment in infrastructure – transport, energy systems, communications" that over ten years would "take advantage of near-record low interest rates" to invest that amount in "upgrading" the economy.
The party proposes to raise Corporation Tax rates on businesses, and by raising income tax rates for high income earners, defined as those above £80,000/yr.
Labour would ban fracking, signals gas must decline post-2030
Labour also says it will defend the North Sea, nuclear and renewable industries. But it vows to "ban fracking because it would lock us into an energy infrastructure based on fossil fuels, long after the point in 2030 when the [UK] Committee on Climate Change says gas in the UK must sharply decline."
Labour also that, in Brexit negotiations with the EU, it would "prioritise maintaining access to the internal energy market" because buying and selling energy tariff-free with Europe "saves families and business money and helps balance the power grid." It would also retain access to the EU's nuclear treaty organisation, Euratom.
Ken Cronin, CEO of the UK Onshore Oil & Gas industry association, said that Labour "shows a misunderstanding of how we use energy in this country" adding that a ban would "hurt the UK's energy security, see potential UK jobs find their way overseas, and keep the cost of energy bills rising."
But anti-fracking campaign group Friends of the Earth disagreed, saying "The next government must commit to making life better for people and nature." It also claimed that pressure from members had led to Barclays Bank announcing that it will divest its 97% stake in UK shale explorer Third Energy.
The union representing energy industry workers, GMB, called May 15 for a fact-based review of fracking, in support of calls for a "proper debate" on shale by Labour parliamentary candidate for North East Derbyshire – a potential shale rich area – Natascha Engel. It said the question was not whether gas had a role in the UK as an intermediate source, but where it would come from.

GMB National Officer for the Gas Industry Stuart Fegan said her call for facts, "rather than promises of an outright ban, is exactly what is needed as the UK decides where it will get its energy from in the post-Brexit world.
"If the hysteria, hype and – on occasions – downright lies that surround hydraulic shale gas extraction are parked in favour of honest debate, the UK public could come to an informed conclusion about our energy mix," he said, while conceding that renewables will "continue to be a key and growing part of the energy mix that powers our economy and homes."
There have already been numerous studies into fracking, with the government putting in place regulations intended to ensure that if done correctly, then fracking is safe. So far no gas has been produced from a fracked UK well, so the commerciality has yet to be tested.
Mark Smedley