Ukraine Repays EBRD Loan
State-owned Naftogaz Ukrainy has repaid in full and on time the $300mn loan it received from the European Bank for Reconstruction and Development for gas purchases on time last year, it said May 16.
It fully used the money to buy gas In July-September 2016 and the facility is effective until 2018. Naftogaz plans to use it to prepare for the next heating season.
"The EBRD loan facility is not only an affordable resource to buy gas for the heating season but also an important factor of Naftogaz reform. Within the framework of this facility, the EBRD is monitoring the implementation of new standards in reporting, transparency, environmental and social responsibility in Naftogaz," said Naftogaz CEO Andriy Kobolev (pictured below).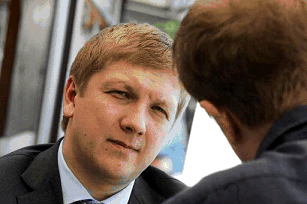 (Credit: Naftogaz Ukrainy)
Within the second round of the EBRD loan, Ukraine acquired 1.8bn m³ of gas. Naftogaz partially funded the agreements concluded following the results of the bidding under the EBRD loan.
The weighted average price of gas purchased from European sellers using the loan was $185/'000 m³ at the delivery point. The sellers were Swiss trader Axpo Trading, Czech energy firm CEZ, France's Engie, Eni Trading & Shipping, RWE Supply & Trading and Uniper Global Commodities.
Within the first round of the EBRD loan facility, Naftogaz bought 1.7bn m³ of gas for the heating season 2015-2016.
The EBRD loan facility of $300mn was signed in October 2015 in order to purchase gas on Ukraine's western border. The implementation of Naftogaz Corporate Governance Action Plan by the Ukrainian government was one of the conditions under the loan.
The EBRD provides a three-year revolving facility. During this period, Naftogaz can repay and reborrow within the agreed sum to fund its advance gas purchases. Ukraine has been free from contractual Russian gas deliveries for over a year. However much of the gas that Ukraine purchases is Russian in origin, but imported from western European countries such as Germany.
William Powell