Ukraine Prepares for Lower Transit
Naftogaz Ukrainy has blocked pipeline subsidiary UkrTransGaz from spending hryvnia 4bn ($152mn) on compression equipment, as it sees the Russia-Turkey agreement to build Turkish Stream going ahead. The Black Sea pipeline gives Russia direct access to Turkey so there is no need to upkeep the pipeline infrastructure in Ukraine that was dedicated to it, it said December 2.
Three compressor stations are involved and the equipment cannot be used at other stations for technical reasons, Naftogaz Ukrainy said.
Russia and Turkey signed an intergovernmental agreement on Turkish Stream October 10. Turkey's prime minister Binali Yildirim is visiting Moscow December 6-7 to discuss gas supplies and the price. The construction of Turkish Stream is planned to start in 2017, and the commissioning is scheduled for the end of 2019, by which time Gazprom's transit contract with Ukraine will run out. It is also planning to decommission compressor stations on its side of the border with Ukraine, to save money as Ukraine will carry less gas from Russia in the future.
Turkish Stream route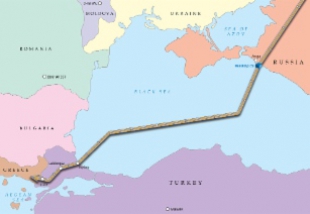 (Credit: Gazprom)
Also December 6 the CEO of Eni, Claudio Descalzi, met the CEO of Gazprom Alexei Miller. In a short statement, Eni said the two "discussed the dynamics of Italy's gas market and the prospects of Italian and European gas supply from Russia, also from alternative sources. The two companies also confirmed their continued close partnership in the gas market and detailed discussions on infrastructure solutions and on gas supply for the European market from the south corridor."
Azerbaijan desk
Please note the map is sourced from Gazprom