Ukraine Offers Short-Haul Transit Capacity
Ukraine's gas transporter UkrTransGaz is conducting a non-binding market demand survey for short-haul border-to-border transportation services, it said July 19. Requests are to be submitted by July 25.
The services will allow gas transportation from/to Ukraine's borders with Poland, Slovakia, Hungary and Romania. Shippers may apply for up to 12 options, with each of the four countries linked to one of the other four through Ukraine, the gas flowing in either direction.
The services will be provided on a firm and/or interruptible basis without access to the virtual trading point in Ukraine. The tariff will be disclosed later after consultation with the Ukrainian regulator. At this stage a discounted tariff is envisioned in order to properly allocate costs between short- and long-haul transportation customers according to the draft EU Network Code on Harmonised Transmission Tariff Structures for Gas.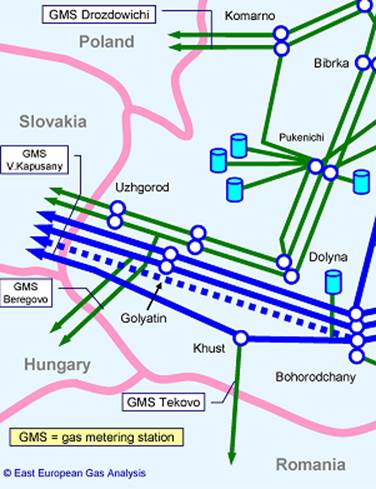 Ukraine's gas transport system: EU exit points
Ukraine's gas transportation system is directly connected to eight countries, of which four are EU members. The average distance between interconnection points of the neighbouring EU countries is about 200-250 km. "We believe that Ukraine can significantly contribute to the interconnectivity, improve security of supply and facilitate cross-border trade in central and eastern Europe," UkrTransgaz' executive director for strategy and business development Sergiy Makogon told NGE.
William Powell