Ukraine Gas Boss Sacked in Procurement Probe
State-owned Naftogaz Ukrainy has suspended the president of storage and pipelines business Ukrtransgaz, Ihor Prokopiv (pictured), on grounds of financial irregularities, it said February 17. The probe of the accounts by auditors Deloitte & Touche has now widened to parallel investigations into the company's procurement of services on a broader front, it said.
Prokopiv's successor is Myroslav Khimko, the first vice-president of Ukrtransgaz, who will assume management of Ukrtransgaz. "Naftogaz and Ukrtransgaz stress that the transition in management will have no impact on the Ukraine's gas supplies to customers and that gas transit will continue in full accordance with contractual obligations," Naftogaz said.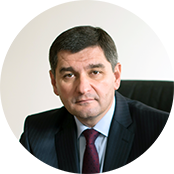 Ukrtransgaz president Ihor Prokopiv (Credit: the company)
As part of Naftogaz' transformative corporate governance reform, the company is implementing a new internal controls system across all group companies. Similar internal audit reviews are now being launched in all subsidiaries to ensure compliance with relevant policies and legislation.
William Powell