UK 1Q Gas Output, Demand up 5%
UK gas production and demand both grew in the first quarter of this year, with use by the power sector surging.
The UK's gas production increased by 5% year on year in 1Q 2016 at 122 terawatt-hours of gas (11.35bn m³), according to official government data published July 28; associated gas production increased by 16.4% in 1Q but dry gas production fell by 8.3%.
Rising UK production is a recent trend, contrasting with a decline since 2000, but likely to continue through 2016 thanks to the Total-operated Laggan-Tormore field which started producing in February.
Gas imports were broadly flat year-on-year: most (62%) continued to come from Norway, with 23% (3.1bn m³) sourced as LNG mainly from Qatar. Gas exports from the UK, in contrast, fell by over a fifth – driven by a 14% decrease in flows to Belgium via the Interconnector and a 23% fall in exports to Ireland, thanks to the Shell-operated Corrib gas field in Ireland coming on line in late 2015.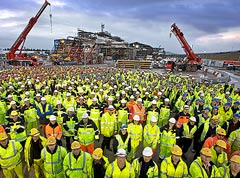 Construction workers at the Bellanaboy gas terminal in the Irish Republic, where offshore gas from Shell-operated Corrib field comes ashore (Photo credit: Shell)
UK gas demand was also up 5% versus 1Q 2015, with a notable increase in demand for electricity generation (up 44%) resulting from less coal-fired generation, largely due to permanent plant closures, but helped by low gas prices and the carbon floor price, a UK government initiative that makes coal more expensive than the price implied by the EU emissions trading scheme. Residential gas use was 4.1% lower due to milder temperatures.
Electricity generated in the first quarter of 2016 fell by 3.4% to 92.5 TWh, of which renewables contributed 25.1%, coal a record low of 15.8% (30.8% in 1Q 2015), gas 37.8% (from 24.7%), oil/other 2.6%, and nuclear 18.7% -- almost unchanged from 19% in 1Q 2015.
The final investment decision for Britain's first nuclear newbuild in decades is generally expected to be given by EDF later July 28; if given, the Hinkley Point C project is unlikely to be completed before 2025.
For example, the Institute of Mechanical Engineers said July 28 that confirmation that Hinkley Point C will go ahead would not provide the UK with an answer to the management of power generation, potential generation gap and the need to balance the grid. "Given the UK is facing a 40-55% supply gap by 2025, the UK government must put in place clear guidance for developing near and long term sustainable power generation that meets the needs of UK carbon targets, creates a good mix of low emission technologies and develops skills and economic growth in the sector," it said. Other organisations have also put out statements assuming that the deal will get the go-ahead.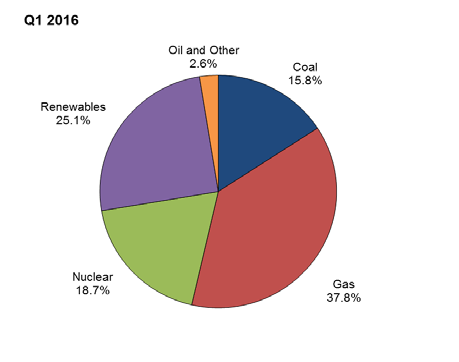 UK shares of electricity generation, 1Q 2016 (Graphic: UK government)
Mark Smedley