Two UK Peak Gas Supply Sources At Risk
The operators of two major peak gas supply sources for the UK – Centrica Storage (CSL) and Interconnector UK (IUK) – are both at risk of closure, they have told NGW.
In the case of Rough, which is 70% of the UK gas storage capacity, it is a question of old age: at 40 years old, the infrastructure is not able to operate at the high pressure any more. In most cases of gas producing equipment, age is not a problem as reservoirs empty and pressure goes. But with Rough, injection tops it up again to its original level.
After several years of checks on the integrity of the old production wells, for this storage year – May 1 2017-April 30 2018 – there will only be withdrawals, no new injections of gas, said CSL.
Apart from the age, there are also commercial factors – such as the summer-winter spreads being narrow – that may make it not worth rehabilitating. CSL told NGW May 4 that it would be having talks with government, as closing it down would reduce the UK's peak day deliverability. A depleted gas field, its value lies in the difference between winter and summer gas prices, unlike salt cavern storage which is much more responsive and allows short-term arbitrage.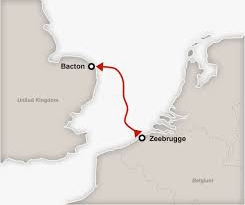 (Credit: IUK)
IUK is only half as old as Rough but at the end of September 2018, the 20-year transportation contracts that financed the line's construction will expire. It is the only bi-directional line between the UK and continental Europe, able to send 20bn m³/yr to Belgium and receive 25.5bn m³/yr.
Some creative ways to market capacity have been tried, to underpin its future beyond that date. But they have fallen foul of the regulatory methods set out in the network codes. Accordingly, the operator has told NGW, the owners might not be happy with the revenue that they might earn in the market. Unlike most other transmission system operators, IUK has no guaranteed return.
The decline in European gas demand generally has created spare capacity, which becomes a serious issue for governments concerned about an energy shortage and not sure if they can rely on markets.
Bids for storage and pipeline capacity are generally lower than operators need to stay afloat because there is little risk seen of import congestion or of prolonged high prices in winter. Storage is closing down or shelved across Europe, the latest possible casualty being Latvia's Incukalns site.
However the UK will be in an even riskier position: when it has left the EU, which is expected in a few years, it may have to pay more to access pipelines on the continent, and it cannot expect to benefit from new EU rules enforcing neighbourly co-operation in times of distress.
William Powell