TurkStream Pipelay Begins, says Gazprom
Gazprom said May 7 it has begun laying of the TurkStream gas pipeline in the Black Sea.
"The project is implemented strictly according to plan, and by the end of 2019 our Turkish and European consumers will receive a new reliable route for the import of Russian gas," said Gazprom CEO Alexei Miller.
Analysts see TurkStream, if built to schedule, as a challenger for the Southern Gas Corridor pipelines that aim to deliver Azeri gas to Europe by 2020.
Allseas' Audacia pipelay vessel is laying the pipes and will later pull them from the shore through micro-tunnels, said Gazprom. In the deepwater part of the Black Sea, TurkStream will be built by the Pioneering Spirit pipe-laying vessel. Allseas is a contractor for both strings of the offshore section.
In December 2016, Gazprom signed a contract with Allseas for the construction of the first offshore line, with an option to lay the second line too. Two months later, it firmed up that option too. TurkStream's offshore length will be about 900 km, passing from Anapa on the southern Russian coast -- where the work began -- to the Turkish coast of the Black Sea 100 km west of Istanbul; the maximum depth of pipe-laying is 2,200 meters.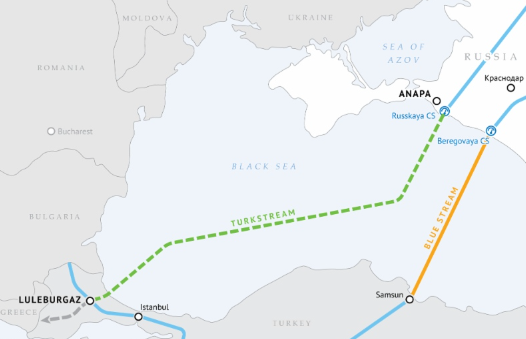 TurkStream planned route (Map credit: Gazprom)
The first line of the gas pipeline is intended for the Turkish market, and the second for southern Europe; each will have 15.75bn m3/yr capacity.
Russia and Turkey signed an intergovernmental agreement on the construction of the Turkish Stream in October 2016. Russian President Vladimir Putin then ratified the agreement this February. In March, the countries prepared a regulatory framework for the construction of the first stage of the gas pipeline and also discussed the construction schedule.
According to the TV channel Russia 24, Gazprom plans to spend on the project more than 40 billion rubles ($6.9bn) in 2017.
Azerbaijan Desk