Berdymukhamedov Scraps Turkmen Ministry
The autocratic president of Turkmenistan Gurbanguly Berdymukhamedov has reorganised the management of the gas-rich nation's energy industry by abolishing the oil and gas ministry.
In a recent government meeting he said the move was necessary "in order to further improve the management of the oil and gas sector, improve the overall industry, and to streamline the cash flow."
The main functions of the abolished ministry will be assigned to the relevant department of the сabinet, subordinate to the vice-premier Yagshigeldy Kakaev, who is in charge of the oil and gas complex. Some of the former ministry's other functions have been delegated to two state concerns: Turkmengaz and Turkmennebit (for oil): such as, the agency for the management and use of hydrocarbon resources under the president of Turkmenistan.
Turkmengaz will represent the state in the production-sharing agreements (PSA) for developing the onshore Bagtyyarlyk gas field and offshore gas and condensate Block 1.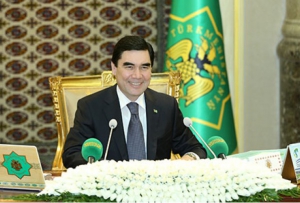 President of Turkmenistan, Gurbanguly Berdymukhamedov
China National Petroleum Corporation holds a licence for Bagtyyarlyk, while Malaysia's Petronas produces oil, gas and condensate in Caspian Block 1
The two new concerns will succeed the agency as the state representatives in the PSA with UAE's Dragon Oil for the Cheleken development in the Caspian. It will represent the state in agreements for onshore Nebitdag and Hazar projects being implemented by Italy's Eni and Austria's Mitro International.
The former agency's funds have been transferred to the central bank of Turkmenistan to further ensure the financing of projects, the decree says. The suspended ministry was established in January, 2016, when Berdymukhamedov announced a large-scale reorganisation, which included creating a joint-stock company Turkmen National Oil and Gas Co, or Napeco. This would carry out upstream exploration work as well as implement international projects, among other things, although it was never actually established.
Kama Mustafayeva