Turkmen Gas Exports to China Up, Value Down
China in 2016 increased piped gas imports by 13.3% to 38.32bn m3, according to Chinese customs statistics, but their value fell by 22% to $7.55bn.
The leading gas exporter was Turkmenistan: its 2016 exports to China grew 6% to 29.64bn m3. but its export revenue fell by 28.6% to $5.48bn.
As such Turkmenistan lagged behind the overall trend last year in piped gas exports to China, because Beijing seems to be broadening its supply base.
Three pipeline sections flow gas from Turkmenistan to China with a total capacity of 55bn m3/yr. It was planned to build a fourth on an alternative route through Tajikistan and Kyrgyzstan. However, last year China suspended work in this direction. Turkmenistan's plans were that, after the start-up of the 4th pipeline after 2020, it will be able to export at least 70bn m3/yr of gas towards China through all four pipes (the four pipes combined would have a throughput capacity of 80bn m3/yr).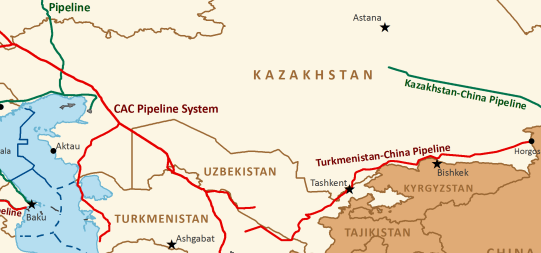 However, Beijing no longer wants to tie itself to one source. Indeed in recent years, China has managed to diversify gas supplies from Central Asia via the Turkmenistan-China pipeline, now importing more from Uzbekistan and Kazakhstan. In the future, most likely, volumes from these two countries will grow, with those from Uzbekistan expected to reach 10bn m3/yr post-2020, while Turkmen exports to China will stabilise at about 40bn m3/yr.
Another factor behind Beijing's diversification may be Turkmenistan sudden's halt in supplies to its southern neighbour Iran on January 1.
Gas deliveries from Uzbekistan to China increased 2.8 times to 4.34bn m3/yr in 2016 while their export value grew by 85% to $689.79mn. Exports from Kazakhstan to China increased by almost 20% to 430.74mn m3/yr, with their export value up 13.3% at $56mn.
At the same time, the volume of China's combined LNG and liquid petroleum gas (LPG) imports increased by 33.5% in 2016 to 42.84mn mt, with the import value up by 1.2% at $15.44bn.
Ilham Shaban