Turkey's delicate balancing act [NGW Magazine]
Turkey is performing a difficult balancing act, trying to reduce its dependence on gas imports, while at the same time honouring commitments to its existing suppliers, especially its two close allies Russia and Azerbaijan. Between them they account for three quarters (74%) of Turkey's 57.9bn m³/yr existing import portfolio.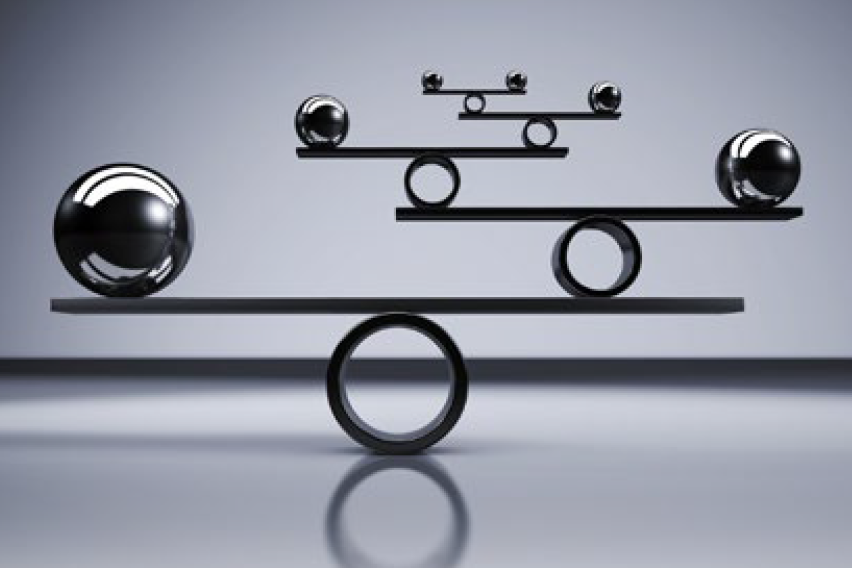 With the three aims that are, to a large extent, mutually exclusive it is a juggling act that Ankara cannot continue to keep up for long without compromising on one goal or another; or making some major changes to the country's energy balance.
What will not change is arguably the one constant in Turkish energy policy over the past decade: the understanding that energy prices are a key factor in securing the support of Turkish voters, and that manipulating retail energy prices ahead of polls boosts support.
Last year was a case in point with Botas selling gas at below cost ahead of the June polls, which saw Turkish president Recep Tayyip Erdogan installed as the country's new "executive president".
Forcing gas cuts
That Botas subsidy was made necessary by the sharp fall in the Turkish Lira over the first half of 2018. Exchange rates fell sharply again after the polls thanks to continuing questions over economic policy, which was exacerbated by a face-off with Washington. This forced Ankara to take some extreme measures to cut its booming trade and current account deficits, and to redress Botas' losses.
Key among these was a series of gas price hikes introduced from early August onwards including an unprecedented 49.5% hike in the price for power plants.
The hikes had the desired effect. Official data for the first ten months of the years show a 6.8% year on year fall in gas demand, most of it in the August-October period. This was almost twice the 3.7% fall that had been predicted by Turkey's gas distributors' association Gazbir in mid 2018.
However, the hikes also caused serious problems. Turkey's combined-cycle gas turbine operators complained that high gas prices meant they were unable to compete with other power sources such as coal and were operating at a loss, at the same time exacerbating the problems of Turkey's seven private gas importers who between them hold contracts to import a total of 10bn m³/yr of Russian gas.
Having been undercut by Botas ahead of the June polls, the shrinking gas market left them again short of buyers with several believed to have been unable to meet their take or pay commitments with Gazprom. Bankruptcy was a distinct possibility, which would leave Moscow having to write off the lost revenue.
Industry insiders claim that Gazprom is seeking to have all the 10bn m³/yr of private contracts transferred back to Botas, which would be expected to take responsibility for the take-or-pay commitments.
Whether that will happen remains to be seen. Ankara has already gifted Russia a major concession. According to the recently published environmental impact assessment for Gazprom's TurkStream pipeline, the second 15.75bn m³/yr export string will transit Turkey, without interconnecting with the Botas-owned transit grid.
This leaves Gazprom free of the possible interference to flows it has experienced with its existing pipeline through Ukraine, but is of questionable benefit to Turkey, and raises the question of what Ankara expects in return.
Arguably the only winner in the Turkish gas market last year is Turkey's second biggest supplier, and "brother state", Azerbaijan.
Sales under its existing 6.6bn m³/yr contract are on target to reach full contract capacity, while July saw the start of commissioning of the first phase of the TransAnatolian Pipeline (Tanap), which at full capacity in mid-2020 will deliver an extra 6bn m³/yr to Botas.
Although again, it remains to bee seen how long Baku's privilege will last and whether Ankara be looking for something in return.
Demand falls, contracts expire
The big question hanging over the Turkish market is, which way is it moving?
Demand fell last year as a direct result of government policy. But will the contraction continue, or will demand rise again when the current economic crisis has passed, allowing policy changes?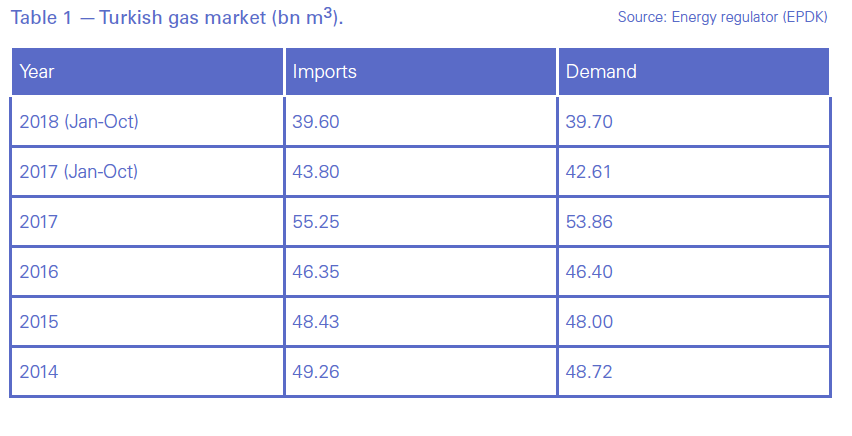 Current policy aside Turkey is already set to receive further gas volumes. On top of the extra 6.6bn m³/yr that Tanap will deliver by 2020, a further 1.75bn m³/yr will begin arriving the same year through TurkStream, raising Turkey's total gas import portfolio to 59.7bn m³,13% more than this year's anticipated demand.
On top of which the emergence of other new suppliers such as Iraq cannot be ruled out: Turkish company Siyah Kalem holds a 26-yr import license to import 3.2bn m³/yr of gas from Iraq which could yet be delivered through Botas' transit grid which was last year extended to the Iraqi border.
However, whether all this can be taken as indication that the Turkish market will return to growth is moot. From end of 2021 to 2026, contracts for 80% of Turkey's import contracts will expire. Contracts totalling 15.9bn m³ – 28% of Turkey's total gas import portfolio – expire by the end of 2022, with a further 30bn m³ (52%) expiring by July 2026.
A shrinking market, with supply exceeding demand could well play to Turkey's advantage, giving a degree of leverage allowing Ankara to extract price concessions which would in turn play well at the polls. The question would seem to be which suppliers will feel the pinch and to what extent?
Most at risk would appear to be Turkey's two long-term LNG suppliers Algeria and Nigeria. The terms of the Nigeria contract date from 1995 when LNG was an emerging fuel, while Botas renewed its contract with Sonatrach for 10 years in 2014, when spot LNG prices were high. Current lower spot prices, and Ankara's very close relationship with Qatar, Botas' main source of spot LNG, suggest both suppliers will be pressed to make concessions, and contracts may not be renewed.
The positions of Turkey pipeline suppliers is equally open to debate. Ankara's close relationship with Baku means that Botas' existing contract for 6.6bn m³/yr of Azeri gas delivered via the South Caucasus Pipeline which expires in April 2021 is certain to be renewed. But Azerbaijan has its own economic woes and price may yet prove to be an issue.
Similarly Ankara's current close relationship with Moscow should mean that the existing Russian contracts will also be renewed, but for now Ankara has considerable leverage.
Gazprom's attempts to have Botas retake responsibility for the private importers' debts follows the concessions it has been granted over the export string of TurkStream, and Ankara will be unlikely to pass up the opportunity to press for price concessions, both over the next three years when contracts for 8bn m³/yr expire, and ahead of 2025 when the 16bn m³/yr Blue Stream contract expires.
If those re-negotiations prove successful, Ankara's leverage over Iran by the time its 9.6bn m³/r contract expires in 2026, will be considerable. US pressure on Ankara to cut oil and gas imports notwithstanding, this contract has always been problematic.
Unannounced supply cuts and a long-running dispute over the high contracted price saw Ankara go to international arbitration. the result of which was a 10%-15% price cut for Botas on top of a $1.9bn rebate.
While gas demand in east Turkey dictates that some Iran imports will be necessary for the foreseeable future, the fact is that Ankara's long-time support for Tehran in the face of US opposition has always been primarily for political reasons.
And Turkey's own political requirements dictate that reduced domestic energy prices will remain its primary concern, and one that, with gas supply exceeding demand, Iran will need to pay heed to.