[NGW Magazine] Turkey cuts gas at a time of plenty
While developing two major new gas import pipelines, Turkey is following an aggressive policy of gas diversification aimed at reducing reliance on imports for power generation.
The 31bn m³/yr TransAnatolian Pipeline (Tanap) which will be commissioned this year and the first of two 15.75bn m³/yr strings of Gazprom's Turkstream line are slated for commissioning by the end of 2019. They will significantly increase Turkey's gas import capacity.
Speaking in November, energy minister Berat Albayrak said that his ministry plans for the share of domestic resources in Turkish power generation to increase from 49% in 2016 and an estimated 45-50% for 2017 to around 60%.
In December it became clear how this is to be achieved with Albayrak launching a "local coal action plan" to boost production of Turkey's abundant reserves of mostly low-grade lignite, from around 80mn metric tons last year to close to 100mn mt this year. The same month saw a succession of grid access tenders for new wind capacity: licenses were awarded for 66 new plant totalling 2.11 GW
Growing interest in Turkish coal for power has been generated by the introduction of a guaranteed offtake price of Tl 0.201/kWh ($0.543) while interest in wind comes on the back of sharply falling costs and the increasing ease of marketing the power generated through Turkey's EPIAS power market.
This trend is not entirely new though. The more indirect pressure applied on developers over the past few years to halt combined-cycle gas turbines has had an effect.
Gas used for generation has fallen from a peak of 50% in 2012 to 36% in 2016 and the percentage of Turkish power demand met by gas fired plant has fallen from a peak of 47.9% in 2014 to 32% in 2016.
While this fall in part can be explained by annual changes in water levels in Turkey's main hydro dams which produce the country's cheapest power, many developers have abandoned licence applications to build CCGT.
Data from Turkey's energy regulator EPDK shows only six CCGT with a total 494 MWunder development, of which only four hold full generating licences.
Turkey's plans to diversify away from imported gas are founded on the twin fears of another spike in oil prices which left the country with a major current account deficit between 2008-2014, and fears over security of supply – not least from Russia which accounts for 57.7% of the country's 52bn m³/yr import portfolio.
However that has not stopped the country also aggressively pursuing the development of new transit pipelines, installing new FRSU units and developing new underground storage capacity which raises the question of how the extra gas and extra daily supply capacity these lines will create can be accommodated.
The 31bn m³/yr Tanap pipeline being developed by a consortium of Azerbaijan's Socar, Turkey's Botas and BP, has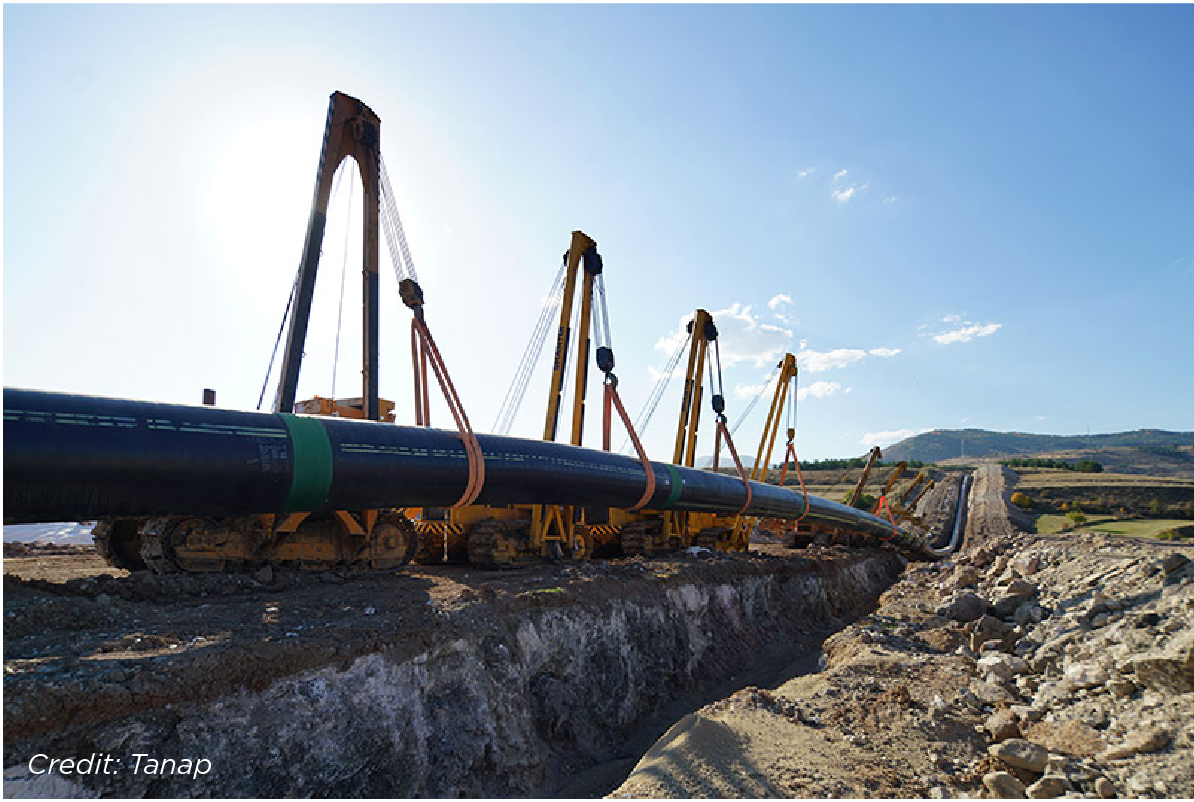 commitments of 16bn m³/yr of Azeri gas and is scheduled to begin delivering 6bn m³/yr to Botas from June this year.
The remaining 10bn m³/yr committed is scheduled for transit to Europe from 2020, but what will happen with the 15bn m³/yr of empty capacity is unclear.
At least part of it has been expected to be allocated for supply to Turkey, but without the demand growth from the power sector that capacity is likely to remain unused.
It's a similar story with the first 15.75bn m³/yr string of Gazprom's TurkStream pipeline which is scheduled to start delivery by the end of next year.
14bn m³/yr of the gas will replace that supplied by existing contacts with the extra 1.75bn m³/yr going to Botas, on top of the Tanap volumes.
While details of ramp up and take or pay commitments have not been made public this strongly suggests that for a few years at least Botas will be facing an oversupply problem.
This problem will likely be exacerbated by the timing out of generous offtake guarantees awarded to CCGT plant constructed in the late 1990s which are set to time out this year and next.
In all seven plants totalling 5.738 GW are set to lose their guarantees, three of which will be returned to state ownership and then probably taken off line pending re-privatisation, and four likely to be either closed for rebuilding so that they meet current efficiency standards; or closed altogether.
A position which, even if it doesn't force Botas to pay for gas it can't use, will certainly dampen enthusiasm for upstream development in new Azeri gas projects to fill the 15bn m³/yr of spare capacity in Tanap, various projects mooted to deliver Iraqi gas to Turkey, Iranian plans to boost their exports to Turkey from the current 10bn m³/yr, and the perennially mooted – but ultimately nebulous – plans for transiting Israeli and Cypriot gas from the eastern Mediterranean through Turkey to Europe, which would require sales to the Turkish market to ensure viability
Oversupply though is also likely to be a temporary problem with five of Botas' import contracts totalling 31.25bn m³/yr set to time out between 2021 and 2025.
These include 6.75bn m³/yr of Azeri gas arriving via the South Caucasus gas Pipeline which finishes in April 2021; 1.3bn m³/yr of Nigerian LNG which finishes in October 2021; and 4bn m³/yr from Russia which from next year will arrive via TurkStream and which finishes at the end of 2021.

There are also contracts for a further 4.4bn m³/yr of Algerian LNG which ends in 2024 and for 16bn m³/yr of Russian gas arriving via Blue Stream which ends in 2025, and that for the 10bn m³/yr of Iranian gas ending in 2026
Given falling LNG prices and Turkey's planned storage increase, the LNG contacts, used to meet peak winter demand, are unlikely to be renewed; instead they will be replaced with summer spot purchases, while Turkey's close relationship with Azerbaijan will likely see that contract renewed.
What will happen to the contracts with Russia and Iran though is unclear.
Ongoing efforts to boost power generation from coal and renewables will have an effect on Turkish gas demand. As will plans for two four unit 5GW nuclear plant both of which are slated to be at least partially operational by 2025.
Some of the Russian gas will certainly be required, but how much is unclear, and Ankara may choose to continue with its gas market liberalisation and allow the private sector to negotiate directly with Gazprom for what portions of Botas' contracts it sees a market for, a switch unlikely to be viable for Iranian gas.
It remains to be seen only how low each country is prepared to drop its sale price to retain its stake in the Turkish market.
David O'Byrne