Turkey, Russia Discuss Turkish Stream
Turkey's energy minister Berat Albayrak met the CEO of Gazprom Alexei Miller in Istanbul for talks September 1, to discuss Turkish Stream pipeline and the status of arbitration filed by state gas importer Botas, according to NTV television report.
"We will take positive steps in the area of energy in the short term with Russia. We always prioritize our hope to bring this cooperation to a higher level," Albayrak said following the meeting, state owned Anatolian Agency reported.
"Accords were reached at the meeting to complete the issue of all required permits for initiation of the Turkish Stream project implementation as soon as possible. Commercial negotiations on conditions of Russian gas supplies to Turkey will continue," Gazprom said in a statement after the talks.
Turkey's energy ministry deputy under-secretary Alparslan Bayraktar and the general manager of Botas Burhan Ozcan were also present. On the Russian side were Russia's vice-president Alexander Babakov, Gazprom Export boss Elena Burmistrova and her predecessor Alexander Medvedev.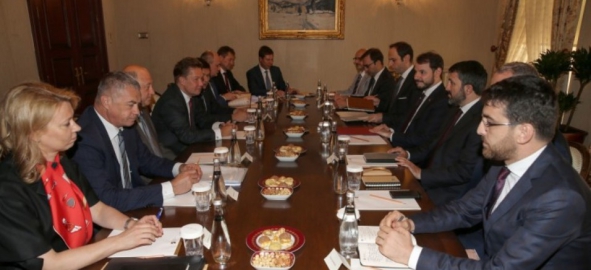 Gazprom meets its Turkish customers. Seated far left are Elena Burmistrova and Alexander Medvedev (Credit: Anatolia Agency)
In late 2014, Russia proposed to develop the Turkish Stream pipeline as four parallel pipelines of close to 16bn m³/year each that would go across the Black Sea from Russia to Turkey's European province of Thrace. The project was later halved to two lines carrying a total 31.5bn m³/yr. The project was suspended when the Turkey's military shot down a Russian fighter jet last November.
Last year, Turkey filed an arbitration case when Gazprom failed to implement an agreed 10.25% price cut. Turkey's gas demand is already 40% dependent upon Russia, and it is also looking at other producers such as Israel, with whom it has also patched up relations in recent months.
Murat Basboga