Turkey absorbs spot Med LNG [NGW Magazine]
Turkey's imports of LNG broke a number of records in January: both the volume and the proportion of Turkey's total gas imports that LNH comprised were at their highest ever.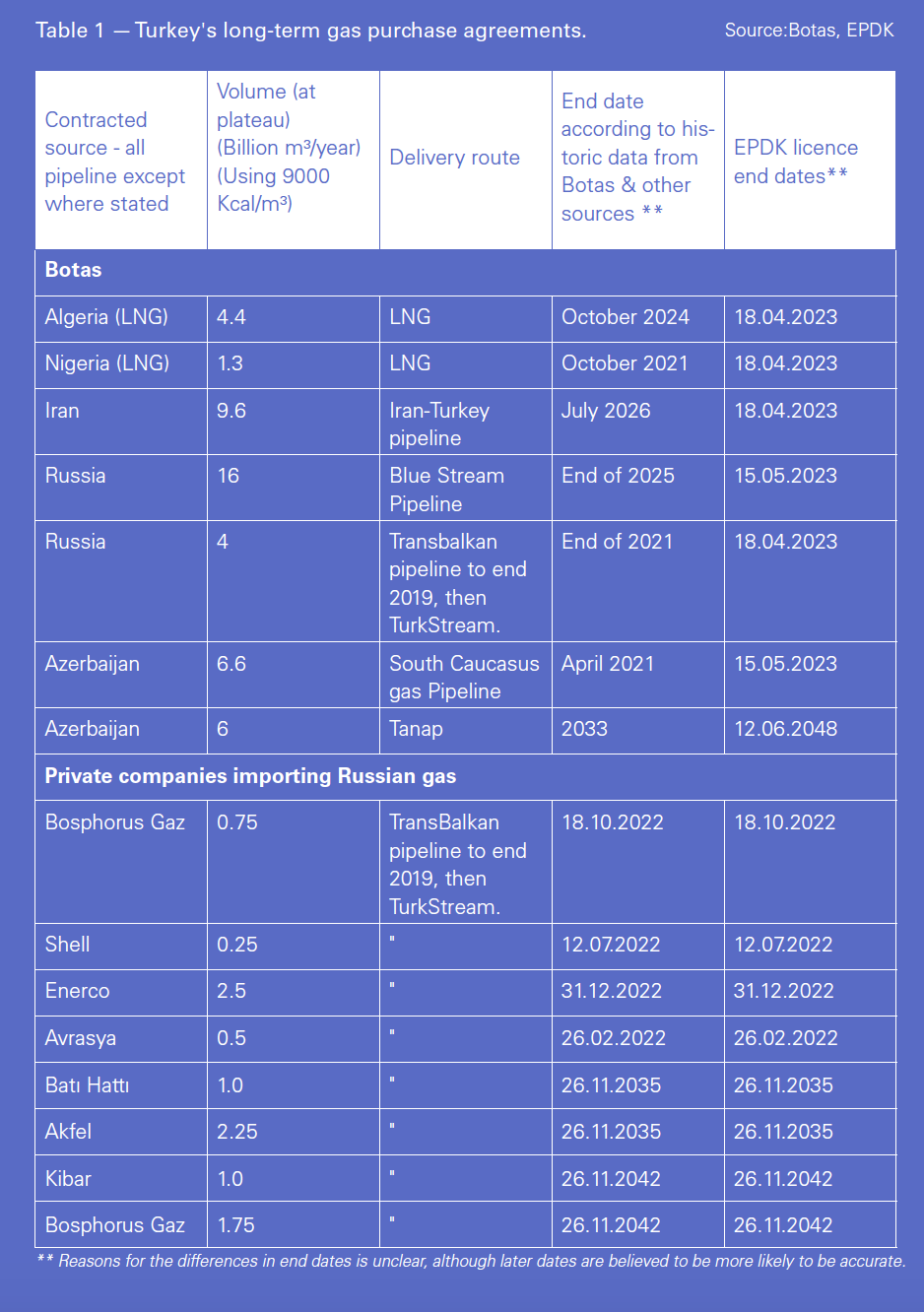 This signals both that it is in a strong position for the forthcoming negotiations on renewing its pipeline contracts, and that life will continue to be difficult for private importers who have take-or-pay commitments to honour.
By volume, LNG imports hit 2.34bn m³, up 19.41% on the year, even though overall gas imports fell 6.54% and gas demand for the month fell by 1.55%.
The record volume suggests that with several of state gas importer Botas' long term contracts timing out over the next few years, Ankara is poised to take advantage of the much vaunted "Mediterranean gas glut" and low spot LNG prices to hammer the price of pipeline gas.
And at 40% of the total 5.81bn m³ imported in January, LNG made its biggest ever monthly contribution to Turkish gas imports.
That sharp increase in volume and percentage was mainly the result of spot LNG imports.
Turkey's energy regulator EPDK publishes data for LNG imports by country and not by contract type, meaning it does not differentiate between opportunistic spot imports and contracted imports from Turkey's two contracted suppliers Algeria and Nigeria, with which it holds long term contracts for 4.4bn m³/yr and 1.3bn m³/yr respectively.
However, imports from countries other than these two in January, all by definition spot cargoes, totalled 1.345bn m³, or 57.5% of LNG imports – another monthly record even before any spot imports from Algeria and Nigeria come into play.
In short, there is clear evidence that Turkey's two FSRU terminals commissioned over the past two years have enabled Botas to take advantage of the rising amounts of LNG available at lower prices.
This has already contributed to enhanced stability in the Turkish market with the past two winters seeing none of the gas shortages that have in previous years resulted in the cutting of gas to combined-cycle gas turbine (CCGT) power plants, interrupting the power supply to industry and even households.
It has also allowed Botas, which is still – despite the fact that 47 companies hold spot import licences – responsible for the bulk of Turkey's spot LNG imports, to continue to undercut its only main domestic competition.
These are the seven private companies that import Russian gas through Turkey's western, Transbalkan import line.
The seven, among them the part-Gazprom-owned Bosphorus Gaz, have been facing serious problems meeting the take or pay commitments in their contracts with Gazprom for the last year.
Most are rumoured to be facing bankruptcy, with Gazprom rumoured to be pressing for all seven to be merged into Bosphorus Gaz and for the single company's obligations to then be taken over by Botas, which in turn has also been rumoured to be importing some volumes on behalf of the seven.
To date neither Ankara nor Moscow has given any indication of how they plan to resolve the issue, but EPDK's January data confirms that the problem is continuing.
Imports by the seven in January totalled only 0.244bn m³, or just over a quarter of the 1.024bn m³ that they imported in the previous January.
Botas' total imports for the month however were up 7.17% at 5.566bn m³, with its Russian imports down, albeit only by 11.5% at 1.593bn m³.
The fact that Moscow has not been pressing for a solution, while continuing to publicly laud its close relations with Ankara, appears to confirm that the issue is only one of a number under discussion.
Negotiating position
Key among these is likely to be the timing out of Gazprom's Turkish contracts, with contracts for 8bn m³ set to end by end of 2023 and a further 16bn m³ believed to end by end of 2025.
Of the first 8bn m³/yr, half are with Botas and the other four split equally between four private importers under a 2007 volume transfer, and which will revert to Botas should the four cease trading.
These 8bn m³/yr are delivered through the Transbalkan pipeline along with a further 6bn m³/yr delivered to four private importers, all of which are scheduled to switch to Gazprom's new TurkStream pipeline from the end of this year.
Should Gazprom fail to renew the 8bn m³/yr contract and if the four companies importing the 6bn m³/yr should fail, the first phase of Gazprom's Turkstream pipeline will be left with no gas to deliver.
Such an eventuality is unlikely. The line supplies gas direct to Turkey's main north western demand centre, but with last year's currency crisis still unresolved and the lira weak, Ankara is keener than ever to reduce the effect of gas imports on Turkey's trade deficit.
And with Botas expanding its LNG import facility west of Istanbul, plans existing for a FSRU to be located in the region, and construction having started on greatly expanding Turkey's underground gas storage, the availability of cheap spot LNG will play a role in negotiations.
Potential Turkish leverage is not confined to its Russian Transbalkan contracts.
Three more of Botas' import contracts time out in the next five years: one with Azerbaijan (6.6bn m³/yr); another with Algeria (4.4bn m³/yr); and the third with Nigeria (1.3bn m³/yr).
Two more – with Gazprom (16bn m³/yr via Blue Stream) and Iran (9.6bn m³/yr) – expire in the following five years.
Clearly the two LNG contracts are vulnerable to the price competition from spot LNG.
It remains to be seen if either will be renewed either under a long term pricing agreement or on a spot pricing basis, as Botas uses to import Qatari LNG; and it could be that Botas will opt to rely solely on spot imports purchased as and when necessary from whichever supplier offers the best prices.
January this year alone saw Botas import spot cargoes from the US, Qatar, Egypt, Norway and Trinidad & Tobago, with January 2018 seeing spot imports from Angola, Qatar, Norway and Trinidad.
For the pipeline contracts the situation is more complex.
Clearly spot LNG cannot replace all the 22.2bn m³/yr arriving over Turkey's eastern borders from Iran and Azerbaijan or the 16bn m³/yr arriving across from Russia via Blue stream, nor can it offer the supply/price security of pipeline gas. It could however act as a useful bargaining chip, especially as the infrastructure delivering the gas under these three contracts should by now have been paid for.
Discussions over contract renewal may already have started. Russian media has suggested that Moscow is offering Turkey a 10% reduction on current prices, while Iranian media reports have claimed that talks have begun with Ankara over increasing exports – which would necessarily involve a significant reduction on the high price Turkey pays for Iranian gas.
This leaves the question of Azerbaijan. It is noticeable that of Turkey's three pipeline gas suppliers, only Azeri gas has risen in volume over the past year – which is due in part to the commissioning of the TransAnatolian pipeline last July, but also because there has been no reduction in volumes imported under the existing 6.6bn m³/yr contract.
Given the close relations between the two countries it is unlikely that the 6.6bn m³/yr contract will not be renewed. The better question is, at what price and on what conditions?
Having already accommodated Baku with the construction of Tanap, and Socar's development of its new Star oil refinery, Ankara may be keen to see some return, in which case again, competition from cheap spot LNG may well play a role in negotiations.