Tullow CEO Heavey to Step Down
Aidan Heavey is retiring as Tullow's CEO after 31 years in the job, to be replaced April 26 by Paul McDade, the firm's chief operating officer since 2004.
Heavey, who founded Tullow Oil, will succeed Simon Thompson as its chairman for no longer than two years starting April 26 2017. "With Aidan as chairman, Paul and Tullow will continue to benefit from the founder's years of experience and deep understanding of the relationships that underpin our business in Africa," said Thompson, chairman for the past five years.
Heavey said that McDade "has two major deep water developments to his credit at Jubilee and TEN, is a Tullow man to his core and I can think of no one that I would rather have succeed me."
Paul McDade joined Tullow in 2001 and its board in 2006 (Photo credit: Tullow Oil)
In a trading update January 11 that accompanied the board changes, Tullow said its West Africa 2016 oil production was in line with recent guidance averaging 65,500 b/d, and is expected to average between 78,000 b/d and 85,000 b/d in 2017.
The firm admitted that its planned shutdown of the Jubilee oil and gas field for remediation of its turret loading system "is progressing as planned" but its statement did not specify when an expected 12-week shutdown of the field – necessitating a halt in all deliveries to shore in Ghana of gas from Jubilee for that period – would take place. Such a halt, originally scheduled for 1H 2017, would disrupt local power generation so is politically sensitive.
Talks on planning for the works were ongoing with Ghana's government, said Tullow: "It is anticipated that a facility shutdown of up to 12 weeks may be required during 2017. However, significant work is ongoing to look at ways to optimise and reduce any shutdown period."
At its second Ghana field TEN, where Tullow produced first oil in August 2016, the firm said that gas production is currently being re-injected, with gas export expected to commence later in 2017.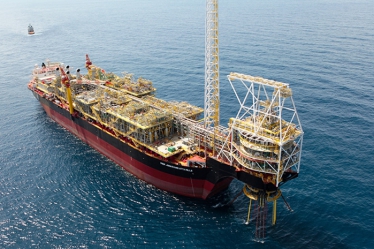 TEN producer ship FPSO Prof. John Evans Atta Mills is named after a Ghanaian President who died in office in 2012 (Photo credit: Tullow Oil)
Heavey said: "2016 was another tough year for the oil & gas sector and for Tullow. However, the company showed exceptional resilience and strong operational performance to deliver TEN on time and on budget; to deal with the technical issues at Jubilee; make good progress in exploration and development in east Africa and begin the process of reducing our debt from free cash flow."
Tullow announced a $900mn farm-in deal with Total at Uganda's Lake Albert oil project January 9, giving Total a majority interest there for the first time.
Mark Smedley
---
Natural Gas World welcomes all viewpoints. Should you wish to provide an alternative perspective on the above article, please contact editor@naturalgasworld.com
Kindly note that for external submissions we only lightly edit content for grammar and do not edit externally contributed content.