Tough Pricing Won't Secure Sales, Study Warns Gazprom
The European Union's gas supply mix will change fundamentally but it will remain in a strong strategic position, according to a major research study released October 27 in Berlin.
Despite a projected decline in European gas production, the EU is in a strong position to diversify its gas imports and ensure its security of supply both in the near-term and longer run, says the study by two leading energy think-tanks.
The research by ewi Energy Research & Scenarios, Cologne and the European Centre for Energy and Resource Security (Eucers) at King's College London provides a comprehensive assessment of EU options to diversify gas supplies in the coming 20 years and outlines several potential scenarios.
Combining economic analysis of market fundamentals and a detailed assessment of key political risks, the study focuses on the factors and the key players – including Russia and Turkey which are likely to markedly influence Europe's gas future.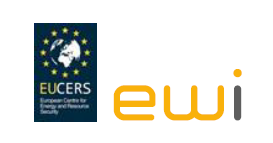 The report, funded by the German foreign ministry, identifies two main factors for the EU to maintain a favourable strategic position: externally, the availability of alternative sources of piped gas and growing possibilities for LNG imports provide a favourable context for increased competition.
Internally, the EU could benefit from further progress in market integration, in particular through infrastructure investments connecting its highly liquid northwestern gas market to southern and eastern Europe where suppliers are few.
Declining European gas production will to an important extent be substituted by Russian gas, remaining a major source in Europe's supply mix. Even so LNG imports are projected to more than double by 2035. Even greater penetration by LNG would occur if Gazprom adopted a tough pricing strategy but this would make investment in Nord Stream 2 uneconomic, the study cautions Gazprom. Less gas would flow through it unless it cut the price.
Mark Smedley