Total to Develop 3.3 GW of Spanish Solar Capacity
France's Total announced on September 25 it had teamed up with Spanish developer Ignis to develop 3.3 GW of solar capacity near Madrid and Andalusia.
The projects are slated to come online between 2022 and 2025, Total said in a statement. It will pay renumeration to Ignis as the power plants are developed.
Total expects to boast more than 5 GW in working solar capacity in Spain within five years thanks to the new projects. In February it agreed to develop almost 2 GW of solar projects in the country with Powertis and Solarbay Renewable Energy.
Total's Spanish solar portfolio will cover the electricity consumption of all the company's industrial sites in Europe by 2025, it said. The major will purchase nearly 6 TWh/yr of green energy from 3 GW of the plants under what it describes as the largest corporate power purchase agreement in the world.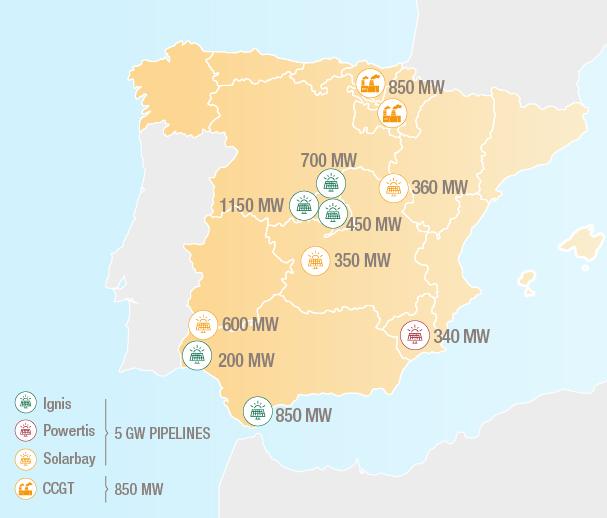 Source: Total
"Total is becoming one of the main broad-energy players in the country by intervening both in the production of renewable and gas-based electricity and in the distribution of gas and electricity," CEO Patrick Pouyanne said. "Spain is a priority country for Total in Europe and we fully intend to leverage the market's growth opportunities that the country offers to respond concretely to the challenges of the energy transition towards carbon neutrality."
Pouyanne said the new investments showed its commitment to decarbonising its European operations, while demonstrating the value of integrating production, trading and sales in the electricity chain.
The French major has building up its renewables business over recent years, and aims to have low-carbon electricity account for 40% of its sales mix by 2050. It already has 9 GW of low-carbon power in operation, including 5 GW of renewables, and wants to increase its renewables capacity fivefold by 2025.
"Solar power is one of the preferred technologies among oil majors looking to grow their renewables portfolios due to its relatively low cost and short investment cycle," GlobalData analyst Will Scargill commented, noting that solar was also a key focus for BP.
"The integration of renewables capacity with traditional oil and gas operations will be a critical tool as companies target net zero by 2050. For Total, this move to power all of its European industrial sites through solar is a significant step, as the region represents almost 70% of its global refining capacity," Scargill continued. "More integration is likely across the oil and gas sector, whether through development of renewables capacity at facilities or through green power purchase agreements."