Total To Send Rig to Absheron
France's Total will dispatch a rig at 10am local time February 21 from Baku to drill the first production well of its phase one of its Absheron offshore gas development in the Caspian Sea, the French major told NGW February 20.
Heydar Aliyev, the new semi-submersible drilling rig named after the country's late president, will drill the well in early March, Total said. It will have capacity to produce 1.5bn m3/yr gas and 12,000 barrels/day condensate. Actual production will start in early 2020 and will be delivered to state-run Socar for domestic consumption in Azerbaijan.
The gas and condensate will be piped directly from the well to a platform 25km away in shallow waters at the Neft Dashlari oil block, near Baku. Construction of the platform will start in mid-2018 and it will start up in late 2019, the company said.
According to Socar's original schedule, Total should have started the drilling in January 2018 and the date for first production was 2019.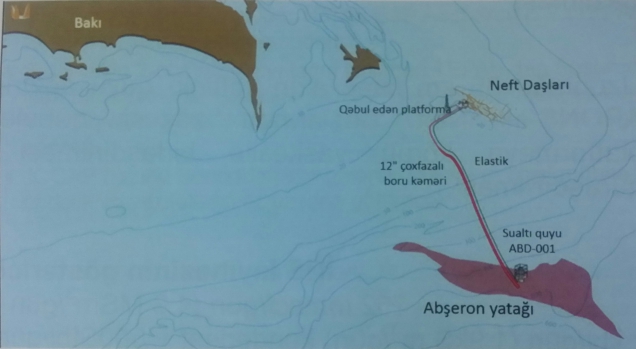 Absheron and Neft Dashlari fields, relative to Baku (Map credit: Total)
Total said that, according to its plan, the well will be drilled to a total measured depth of 7000 meters (including some 470m of water depth), will take 379 days to drill, and will be carried out by a local Caspian drilling company that handles all drilling operations on behalf of foreign-operated offshore Azerbaijan fields.
The first phase development, of 1.5bn m3/yr capacity , will cost about $1bn. A government source told NGW that, despite the first phase gas being planned for domestic uses, the project is still very beneficial. Socar sells gas at $59/'000 m3 ($1.64/mn Btu) to the residential market, but the price for the commercial sector and larger households consuming more than 1,700 m3/yr is double that, at $120/'000 m3.
The second phase of Absheron also would add a further 3.5bn m3/yr to production in 2023, taking its total then to 5bn m³/yr. Total and Socar each have 50% equity interests in Absheron