Total find ignites South Africa [NGW Magazine]
A gas find by a consortium led by Total off the south coast of South Africa has propelled gas to the top of the country's political agenda. It has even led to calls for the country to set up a sovereign wealth fund.
In his State of the Nation Speech February 7, just hours after the find had been announced, the president Cyril Ramaphosa spoke of having received a call from resources minister Gwede Mantashe "when he told me that the oil giant Total would be making a big announcement today about a new world-class oil and gas discovery off the coast of South Africa.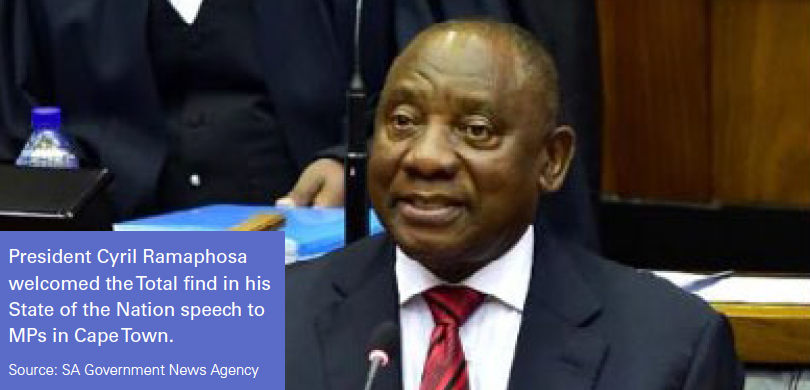 "We are extremely encouraged by the report this morning about the Brulpadda (bullfrog in Afrikaans) block in the Outeniqua Basin, which some have described as a catalytic find.
"This could well be a game-changer for our country and will have significant consequences for our country's energy security and the development of this industry", Ramaphosa said.
Mantashe had visited the rig a few days earlier, as Cape Town became the focus of the mining and resources industry, hosting its annual Mining Indaba (Conference). The Brulpadda prospects are on Block 11B/12B in the Outeniqua Basin.
The Brulpadda well hit 57 metres of net gas condensate pay in Lower Cretaceous reservoirs. Following the success of the main objective, the well was deepened to a final depth of 3,633 metres and has also been successful in the Brulpadda-deep prospect.
Total said the deep-water discovery opened a new world-class gas and oil play and was well positioned to test several follow-on prospects on the same block. It used the latest-generation drilling ship and said it was able to leverage its experience in similarly hostile environments, such as the West of Shetland, UK.
Total is the operator of this project, but it is an international consortium, with Qatari and Canadian members and a South African group Main Street. Italian Eni, US major ExxonMobil and others have nearby prospects, and other offshore explorers in South African waters include Norwegian state Equinor, domestic Silver Wave Energy and state-owned Petro SA and US Anadarko.
Game-changer for the nation
The head of the South African Oil and Gas Alliance Niall Kramer told NGW the find was "catalytic", saying it changes pretty much everything in the gas landscape in South Africa.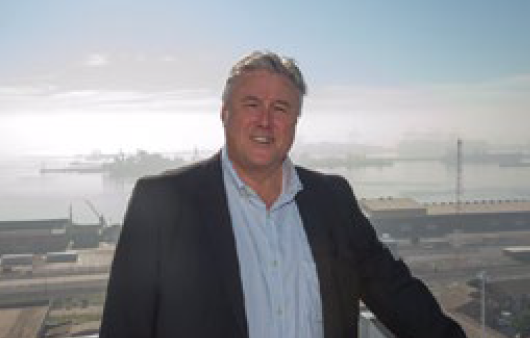 He said that if this find – and others – lead to gas extraction, there is a range of possibilities, such as using it in the Mossgas gas-to-liquids plant at Mossel Bay. This was traditionally fuelled by gas, but because of exploration setbacks is being converted to run on concentrate.
Kramer suggested that new gas production could also be used as feedstock for other refineries, and in a gas-to-power programme.
"Mossgas are in dire need of another gas supply source, so potentially it is a customer. They have a nameplate capacity of 45,000 bpd and as their current feedstock declines they are running at under 50% capacity. But even after plugging that hole there would be plenty (of gas) left. There are also South African potential customers in power, transport and in industry," he said.
If domestic markets do not pan out, he suggested LNG could be transferred through an offshore platform and made available to global off-takers. He said a pipeline extension to Brulpadda and then to related new fields in the Outeniqua Basin "seems easier and could be done in four or five years."
But he stressed that the key to all the options how the country may use the gas, and how Total and partners may want to monetise it, is for South Africa to get gas policy certainty and execution capacity. He stressed the need for clear and welcoming legislation to anchor global gas players in South Africa.
"We have had constipated policy and decision making, both on the side of government and of inert business," he charged. "If we are going to get ready for South Africa to participate meaningfully as a gas economy, we need to up our game. South African services companies have been holding the faith that this will come. Now it's here and an entire ecosystem of South African services from marine, aviation, logistics, safety, engineering will be positioning for production. We are still at exploration stage , the results albeit on the surface seem extremely positive, and need to be fully appraised of course, but it's the first clear, strong and sizeable signal we have had."
He expressed confidence that the Total find is likely to trigger activity among holders of neighbouring acreage. "So potentially we are looking at many multiples of the current apparent bonanza. Should that get to production, hold on to your hats.
Sovereign wealth fund
"In the 1960s, Norway was struggling and they had hypothesised there was good oil in the North Sea, and had not struck anything. Now they are sitting on a trillion dollar sovereign fund which is applied to social spend. Imagine that for South Africa. It is about envisioning a future and being execution-ready."
The potential for a sovereign wealth fund was also voiced by South African economist Raymond Parsons, of North West University, who believes that significant gas production could bring a major boost to the country's balance of payments.
Investec Bank economist Annabel Bishop said the find could change South Africa's import/export mix "significantly".
She said that new, supportive, government policy is anticipated this year to encourage further exploration of South Africa's mineral and petroleum deposits.
Should the government provide a supportive-enough policy environment for foreign direct investment into its oil and mineral deposits, the country could reap huge economic growth, employment and tax revenue boosts.
GlobalData oil and gas analyst Jonathan Markham said upstream production in South Africa has fallen by over half in the past decade and recent exploration has proven unsuccessful. "However, despite the positive statements regarding the potential resource size of up to 1bn barrels of oil equivalent in this discovery and the four nearby prospects, previous upstream projects in South Africa have been technically challenging to develop. The geology in the area is very complex and it is in a harsh deep-water environment. Projects such as Ikhwezi and Ibhubesi have undergone delays and reserve write-downs due to these difficulties.
"The Brulpadda discovery could have a similar impact on South Africa as the Zohr discovery did in Egypt," he said. "At the time of the Zohr discovery, Egypt was starting to plan for a future where the domestic gas production would not be enough to keep up with local demand for gas.
"Currently South Africa imports gas from Mozambique and plans have been suggested for up to three new LNG regasification facilities to allow more imports into the country. Compared to other nearby gas discoveries that face significant delays, such as the Kudu development in Namibia or the giant fields in Mozambique and Tanzania, Brulpadda would be able to tap into a pre-existing local market where the infrastructure and demand is already present."
Good news for neighbours
Meanwhile, Tower Resources, the AIM-listed oil and gas company, said this discovery opens a new world class gas and oil play. Block 11B/12B, which in which Total will continue exploration, is next to the Algoa-Gamtoos licence, operated by 50% partner New Age Energy, with 50% held by Tower. The Algoa-Gamtoos license also contains the southern deep-water basin margin of the Outeniqua Basin that was targeted by Total's Brulpadda well and is about 150 km along strike to the east from it.
Tower said that the Brulpadda well had successfully tested the Lower Cretaceous turbidite fan play of the Outeniqua basin slope, which is interpreted to extend along strike into the southern part of the Algoa-Gamtoos block, in which the operator, New Age, has identified on 2D seismic a substantial prospect.
The acting premier of the Western Cape, Alan Winde, told the Johannesburg Sunday Times that he believes the Total find will boost gas-to-power plants in the province. He said an Eskom-operated plant at Atlantis, near Cape Town, is currently running on diesel, and should now be handed over by Eskom to a public-private partnership (PPP) to oversee its conversion to gas.
He also said that a new gas-to-liquids plant should be built by a PPP in Mossel Bay.