Tortue FLNG Takes FID
The final investment decision (FID) for Phase 1 of the Greater Tortue Ahmeyim project has been agreed, announced BP and its US partner Kosmos Energy December 21.
It was made by BP, Kosmos, Senegal's state Petrosen and Mauritania's state SMHPM following a meeting to agree final elements held in Nouakchott between President Mohamed Ould Abdel Aziz of Mauritania and President Macky Sall of Senegal.
Advertisement:
The National Gas Company of Trinidad and Tobago Limited (NGC) NGC's HSSE strategy is reflective and supportive of the organisational vision to become a leader in the global energy business.
The project will produce gas from a deepwater subsea system and mid-water floating production ship (FPSO) to a floating liquefaction (FLNG) facility at a nearshore hub located on the Mauritania and Senegal maritime border. The FLNG facility for phase 1 is designed to provide some 2.5mn mt/yr on average, with the total recoverable gas in the field estimated to be around 15 trillion ft3. The LNG will be for global export, but the project will make some gas available for domestic use in both Mauritania and Senegal, said Kosmos. First gas for the project is expected in 1H2022. Following tendering involving all partners, BP Gas Marketing has been selected as the buyer for the LNG offtake for Greater Tortue Ahmeyim phase 1.
BP's upstream chief executive Bernard Looney said: "Achieving sanction for the ground-breaking Greater Tortue Ahmeyim development, and at such a fast pace, is testament to the dynamic partnership working together to bring this innovative project onstream and establish a new deepwater gas value chain."
Kosmos CEO Andrew Inglis remarked: "We are delighted to announce a final investment decision for this world-class LNG project. FID for this innovative, cross-border project has been agreed on schedule." The project was sanctioned on an accelerated timeline, he added, ensuring early delivery of cashflow to partners and both governments involved.
BP is operator for production and FLNG development and expects project execution activities to begin 1Q 2019. Kosmos continues to be exploration operator of the offshore blocks.
The UK major holds stakes in the Saint-Louis Profond and Cayar Profond blocks offshore Senegal of 60%, with Kosmos holding 30% and Petrosen 10%. In Mauritania, BP holds stakes in offshore blocks C-6, C-8, C-12 and C-13 of 62%, with Kosmos holding 28% and SMHPM 10%.
Consultancy Wood Mackenzie's director of gas and LNG, Giles Farrer, said: "By sanctioning the project now, BP is benefiting from the substantial cost deflation of recent years. With estimated government take of around US$4.5bn across all three phases to both Mauritania and Senegal, achieving FID is also a major milestone for both countries." Phase 1 liquefaction will be provided under a tolling agreement by the Golar FLNG vessel 'Gimi', it added.
Subscribe today and get full access to Natural Gas World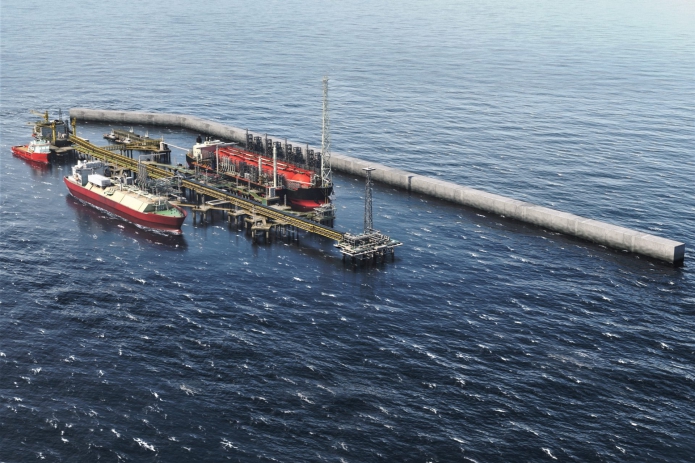 Artist's impression of the floating LNG facilities planned on the offshore border between Mauritania and Senegal (Photo credit: BP)