The Golden Age of Gas – When Will It Come?
According to one of its authors, a new book entitled The Future of Natural Gas: Markets and Geopolitics published by EconPapers attempts to explain the International Energy Agency's implied contention – posed as a question as the title of a book five years ago, whether gas was entering a golden age – bearing in mind the potential of natural gas as a transport fuel, or as backup to renewables and its growing supply thanks to new technologies such as hydraulic fracturing.
"However, these discrepancies between the projections and the reality encouraged us to analyse what did not work," said Nicolo Sartori, senior fellow, Istituto Affari Internazionali, of the IEA's concept.
In a session at the Atlantic Council dedicated to the book launch, and including several speakers, Sartori added that the book tries to provide an overall picture of the development of international gas markets, factoring in the political, economic, industrial and technological variables that are influencing the consumption and trade of natural gas resources at the global level.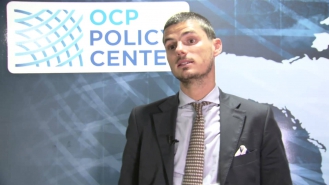 Nicolo Sartori (Credit: YouTube)
The Future includes chapters on transport fuel and the emerging LNG trade, covering suppliers and consumers globally; he said it also touches upon geological features and resource potential as well as the evolution of production and consumption patterns, the development of pro gas policies; and regulatory frameworks.
A politicised commodity
Beyond numerical analysis, Sartori said that the book also provides analysis on the role of gas in international politics. "Much of the book is based on the assumption – valid or not – of gas as a politicised commodity which can be easily used by producing countries to project power towards consumers."
He explained that, as such, those for whom gas is not secure, or who rely upon a single supplier, it could endanger the energy security of their state. In this context, Sartori mentioned the role of LNG and Europe's strategy regarding that, also pointing out China's increasing reliance upon natural gas to reduce its carbon footprint.
Meanwhile, he noted that inward looking domestic policies and the lack of political will had placed constraints upon the emergence of natural gas in places like Africa or the eastern Mediterranean region, where gas production was a real possibility.
Another speaker who also authored a chapter of the book, Jane Nakano senior fellow, Energy and National Security Program, Center for Strategic & International Studies, noted that Japan had taken another look at its LNG procurement strategy in light of 2011's Fukushima nuclear power plant disaster, and was also taking geopolitical factors into consideration in this context.
She offered: "The main focus is how the post Fukushima electricity supply shortage concern has led to a high volume of imports and eventually led the Japanese government to try much harder to seek cheaper LNG as opposed to secure supply that may come with a higher price tag."
Consequently, she reported, Japan has made two strategic adjustments to secure cheaper supplies of LNG as opposed to more secure supplies. This had brought the need for Japan to diversify suppliers, mainly from southeast Asia, according to Nakano.
US LNG to the rescue

South China sea travel now meant that LNG supplies from Qatar meant to go to the US were now available for Asia; and now Japan is seeking much more flexible terms in contracts, she said. Three key elements to that, she added, are de linkage from oil-based pricing, destination flexibility and flexibility of contract duration.
"Traditional LNG contracts were multi decade long, pricing was oil linked and there were strict restrictions as to where the cargo could go, mainly to make sure that suppliers made a return on their investments," she said.
According to Nakano's chapter, the shale gas revolution in the US could not have happened at a more opportune time for Japan, but it also looks at Japan's geopolitical relations with China and Russia.
"It's really the primacy of Tokyo's relationship with Washington under the formal security alliance that sets the parameters in which Tokyo can act, not just in terms of energy deals they may pursue, but in terms of supplier diversification, i.e. perhaps a closer relationship with Russia.
Embracing a climate-friendly fuel
The future of gas is bright, but it's also "a bit smokey," said the Atlantic Council's Bud Coote. resident Senior Fellow, Global Energy Center, who did not contribute to the book, but said he had read it entirely and provided his perspectives on its content.
He added, "How bright the future turns out depends on the degree to which governments embrace natural gas as a transition fuel to move us from a more heavily dependence on hydrocarbons to more friendly climate fuels."
Coote observed that the expected momentum towards that had not yet been seen, but that it is still early, pointing out that gas provides the most energy per unit of carbon emissions among the carbon fuels. "But I think it's a big question whether it's going to fill this transition role to the extent that some of us think it can."
As to the prospect of gas taking over for coal in places like China, Jane Nakano offered that that country's government had set the goal of raising the share of natural gas in the generation mix from 6% to 10%.
She commented, "I do think it's quite an ambitious goal because to raise it I think the economic growth rate needs to be closer to 10%. But gas could be a baseload if the Chinese succeed in unlocking unconventional gas."
For Japan, which she said is deeply "import dependent", baseload had traditionally been nuclear, so with government plans for a nuclear restart and the increased viability of gas, there is pressure not to use coal in Japan despite the fuel being cheaper.
Identifying the competition – renewables or coal?
Nicolo Sartori noted that the European case was quite similar. He said, "The strategic investment in Germany in the Energiewende in renewables did not materialize this expansion of the natural gas market for the generation of electricity, but produced an increased reliance on coal, which makes up 30-40% of generation, while natural gas only 9% – owing to prices, but also to the legacy of coal plants and the jobs they provide. Coote conceded that the real competition was between gas and coal as opposed to gas and renewables.
Another 'big wave' on the horizon and Moscow's reaction
Meanwhile, Coote noted that global gas and LNG production continue to rise, still being driven to a great extent by the US shale gas revolution. "Last year's production was another record, rising by 5%. We'll see another record this year based on about half a percent growth, and the EIA is predicting another rise in 2017," he said, also noting the furious pace of LNG growth in the US and Australia.
"The US is on a pace to approach 100 bcm of annual capacity by 2020. Right now, 110 bcm/annum has been approved and is under construction, and another 50 bcm has already been approved by the Federal Energy Regulatory Commission, so the big wave is coming, but not until about 2018-19."
He reported that in the last 7 months, Cheniere Energy had exported more than 25 cargoes from Sabine Pass, including one to China that had travelled through an expanded Panama Canal.
The number of countries importing LNG has now risen to 35, according to Coote, who added that spot sales were also growing.
He commented "The central question is whether Russia will try to keep US LNG out of its markets by underpricing its gas. In Europe, US shale gas has actually been depressing Russian prices since at least 2009 by diverting LNG destined for the US to Europe, because it turned out it was unneeded in the US."
Drew Leifheit