Technology: Korean Competition for GTT [LNG Condensed]
At present, the big three Korean shipyards – Daewoo Shipbuilding & Marine Engineering (DSME), Hyundai Heavy Industries and Samsung Heavy Industries (SHI) – have to pay GTT royalties on each vessel that uses the French company's technology. However, DSME's Solidus technology is now the third Korean LNG containment system to be developed, following Samsung Heavy Industries' KCS and Kogas' KC-1.
Kogas developed the KC-1 membrane tank system in cooperation with SHI, Hyundai Heavy Industries and DSME. The system uses 1.5mm stainless steel plates in both the primary and secondary barriers, which are corrugated to cope with thermal expansion and contraction. The two layers are backed by panels of polyurethane foam, with inter-barrier spacers used to prevent any damage to the primary barrier affecting the secondary barrier. KC-1 was fi rst used on the 174,000 cu m SK Serenity and SK Spica, which were completed for SK Shipping in the first quarter of 2018.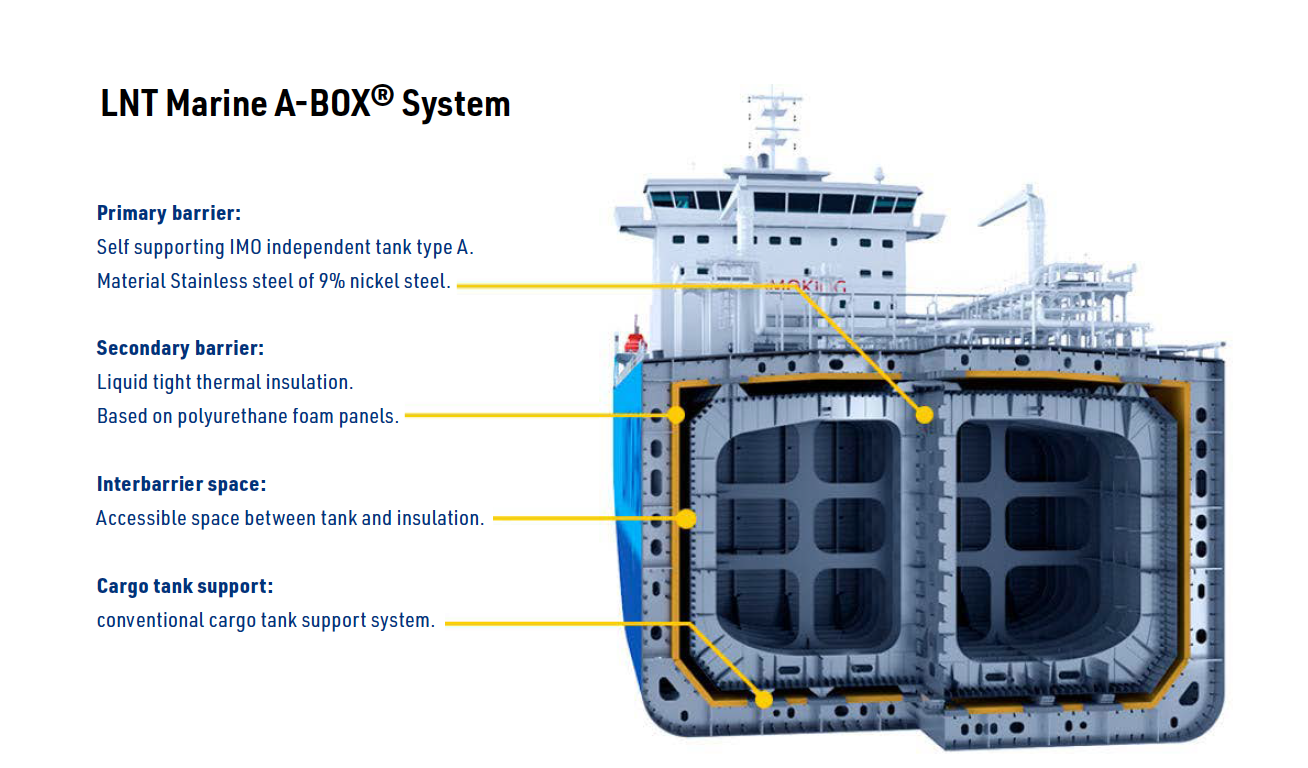 In mid-June, classification society DNV GL approved DSME's own Solidus LNG containment system for use. The insulation material used in Solidus, which is surrounded by metallic layers on both sides, has been developed by DSME and BASF of Germany to reduce LNG boil-off rates. It has also been approved by Lloyd's Register. Securing general approval for ship application (GASA) encourages carrier owners to adopt particular technologies.
DSME chief executive and president Sung-Geun Lee said: "The Solidus design improves the new-building productivity and significantly reduces costs, making it a big step forward in developing the LNG carrier industry for shipbuilders and suppliers."
GTT LOWERS BOR
Despite the emerging Korean competition, French engineering firm GTT's membrane technology is used on about three-quarters of the 520 conventional LNG carriers currently in use and it seems to be maintaining market share, in part because it has improved the thermal performance of its cargo containment systems to cut carbon emissions and transport costs. The company says that 2018 was its best year for a decade, with its containment systems ordered for 50 new vessels.
Over the past decade, GTT has reduced the boil-off rate (BOR) from 0.15% of volume per day to 0.07% in its new Mark III Flex+. The reduced BOR has been achieved through increased insulation thickness and the lower fuel requirements of more efficient propulsion systems. This contrasts with a rate of 0.12% of the cargo volume per day on Kogas' KC-1 system.
GTT has adapted the insulation provided on its two systems: Mark III and NO96. The insulation on the Mark III Flex+ is now 480mm thick, while a layer for rigid triplex has been added to the secondary barrier to increase strength. The NO96GW uses glass wool in the boxes backing the two metallic barriers, while in the LO3 version of the NO96 a box insulated with glass wool is attached to a plywood and polyurethane foam panel.
GTT technical director Karim Chapot said: "The thermal performance of LNG cargo containment systems is one of the chief concerns in the LNG sector. It has a direct impact on transport costs and CO2 emissions. Technological advances have made it possible to continuously improve this performance over recent years, halving LNG emissions in the space of a decade."
The Mark III Flex+ system is being used on two big carriers currently under construction by Samsung Heavy Industries for Gaslog, each with 180,000 cu m capacity. The solution obtained general approval from several classification societies, including DNV GL and Lloyds Register, in the second half of 2017.
GTT's NO96 Flex cargo containment system, which was approved by class society Bureau Veritas last September, offers the same 0.07% BOR. Insulating polyurethane foam panels are attached to the inner hull, while the primary membrane is now corrugated stainless steel. Work will start on building a prototype of the NO96 Flex system next year.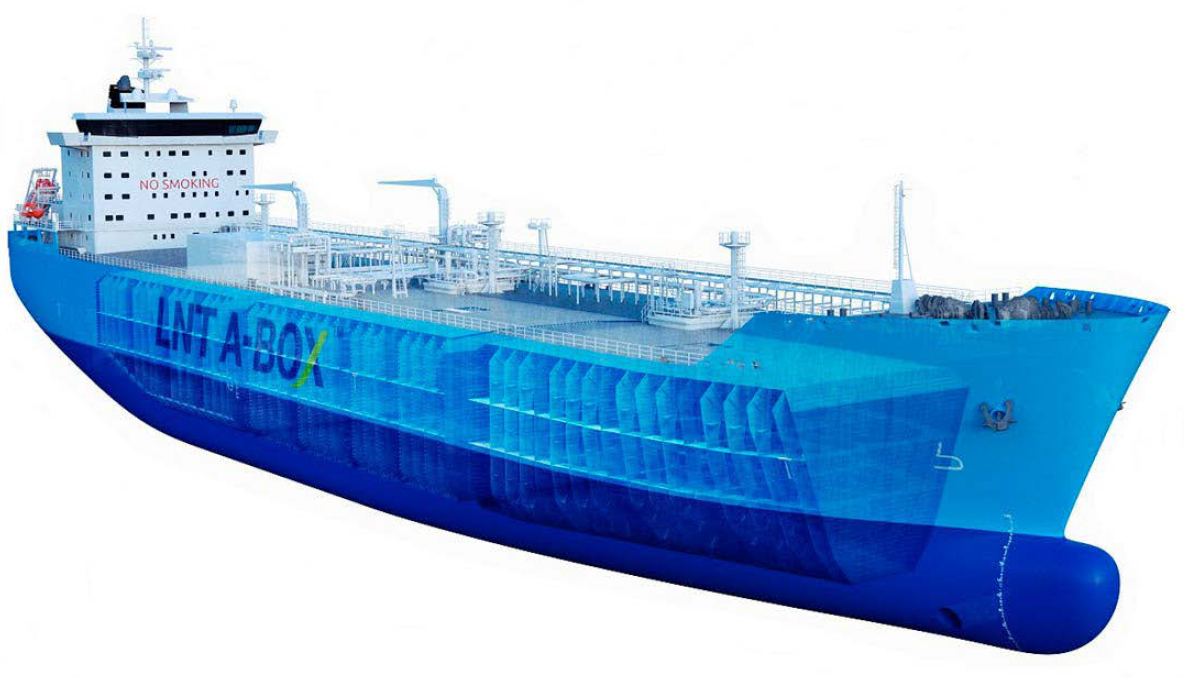 NEW DESIGN FROM LNT
Singapore-based LNT Marine has developed an A-Box design that uses an International Maritime Organisation independent type A tank as the main barrier, plus a conventional cargo tank support system and liquid-tight thermal insulation as a full secondary barrier to make maximum use of the hull space. The first vessel incorporating the technology , the Saga Dawn, was launched at China Merchants Heavy Industry's Jiangsu shipyard in March, making it the first LNG carrier to be built at the yard. The vessel, which was built for Saga LNG Shipping of Singapore, has 45,000 cu m capacity.
Saga Dawn's gas trials were completed over the first half of June, testing the gas combustion unit, cargo handling equipment and the Wärtsilä dual fuel main and auxiliary engines. All three cargo tanks completed global tightness testing to confirm the integrity of the secondary barrier system. The CEO of Saga LNG Shipping, David Wu, said that his company would order further similar vessels "in the near future to meet evolving market demands". Saga LNG Shipping says that the self supporting prismatic tanks make better use of the hull space and are simpler to construct.
It will be interesting to see which containment systems are chosen for new fleets, particularly as the size of LNG carriers is increasing. A string of new orders are expected in the near future, including from Qatar Petroleum to service its North Field expansion and from Anadarko Petroleum, which is expected to order 15 new vessels in the second half of this year for its Mozambique LNG project. A similar number of vessels will be required by ExxonMobil and Eni if, as expected, they also take the final investment decision on their LNG scheme in Mozambique this year.
This article is featured in Volume 1, Issue 6 of LNG Condensed.
LNG Condensed is a free monthly digital publication by Natural Gas World. You can sign up FREE below to receive it or sign-up to one of our Subscription Options: NGW Basic (FREE) - NGW Premium Monthly - NGW Premium Annual.
NOW AVAILABLE: Volume 1, Issue 6 - June 2019
Volume 1, Issue 6 - June 2019
In this Issue:
India's gas infrastructure challenge
Egypt ramps up its LNG exports
LNG and the methane emissions challenge
Argentina - Hanging in the balance
Mozambique LNG
Korean Competition for GGT
and more!
LNG Condensed brings you independent analysis of the LNG world's rapidly evolving markets.
Covering the length of the LNG value chain and the breadth of this global industry, it will inform, provoke and enrich your decision making. Published monthly, LNG Condensed provides original content on industry developments by the leading editorial team from Natural Gas World.
LNG Condensed is your magazine for the fuel of the future.
Sign up now to receive LNG Condensed monthly FREE (after filling out the form you will be redirected to LNG Condensed's archive where you can find every issue already published available for download):