Technology: FLNG starts 2023 with a growing suite of projects [Gas in Transition]
Floating storage and regasification units (FSRUs) are the go-to solution for accelerated development of LNG import capacity, but floating LNG production is also picking up pace as developers recognise the speed to market it offers, among other advantages.
However, the two floating technologies find themselves in very different market positions. At the outbreak of war between Russia and Ukraine in late February 2022 there was a surplus of almost 20 FSRUs either working as LNG Carriers (LNGCs) or laid up, creating a pool of existing vessels which could be called on immediately. No such resource exists on the production side – new FLNG capacity depends on newbuilds and conversions, which take time to reach operable status.
However, the end of last year and the start of this one saw a number of developments, indicating that FLNG is the primary route for fast-track LNG production.
Drilling rig conversions
In October, affiliate companies of US LNG developer New Fortress Energy (NFE) signed master service agreements with Sembcorp Marine Rigs and Floaters Pte Ltd for the conversion of two Sevan cylindrical drilling vessels into FLNG liquefaction facilities, including the fabrication and integration of LNG topsides modules. Delivery for the first unit is scheduled for first-quarter 2024.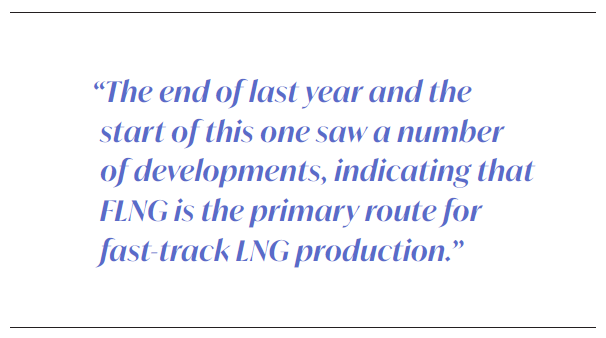 The drilling vessels are based on Sevan SSP's 650 circular hull design. The Sevan Brasil was completed in 2012 by the Cosco Qidong shipyard in China. Converting a former drilling vessel is a new approach for FLNG, which has previously relied on newbuilds and the conversion of old LNGCs. NFE is also in the process of converting two jack-up rigs for use as FLNG facilities.
Circular Floating, Production, Storage and Offloading (FPSOs) vessels were developed for harsh operating environments, such as offshore Brazil and the hurricane prone Gulf of Mexico. The circular hull design provides greater stability, which aids positioning, as well as providing a higher deck load capacity than a conventional FPSO, both qualities which will benefit FLNG conversion. Although designed for deep water drilling, circular hull vessels have also been deployed in relatively shallow waters, where the use of dynamic positioning systems is more complex.
For NFE's projects, storage will be provided by an LNGC moored alongside the FLNG unit. Each FLNG facility is expected to have a capacity of about 1.4mn mt/yr.
FLNG security highlighted by Mozambique experience
NFE's announcement in October was followed by a major milestone for both FLNG and Mozambique in November. The first cargo from the 3.4mn mt/yr FLNG vessel Coral Sul, developed by Italy's Eni, was offloaded six weeks after the unit started to produce LNG. Although it has taken since 2017, when the project was awarded to the TJS Consortium, led by Technip Energies and its partners JGC Corporation and Samsung Heavy Industries (SHI), the project has fared far better than the two much larger LNG projects planned onshore Mozambique.
France's TotalEnergies was forced to stop construction of the 12.88mn mt/yr Mozambique LNG project in 2021, owing to an insurgency in the Cabo Delgado region. ExxonMobil and Eni have delayed a final investment decision on the 15.2mn mt/yr Rovuma LNG development for the same reason. The use of Rwandan and South African Development Community forces has since secured the areas around the LNG concessions and a resumption of construction on Mozambique LNG looks possible this year.
However, security assessments suggest there has been little progress in addressing the root causes of the conflict and the militant Ahlu-Sunna wal Jama group is expected to carry out further attacks in and around the Cabo Delgado province in 2023.
The continuing uncertainty over the security situation and the success of Coral Sul looks likely to prove a boon for FLNG, highlighting offshore developments' insulation from onshore disturbances.
In August, Eni CEO Claudio Descalzi said the Rovuma LNG partners were considering a second FLNG vessel as a means of increasing LNG production from their Mozambique acreage. Referencing Eni's 'fast LNG' project offshore Congo, and given Rovuma's pre-FID status, FLNG is still the fastest option, even if it would bring production onstream in smaller increments than the large-scale onshore plans.
Industry reports indicate that partner ExxonMobil has also been actively researching the possibilities for one or even two FLNG vessels as a means of further monetising its Area 4 gas resources off Mozambique. If a decision were taken, and newbuild vessels employed, construction is estimated at about 38 months, if yard space is available. This is by no means a given, owing to a recent surge in container ship and LNGC orders, which has pushed back construction times.
Both newbuild and conversions being pursued
Despite the high cost, and the use of, it seems, almost any workable platform in an effort to secure fast-track LNG, newbuild is still an option. While attention in the FLNG world has focussed on Shell's multi-billion dollar 3.6mn mt/yr Prelude project off Australia and Coral Sul, it was Malaysia's state oil and gas company Petronas that built and deployed the world's first FLNG vessel, a process it then replicated to make it the only company worldwide operating two FLNG units.
The PFLNG Satu, which is 365 metres in length and weighs over 100,000 tonnes when fully laden, clocked up its 50th cargo last September since going into operation in 2017 on the Kanowit gas field. It was relocated to the Kebabangan field offshore Sabah in 2019 – the first FLNG vessel to be used on two separate fields. The vessel can operate in water depths up to 200 metres and has production capacity of 1.2mn mt/yr.
In March 2021, Petronas loaded its first cargo from the PFLNG Dua, from the Rotan gas field 140 km offshore Sabah. The vessel can operate in up to 1,500m of water and has a capacity of 1.5mn mt/yr.
Petronas' experience has clearly proved positive, as evidenced by a decision announced in December 2022 to build another FLNG facility. Billed as the first of its kind, the nearshore vessel will have 2mn mt/yr capacity. The engineering, procurement, construction and commissioning contract has been awarded to a consortium headed by JGC Group and SHI. Project completion is scheduled for 2027.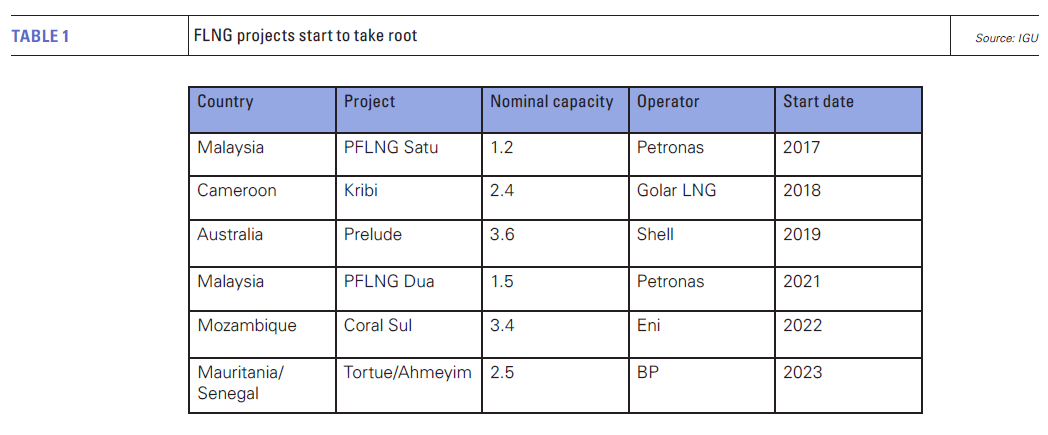 JCG will cover the FLNG topside, associated onshore facilities and overall project management. SHI is responsible for the FLNG hull and modular fabrication of the topside.
Petronas' announcement of an FID on a third vessel suggests that the company views a fleet of re-deployable FLNG vessels as the best option for the exploitation of the country's many undeveloped offshore gas fields.
Nigeria latest to explore FLNG possibilities
A consortium of JGC, KBR and Technip Energies in November signed an agreement in London with UTM Offshore for Nigeria's first FLNG development. The project is being supported by Afreximbank.
Nigeria already has substantial LNG capacity – 22mn mt/yr – and expansion, in the form of Train 7 at Nigeria LNG (NLNG) is underway and scheduled for completion in 2025/26. However, Train 7 has been a long time coming, reflecting both regulatory uncertainty over upstream developments in Nigeria and supply insecurity onshore.
The latest force majeure event to hit the onshore plant was severe flooding in October. However, NLNG said earlier in the year that it had lost almost $7bn in 2022 as a result of very high levels of oil theft and pipeline vandalism, which had made it unable to operate at full capacity, owing to gas supply shortages.
Onshore insecurity has seen a long-term trend of divestment from Nigeria's onshore oil and gas patch by international oil and gas companies and a concentration on offshore developments. Much as in Mozambique, FLNG could prove a safer, speedier and more investable route for the country than further onshore development or the various grandiose plans for multi-country international pipelines to take Nigeria gas north to Europe.
Nigeria will almost certainly be taking note of Cameroon's early success in deploying the FLNG vessel Hilli Episeyo, the first LNGC conversion project, and the progress being made by BP and project partner Kosmos' Greater Tortue Ahmeyim project offshore Mauritania and Senegal.
Tortue Ahmeyim expansion decision would boost FLNG sector
According to a company update in September, Greater Tortue Ahmeyim was about 85% complete. The project will use Golar LNG's Gimi conversion, which has a capacity of 2.5mn mt/yr.
The central platform of the hub, 10 km from shore, includes the berthing facilities for the FLNG vessel and the breakwater. These are reported to be complete, as are the shallow water gas export pipeline from the FPSO to the hub terminal and living quarters for staff. With FPSO construction expected to be finished soon in China, the project partners hope to see the first LNG produced by the end of 2023.
Always designed as a modular development, the breakwater and other facilities would not need many upgrades to work with additional FLNG vessels, providing a fairly quick means of expanding production. A decision on how and when to expand production further could well prove another boost for the FLNG sector later this year.