TAP Completes Contract Awards
Switzerland-based Trans Adriatic Pipeline AG has chosen US firm Honeywell to provide its telecommunications and security systems.
The SCADA (supervisory control and data acquisition) and security systems will monitor and control the entire 878km pipe system, with data transmitted back to TAP's control centre in southern Italy.
TAP managing director Ian Bradshaw said: "With this appointment, TAP has completed the award of all major strategic contracts for pipeline construction." Honeywell's Italian business will fulfil the contract. TAP shareholders are BP, Socar, Snam, Fluxys, Enagas and Swiss Axpo.
Two weeks ago Honeywell was also chosen by the 1,850km Tanap pipe, that will carry gas from Turkey's eastern border with Georgia to its western border with Greece, to provide its control and security system.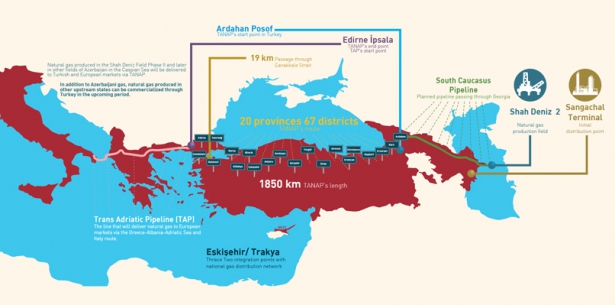 Tanap's route across Turkey, with TAP to the west and South Caucasus Pipeline to the east also shown (Map credit: Tanap)
Both pipes will eventually flow Shah Deniz phase two gas from Azerbaijan, with deliveries to Italy via TAP scheduled to begin in 2020.
Mark Smedley