Tanzania's Industry Wants Gas Too - Aminex CEO
UK-based Aminex produced first gas from the Kiliwani North field in Tanzania in April; this week it said that commissioning began on June 1 of a new gas process plant on Songo Songo island.
On June 2, gas from Kiliwani North-1 was processed at the plant and entered the subsea pipe connecting the Songo Songo plant with the national pipeline to the capital Dar es Salaam. Aminex and partners expect gas rates to increase to 30mn ft3/d (gross) while pressuring up the plant and pipe.
But will they be paid? And will that gas find an outlet in gas-fired power plants up and running, and others being built, around the capital? The reply comes back: Yes, yes – and it's not just about power.
"We do have a committed Gas Sales Agreement (GSA) from the government," Aminex CEO Jay Bhattacherjee told Natural Gas Africa earlier this week.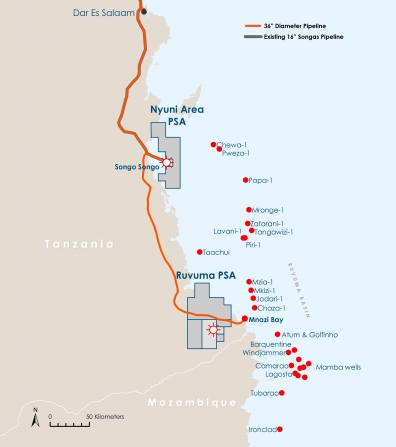 The 532km national pipeline showing Songo Songo and Aminex's Ruvuma and Nyuni PSAs (Map credit: Aminex)
Aminex's GSA says it will receive $3/mm Btu for gas delivered at the Kiliwani North wellhead from state buyer Tanzania Petroleum Development Corporation (TPDC) – so won't have to pay pipeline transportation and processing fees. "There's no guarantee, but we all have committed GSAs, so we are pretty confident that our gas will be utilised," says the Aminex CEO.
Aminex and partners have invoiced TPDC for both April and May gas production in line with their GSA.
"There's quite a distribution network being built right now for heavy industry in a town called Mikocheni so a lot of the gas will be absorbed for that. There is power obviously there. The bottleneck is the distribution – it's not really on the demand-side," the Aminex CEO explained.
"Also we're the only gas that's connected right now to the Songo Songo facility, and the facility is important to the future demand and then distribution of the gas in Tanzania. Kiliwani gas underpins the success of the plant so our gas really does need to be flowing in there on a continuous basis."
Bhattacherjee, moreover, doesn't see Tanzania simply as a tussle among producers to respond to large power plants' needs.
"The distribution system is being expanded right now. More and more consumers are coming onstream to that system. It's not only us and Maurel & Prom [at Mnazi Bay, with Wentworth Resources], it's also Orca's gas as well. All three of us, over the course of the next 24-36 months, are looking to deploy as much gas as we possibly can."
Canada's Orca has produced gas at Songo Songo island since 2004 and piped this via an existing Songo Songo process plant to the mainland and north to the capital. In February 2016 it completed a workover of three shallow water wells in February 2016 in order to boost its production there from 83mn ft3/d before to eventually 150mn ft3/d.
Aminex-operated Kiliwani North Field has been independently ascribed with 28bn ft3 gross resources, and its KN-1 well tested at 40mn ft3/d. Aminex has a 54.575% interest, partners are Abu Dhabi-based RAK Gas 23.75%, UK-based Solo Oil 7.175%, Australia-based Bounty Oil & Gas 9.5% and state TPDC 5%.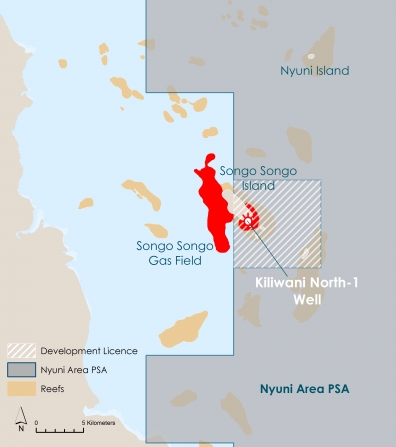 Aminex-operated Kiliwani North production area, and the wider Nyuni exploration PSA (Map credit: Aminex)
Aminex, with TPDC, plans to conduct a well test during Kiliwani North's production build-up to determine the optimal flow rate. In its statement on June 6, it said that optimal flow rate that will become the commercial production rate -- which Aminex expects to be about 30mm ft3/d.
But it also intends to produce from its Ruvuma acreage further south. As Bhattacherjee explains: "When we get into 2018-19, we're looking at adding potentially another 100mn ft3/d from our Ruvuma project alone, down south – so it's a bigger picture right now, and it will continue to grow."
Ruvuma includes Aminex's Ntorya-1 onshore 70bn ft3 gas discovery, which tested at 20mm ft3/d; Aminex is the licence operator with 75%, partnered by Solo on 25%.
Aminex is ready to drill the first of two appraisal wells there – each expected to cost some $13mn gross – 1.5km from the Ntorya-1 discovery well, with the 2nd well to be drilled either late 2016 or early 2017, Bhattacherjee tells NGA: "Both are designed to get gas into some kind of early production system."
As the 532km Chinese-built national pipeline from Dar es Salaam to Madimba in the south does not yet extend to Ntorya in the far south of Tanzania, so Aminex's thinking is maybe to develop a 25km pipe to the free port of Mtwara, where Bhattacherjee says that heavy industries would buy the gas.
Appraisal at Ruvuma is taking precedence over work on Aminex's 90% interest in the Nyuni area (further offshore Songo Songo and Kiliwani North) which has ascribed resources of 4.2 trillion ft3.
Mark Smedley