Tanzania Wrangling Impacts Wentworth
Third party wrangles meant that Calgary-based, east Africa-focused producer Wentworth Resources remained loss-making in 3Q 2016 despite Tanzania's Mnazi Bay gas field, in which it has a 31.94% interest, having celebrated its first anniversary of sales production this August.
Wentworth's managing director Geoff Bury said November 15 that 3Q gas sales were impacted by "contractual issues beyond the control of the Mnazi Bay joint venture partners." It expects base gross demand for the rest of 2016 and all of 2017 to be "40mn-50mn ft³/d with possible significant increases originating from gas sales to industrial consumers and resumption of operations at the idle gas-fired Symbion power generation plant."
The company's gas sales revenue in 3Q was $2.38mn (year-ago: $0.97mn), while pre-tax loss in 3Q 2016 was $0.9mn.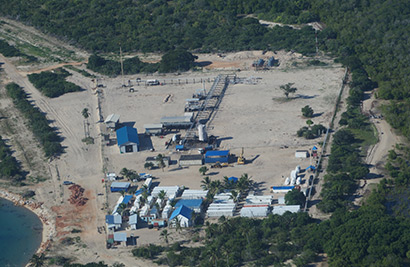 Mnazi Bay field operations (Photo credit: Wentworth Resources)
Mnazi Bay achieved average gross 3Q 2016 production of 34mn ft³/d, down from 51mn ft³ in 2Q 2016, because operations were suspended at the Symbion gas-fired plant as a result of its dispute with the Tanzania government, and because of overhauls and commissioning of gas turbines at Ubungo II and Kinyerezi I power stations and the allocation of gas demand to industry competitors at the Songo Songo gas processing facility. The year-to-date gross average is 44mn ft³/d (Wentworth: 31.94%).
Expansion of the liquid separation units and gas processing facilities at Mnazi Bay was also ongoing in 3Q 2016, with commissioning and full operations expected in the coming months. Wentworth added that a potential increase in industrial demand includes supplying the Dangote cement plant (30-40mn ft³/d) and resumption of operations at the Symbion power plant (20mn ft³/d).
"We continue to feel confident in the future build up in demand; as the new power plants, Kinyerezi-1 expansion and Kinyerezi II, are under construction and expected to be commissioned and operational during 2018," said Bury.
Mnazi Bay in Tanzania is operated by French independent Maurel & Prom, the subject of a friendly takeover bid by Indonesian state Pertamina.
In Mozambique, Wentworth finalised the design details of a new 2D seismic survey of some 700 km in the onshore Rovuma concession, which will enable it to identify a site for an appraisal well in 2018.
Mark Smedley