Tanap to Start Up Mid-June, Two Weeks Early
The Trans Anatolian pipeline (Tanap) will start flowing gas on June 19, sources at both BP and Socar have told NGW.
Both companies are shareholders in Tanap, which will run across Turkey from the Georgian-Turkish border in the east, to the city of Eskisehir in northwest Turkey.
During the June 19 opening ceremony in Eskisehir, top officials from participant countries in the Southern Gas Corridor (SGC), including Azerbaijan, are scheduled to take part. The new date is two weeks earlier than the June 30 start-up date announced by Tanap CEO Saltık Duzyol last month.
Tanap 'zero phase', extending as far west as Eskisehir, is already pressurised and will be ready to flow onward to other pipeline infrastructure. But for now - until the expected September 2018 inauguration of Shah Deniz phase 2 - gas being used for its start-up is the phase one of the Shah Deniz field (SD1) in Azerbaijan's sector of the Caspian Sea. Injection of this gas into Tanap phase zero began in March.
Tanap shareholders are: Socar Turkey Enerji (7%), Azerbaijan's Southern Gas Corridor Company (SGCC) (51%), Turkey's Botas (30%) and BP (12%).
from Turkey's eastern border to its western one with Greece; it is the biggest EU-backed energy project and will deliver 6bn m³/yr of SD2 gas from offshore Azerbaijan to Turkey and, starting 2020, an additional 10bn m³/yr from SD2 to the EU.
Tanap's total cost is $8bn, of which 70% was spent up to April 1 covering the costs of Tanap's 'zero phase'. The pipeline's nominal capacity will reach 6bn m³/yr this year, 16bn m³ in 2019, 24bn m³/yr by 2023 and 31bn m³/yr capacity in 2026, according to a document, seen by NGW.
However no gas fields, inside or outside Azerbaijan, have yet been allocated for this expansion, beyond the 16bn m³/yr that the BP-operated SD2 project will supply.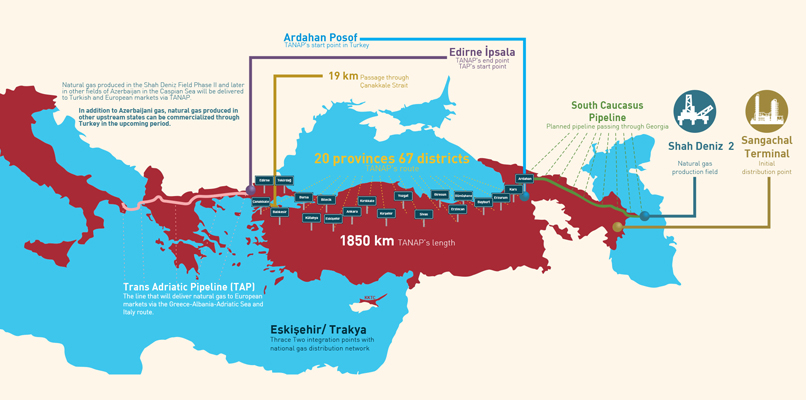 Tanap 'zero phase' at 1,340km is part of the 1,850km Tanap pipeline, which in turn forms part of the overall roughly 3,500km Southern Gas Corridor from Azerbaijan to Italy (Map credit: Tanap)