Talking shop in the E Med [NGW Magazine]
The East Med Gas Forum (EMGF) had its second meeting July 25 in Cairo. EMGF was formed in January 2019 with the aim of becoming "an international organisation that respects the rights of members with respect to their natural resources in accordance with the principles of international law and support their efforts to benefit from their reserves and use of infrastructure." This also includes "commitment to paving the way for fruitful co-operation in the technical and economic fields, with a view to efficient exploitation of the gas potential in the region."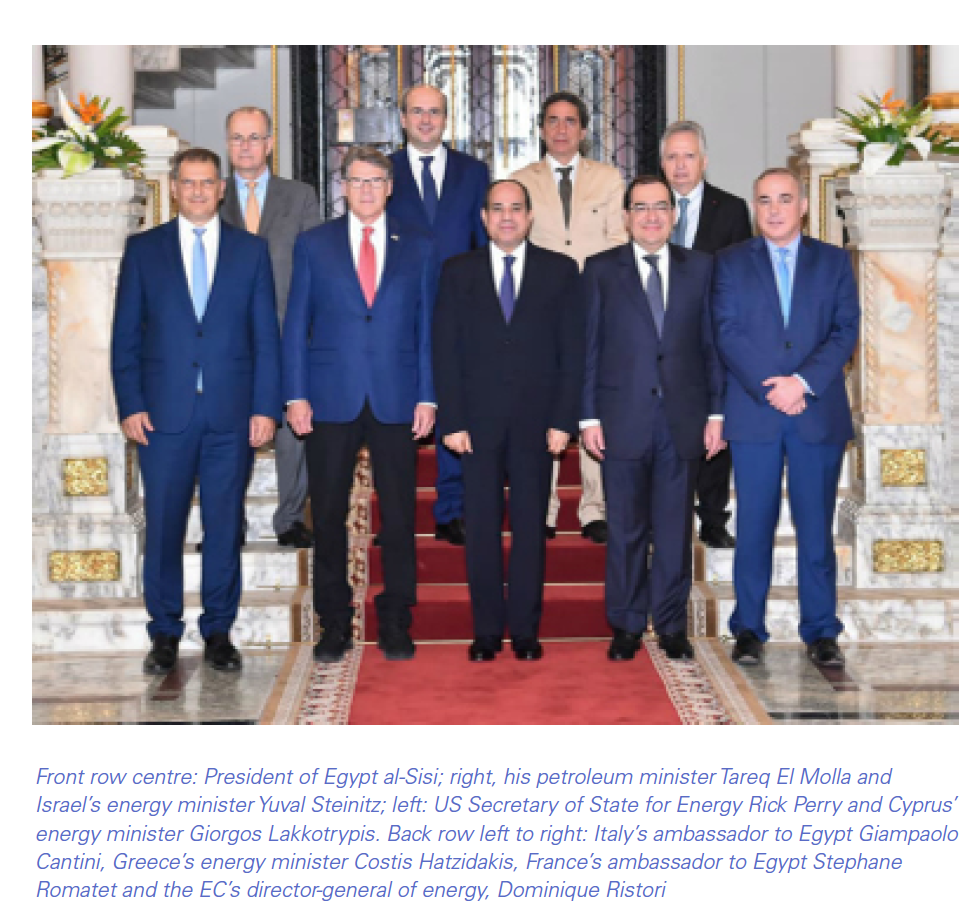 It was formed by the energy ministers and representatives from Egypt, Cyprus, Greece, Israel, Italy, Jordan and the Palestinian Authority. The second meeting in Cairo was also attended by US secretary of state for energy Rick Perry, the European Commission director-general of energy Dominique Ristori, the French Ambassador to Egypt Stephane Romatet and a representative of the World Bank. In particular, the high level of US and EU participation demonstrates their strong support for the Forum.
The meeting agreed to the further development of EMGF and to increase co-operation for the promotion and exploitation of natural gas reserves in the eastern Mediterranean and "pave the way for a sustainable regional gas market." The participants also agreed to form a committee to elevate the forum to the level of an international organisation that "respects the rights of its members to their natural resources in accordance with international law."
However, the details of what this regional gas market will involve and how it will come together and operate have not been elaborated and at this stage are quite vague. The statement issued at the end of the meeting did not indicate how or what steps eastern Mediterranean countries will take to develop the region's hydrocarbons.
The EMGF meeting was useful in terms of regional politics but vague and lacking on practicalities, especially given the region's burning problems in need of urgent resolution.
For example, Turkey's continued violation of Cyprus' exclusive economic zone (EEZ) despite the EU's intention to impose sanctions, did not get a mention in the issued statement. Perry confirmed that the issue came up during the meeting but did not provide details.
The fact the next meeting of the forum is scheduled to take place in Cairo in January 2020 gives the impression of a lack of urgency. It will be some time before EMGF evolves into the influential international organisation it aspires to become.
A regional energy centre?
Sisi met the ministers before the EMGF meeting and expressed hope that eastern Mediterranean gas resources can develop into real investment opportunities. He went as far as to say that EMGF "will pave the road for the creation of an integrated regional energy centre."
What he was referring to is Egypt's goal to become the region's gas hub. In doing so, Egypt has the full support of the EU and the US, reinforced by their high level participation at the meeting. But how far can this go?
EMGF is a talking-shop and as such it will help improve co-operation among its members, but it will not have a direct effect on the development and export of hydrocarbons from the region. This is still subject to the commercial challenges of global markets and the effects of the global shift to clean energy.
Egypt is becoming a major natural gas player in its own right. It has not only become self-sufficient in gas, but it is rapidly implementing renewables and, by removing subsidies, it is containing its growing domestic energy demand. This has freed gas for exports using its existing liquefaction facilities. With increasing gas discoveries and production, El Molla expects these to reach full capacity by next year.
LNG from Egypt's existing LNG plants at Idku and Damietta (Figure 1) may be exported to Europe because very low liquefaction costs make it commercially viable. But other potential gas exports from the region cannot benefit from this advantage and, being expensive to develop, are finding it harder to compete in what has become a highly competitive global gas market.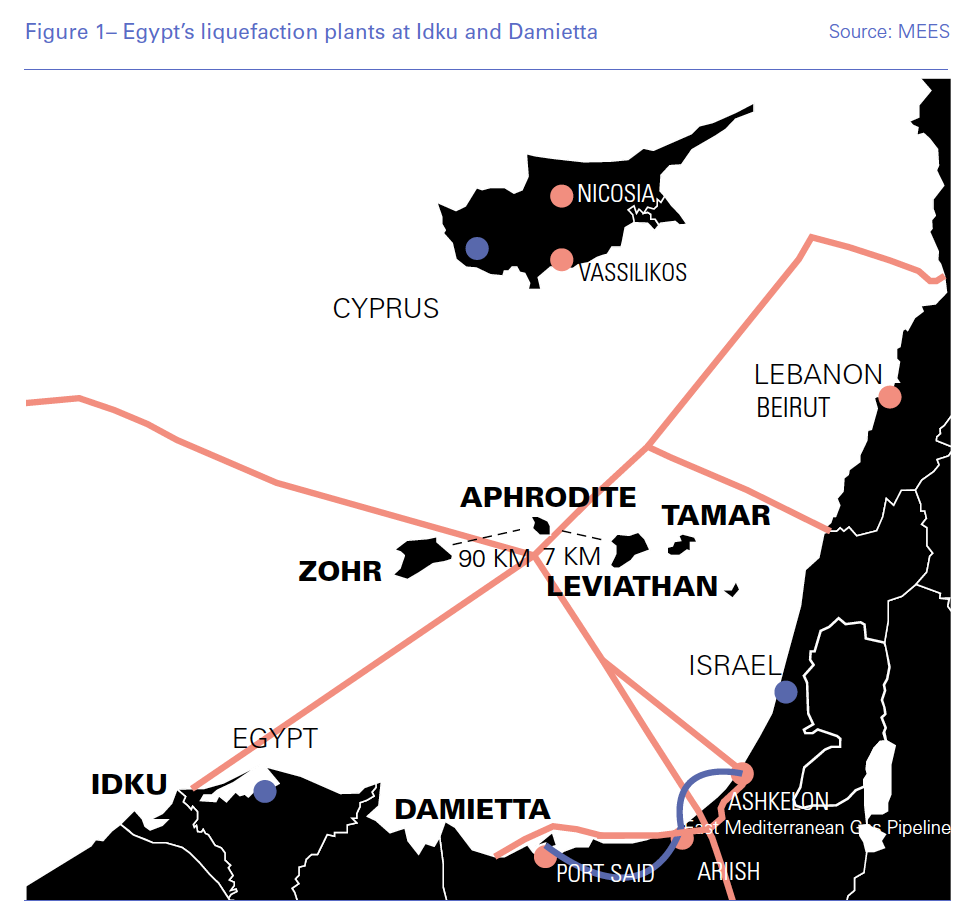 Some gas from its neighbours, Israel and Cyprus, may reach Egypt if prices make it commercially viable.
Plans to transport gas from Israel to Egypt as part of the $15bn deal between Noble Energy and Delek and Egypt's Dolphinus Holdings are slowly progressing, but with lingering problems and continuous extensions to the planned delivery date.
Recently published articles also suggest that Israel and Egypt are considering constructing a liquefaction plant in Sinai, on its Red Sea coast, through which Israeli natural gas can be liquefied and exported to markets in Asia. However, this will have to overcome price challenges in an already highly competitive market.
Cyprus also hopes to sell gas from its Aphrodite gas field to Idku for liquefaction and export. However, this requires appraisal drilling to confirm gas quantities and then the design of the required facilities will be required to establish development costs. Based on these, the project will then negotiate a price with Idku and enter into a gas sales agreement. Then the financing must be agreed in principle allowing a final investment decision, to enable the project to start a few years later. Given the fact that Idku is already on the way to become fully used and global gas prices are expected to remain low, a number of challenges still remain to be overcome before such a deal can be concluded.
Promotion of regional gas export infrastructure
According to the statement released following the meeting, "the Founding Ministers discussed ways of co-operation to gradually develop gas infrastructure corridors to expedite monetisation of the existing eastern Mediterranean gas reserves, utilise the existing infrastructure and develop infrastructures to facilitate the exploitation of future discoveries."
Existing export infrastructure for eastern Mediterranean gas is confined to Egypt's two liquefaction plants at Idku and Damietta.
Israel hopes to be able to export gas to Egypt through the existing Eastern Mediterranean Gas pipeline (EMG) by November, but there are still issues to be resolved.
Cyprus and Egypt have already signed and ratified an inter-governmental agreement to enable construction of a pipeline to potentially export Aphrodite gas to Egypt's liquefaction plants (Figure 1). But a gas sales agreement is not expected until 3 years from now.
Through these projects Egypt will hold the key to the eastern Mediterranean's gas export future. But the project that has been in the limelight for a number of years now is the EastMed gas pipeline (Figure 2). In November 2018, seven years after the concept was first proposed, the governments of Israel, Cyprus, Greece and Italy reached agreement on the construction of this pipeline based on the results of a feasibility study funded by the EU.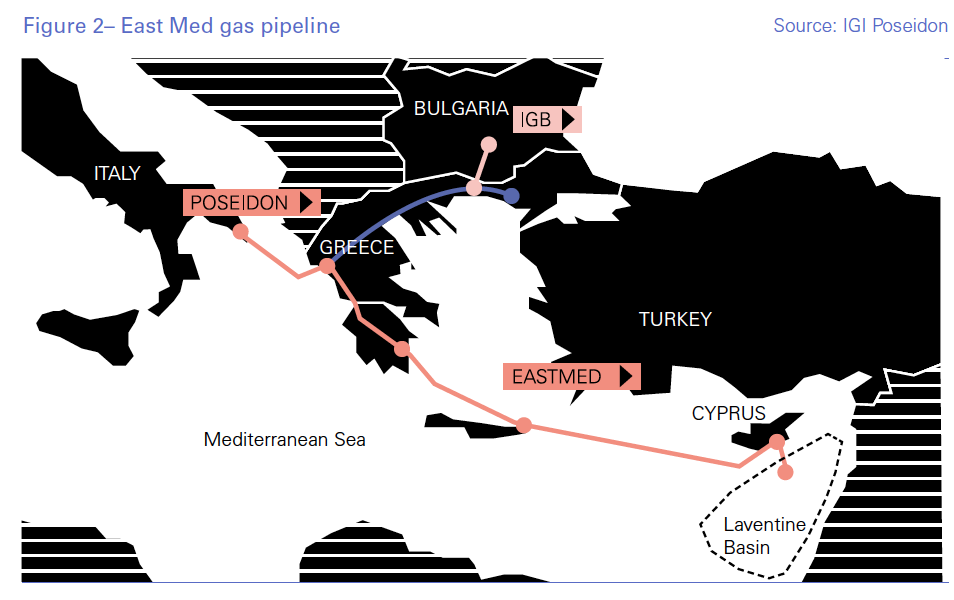 This has strong backing by the US and the EU, demonstrated by the participation of the US secretary of state, Mike Pompeo, in the Greece-Israel-Cyprus summit held in Jerusalem in March.
The project is being designed to initially carry 10bn m³/yr from the eastern Mediterranean to Greece where it will connect to the Poseidon pipeline to Italy, about 300 km distant (Figure 2). With 1,200 km offshore, if built this would be the world's longest subsea pipeline.
Apart from technical challenges – having to be installed in over 3000 metres of water – the greater problem this pipeline faces is that the price of gas required to make it commercially viable is too high to compete with prevailing gas prices in Europe. That's why so far it has remained a political project without serious industry participation.
In addition, the signing of the inter-governmental agreement, expected by the end of March, has been postponed. Italy said in March that it wants to take some time. Subsequently, in May, the Italian government confirmed that it will not allow the landing of the Poseidon pipeline in Italy. The prime minister suggested that a solution could be found through the Trans-Adriatic Pipeline (TAP), which is a challenge as TAP does not have the required capacity to accept eastern Mediterranean gas. And that's where the matter stands.
Participation of international oil and gas companies
The major international oil and gas companies (IOCs), including Shell, BP, ExxonMobil, Total and Eni, are the key players discovering and developing the eastern Mediterranean's hydrocarbon resources. These are mostly in deep water and in deep reservoirs, requiring appropriate technology and deep pockets that typically only IOCs can provide.
This has been recognized by EMGF. It acknowledged that it would like to benefit from private sector expertise.
In order to encourage this, and allow for private sector participation, EMGF approved "the establishment of the Gas Industry Advisory Committee and highlighted the importance of its role contributing to the Forum's activities."
However, EMGF did not specify how this committee will work to involve IOCs in the forum's activities and what the role and commitments of IOCs will be.
The elephant outside the room
EMGF does not include Turkey, Syria and Lebanon. Even though the latter is in discussions with Egypt that eventually may allow it to participate, Turkey is presenting a problem.
During their meeting, country members reconfirmed that EMGF is an organization that fully respects the sovereign rights of its members in their natural resources, in accordance with international law. Turkey can join but needs to abide to this and all other objectives of the organisation.
Most of the region's gas exploration, production and potential export plans can manage without Turkey. Its main impact is on what happens with exploration and export of gas from Cyprus' EEZ. The EMGF has not taken a position and as a result cannot help with this, the more so as Turkey is not one of its members. The EU and US might be able to use their influence, but pressure and sanctions so far have not had any impact.
If anything, it would appear that they have lessened their ability to influence Turkey, which says that it no longer sees the EU as an independent arbiter.
Adding another twist to the already complex situation, according to press the Russian energy minister Alexander Novak said that Russian oil companies could roll out exploration in offshore Mediterranean in co-operation with Turkey.
But this could be just an extension of the growing strategic co-operation between the two countries being promoted by the Turkish president Recep Tayyip Erdogan, possibly as a reaction to the growing rift between Turkey, the EU and the US.
At present such co-operation is for exploration in Turkish waters. It is difficult to see how this can provide Russia with a foot-hold in the region, if indeed it wants to. Russian companies had chances to complete for blocks in Cyprus EEZ but did not take them up. Novatek is in Lebanon and Rosneft is in Egypt already, in joint ventures with long-standing partners.
Is this a strategic priority for the EU and the US?
Is the eastern Mediterranean a strategic priority for the EU and US? Can EMGF really help hydrocarbon development and export from the region?
The US would like to see its gas exported to Europe to lessen dependence on Russian gas. But this can happen only if it can compete with prices prevalent in Europe, which is a challenge.
Shifting US strategic priorities are also demonstrated by US Assistant Secretary Fannon plans to lead a US delegation to the trilateral meeting of the energy ministers of Greece, Cyprus and Israel in Athens on 7 August.
This is a continuation of previous tri-partite meetings between these countries, with US support. It will probably concentrate on the eastern Mediterranean gas pipeline, which at the moment is an extravagant idea.
So far EMGF is a forum for a lot of talk, useful in terms of building relationships and cooperation, but not in terms of anything practical, including resolving problems. Turkey still does, more or less, whatever it wants in the region, dictating the agenda, and Russia picks and chooses. However, EMGF has a longer-term potential to promote regional energy co-operation.