Strike Threatens Shell UK Platforms
Industrial action threatens to disrupt summer maintenance work on seven of Shell's UK North Sea platforms. Some 450 people contracted to work for Wood Group voted to strike in a ballot July 13 over what Unite, one of the two unions, called "swingeing cuts" to pay and other terms and conditions, equating to 20%-30%.
Wood Group said on the afternoon of July 14 that talks were continuing but nothing material had changed since the day before.
The platforms in question are Gannet, Curlew, Shearwater, Nelson; and Brent Alpha, Bravo, Charlie and Delta.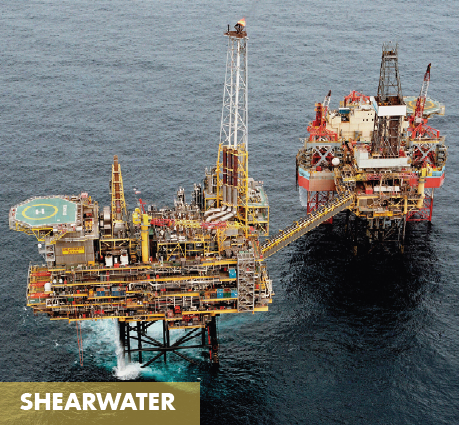 Shearwater platform in the North Sea (Photo credit: Shell UK)
Oil & Gas UK (OGUK), which represents producers and the contractors, said a strike could "only add to the industry's challenges as it focuses on tackling the current downturn to restore North Sea competitiveness and sustain jobs in the industry in the longer term." It warned that changes in business were necessary in order to safeguard the jobs the industry currently supports.
Upstream welcomes May
OGUK also voiced its support of the UK's new prime minister, Theresa May, a remainer during the referendum debate, during which time it maintained its political neutrality. It said: "We welcome the stability that Theresa May's appointment can bring and urge politicians of all parties to work together to ensure a smooth transition as we move forward. We will be consulting closely with our members in the coming weeks and look forward to engaging with all governments in representing our industry's interests.

"While Brexit raises challenges and opportunities for governments, it is so important that we do not lose focus on the very real difficulties being felt by the sector at this time. The low levels of exploration and development activity on the UK Continental Shelf (UKCS) are of real concern and we need to ensure the basin continues to attract investment going forward. The UK Government must continue to support the UKCS as being a competitive place in which to do business."
However OGUK will have to start again with relationships with the finance ministry, whose long-standing boss, George Osborne, left as the new cabinet was formed. In March this year, Osborne said petroleum revenue tax would be "effectively abolished", having cut it last year from 50% to 35%. And the existing supplementary charge for oil companies was cut from 20% to 10%, backdated to 1 January. Osborne's replacement is Philip Hammond, who has previously held the portfolios for defence, foreign affairs and transport.
William Powell