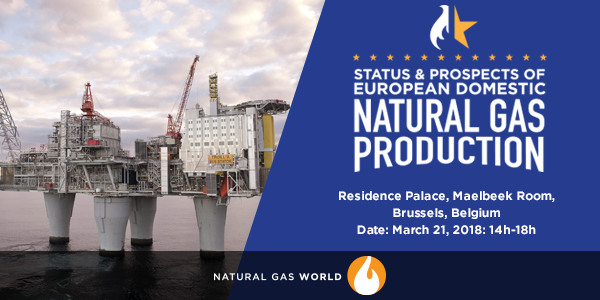 Status and prospects of European Domestic Natural Gas Production
European domestic gas production including Norway stands at about 220 bn m³/yr, or almost exactly half the total gas demand of the 28 member states last year. But it faces a number of challenges.
With the situation in The Netherlands casting doubts over the country's gas production future, together with decommissioning in the North Sea and a projected decline on the demand side, what is the future for European gas producers? Will the promises of the East-Med and the Black Sea help the diversification of domestic gas resources? And will the domestic production (excluding renewable gas) be able to contain the likely increase of imports?
Join Natural Gas World on March 21, 2018 in Brussels to discuss and learn more about where domestic gas production in Europe stands at present and how it will impact gas demand and supply going forward.
Event details:
Venue: Residence Palace, Maelbeek Room, Brussels, Belgium
Date: March 21, 2018 – 14h-18h
Agenda:
13h30 - Registration
14h00 - Welcome remarks by Mr. Jean-Arnold Vinois
14h05 - Catharina Sikow-Magny, Head of Unit, Internal Market, DG Energy, European Commission
14h20 - Keynote Speech by Dr. Anouk Honoré, Oxford Institute for Energy Studies
14h40 - First panel - North West Europe:
- Lars Erik Aamot, Director General, Oil and Gas Department, Ministry of Petroleum and Energy, Norway
- Coby van der Linde, Director of the Clingendael International Energy Programme
Followed by Q&A
15h45 - Coffee Break
16h15- Second Panel - South East Europe
- H.E. Olympia Neocleous, Deputy Permanent Representative to the EU of the Republic of Cyprus
- Fabio Marchetti, Head of European Government Affairs, ENI SPA
Followed by Q&A
17h00 - Closing Remarks:
- François-Régis Mouton, Director EU Affairs, IOGP
---
Price: €50 per seat
Important: Premium subscribers of Natural Gas World, representatives of European Institutions, and of Member States, as well as members of the press, can attend for free. Please email rsvp@naturalgasworld.com to register. Limited seats available.