Statoil Appoints New COO, Brazil Head
Jannicke Nilsson will take over from Anders Opedal as Statoil's COO December 1 as Opedal from mid-January goes on to lead the development of Statoil's "growing and increasingly important operations in Brazil as new country manager," Statoil said November 4.
Nilsson will report to CEO Eldar Saetre, while Opedal, in Rio de Janeiro, will report to Lars Christian Bacher, executive vice president development and production international. Saetre said Nilsson would be a strong replacement for Opedal, who is to take "one of the key roles in Statoil going forward."
"Anders Opedal was appointed our first COO in 2015, and has been a driving force in our effort to improve safety and efficiency in our operations. He has been instrumental in establishing the COO function in the organisation, and is now ready to take on a new challenge by leading our Brazil-operations. After the Carcara-acquisition Brazil will be a very important future growth area for Statoil," says Saetre.
Statoil in July agreed to acquire Petrobras' 66% operated interest in BM-S-8 offshore Brazil for $2.5bn, including much of Carcara which is one of the world's largest oil discoveries of recent years. In August, both companies also signed a memo of understanding to further strengthen their cooperation.
Statoil CEO Eldar Saetre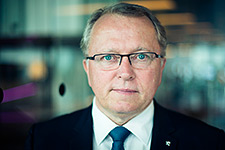 Statoil CEO Eldar Saetre (Credit: Statoil)
Jannicke Nilsson is currently senior vice president for COO operational performance projects, a role she has held since 1 August 2015. Opedal replaces Pal Eitrheim who as new chief procurement officer will be back in Stavanger although his start date has not been fixed yet, Statoil said.
William Powell