Southeast Asia pursues low-carbon tech to keep gas in play [Gas in Transition]
Governments and energy industry players in Southeast Asia are turning to a slew of low-carbon technologies – including carbon capture and storage (CCS), carbon-neutral LNG, and hydrogen – to ensure natural gas will be compatible in the long term with their expansive climate commitments.
Southeast Asia's decarbonisation ambitions have started to come into view, with a number of countries setting targets to achieve net zero or carbon neutrality by the middle of this century. But achieving the pledges will require a radical transformation of the region's energy sector, and governments will be conscious about how to proceed while keeping gas in play as long as possible.
Vietnam, Indonesia and the Philippines are planning to invest at least $83.6bn in gas infrastructure that includes LNG terminals, gas-fired power stations and pipelines, according to a study by Global Energy Monitor. Other neighbours such as Malaysia and Thailand are known to be investing heavily in gas, which makes the region one of the most important drivers of gas demand growth going forward amid rising electricity consumption as living standards improve.
IHS Markit's base case scenario forecasts Southeast Asia's gas demand to nearly double from 15bn ft³/d presently to around 28bn ft³/d by 2050. But at the same time gas consumption must reach a peak by the early 2030s for the region to achieve net-zero by 2050 – a timeframe that is unrealistic and unaffordable for most countries.
CCS to clean up gas
Most governments are instead emphasising the use of carbon capture and storage (CCS) in their long-term climate strategies, a move that aims to improve the carbon competitiveness of gas to ensure it can remain as a clean option. This is particularly important given that COP26 concluded last November in Scotland with an agreement for governments to increase the ambition of national climate action plans by COP27 in Egypt this November.
The long-term climate strategies of Southeast Asian governments can be generally divided into those relying on more CCS in energy and non-energy sectors, and those pursuing multiple mitigation strategies that include more electrification and renewables and less hydrocarbons.
Indonesia and Thailand – which aim to achieve net-zero by 2060 and 2065 respectively – have indicated in their official national plans that they are leaning heavily towards greater use of CCS, suggesting gas will remain a fixture in their energy mix. Malaysia, Vietnam, Cambodia and the Philippines have not published official climate strategies yet, but their national power development plans suggest they are also keen on CCS.
Malaysia and Cambodia are both targeting carbon neutrality by 2050 and no new coal plants going forward, while Vietnam aims to achieve net-zero by 2050 and retire all unabated coal plants by 2040. The Philippines has a moratorium on new coal plants.
Singapore is the exception as it appears to be adopting a multipronged approach in developing and harnessing various technologies in its bid to reach net zero by 2050. The city-state wants to peak emissions by 2030 and achieve net zero by mid-century.
Power generation will be Southeast Asia's main source of gas demand growth going forward as coal-to-gas substitution accelerates. Gas demand from power generation is expected to expand from 7bn ft³/d in 2020 to 9bn ft³ by 2030, 13.5bn ft³/d by 2040 and then top 16bn ft³/d by 2050.
Industry will also be a source of gas demand growth as it faces similar pressure to decarbonize, but to a lesser extent than power generation. This is because industry has more room to explore low-carbon sources such as electricity, which could restrict gas consumption. Industry gas demand in Southeast Asia is forecast to rise from nearly 5bn ft³/d in 2030 to a peak of 7bn ft³/d in 2040 and then plateau afterwards.
There are considerable opportunities across the gas and LNG value chain in Southeast Asia to make fossil gas less carbon-intensive – whether by capturing emissions in the upstream during production, gas processing or liquefaction, or in the downstream with emissions generated by end users.
LNG producers are using various means to lower emissions while also bundling carbon offsets to compensate for the remaining emissions – a trend that accelerated last year when carbon-neutral cargoes started to gain traction in the LNG market.
Some Southeast Asian countries are leaning into CCS to keep gas in play because for upstream players, carbon capture costs can be regarded as part of the production cost. The rationale is that CO2 must be extracted from the region's gas fields anyway, so CCS could be considered as cost recovery in the framework of production-sharing contracts, which would allow investors to recoup the costs of CCS investment.
This is already becoming the case as upstream initiatives to enable development of high CO2 gas fields dominate CCS projects in Southeast Asia. These include Thailand's first CCS project at the Arthit offshore gas field by PTTEP, Indonesia's Tangguh LNG project where operator BP aims to take a final investment decision (FID) on a CCS scheme next year and begin injections in 2026, and the Kasawari gas field offshore Malaysia that Petronas will equip with the world's largest offshore CCS project once FID is taken next year.
There is the potential for CCS to be extended into the downstream of the gas value chain too, further improving its carbon credentials. Indonesia's Arun onshore field is being redeveloped into a carbon storage facility with first injections eyed in 2028, while
Pertamina and Japan's Mitsui are undertaking a joint feasibility study to utilise depleted oil and gas fields in the Rokan oil block of central Sumatra as carbon storage for industrial users.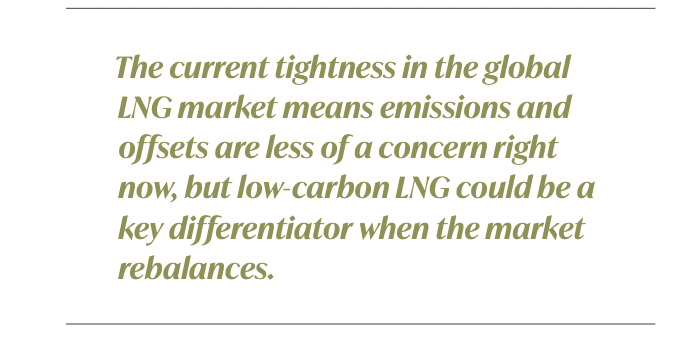 But the rationale for CCS deployment also exposes the technology's limitations – the key driver for CCS in Southeast Asia is to unlock development of high CO2 gas fields rather than achieving corporate emission targets. Another issue is cost, not only in Southeast Asia but around the world. Cost estimates vary widely for projects around the world, ranging between $15/mt to more than $200/mt depending on size, location and technology. Given Southeast Asian markets are highly price-sensitive, the outsize cost could curb enthusiasm for CCS.
Carbon-neutral cargoes emerge
An additional option for decarbonising gas to ensure its longevity in the energy mix is carbon-neutral LNG. The use of emissions offsets for LNG has grown over the past two years as suppliers and buyers seek to reduce their carbon footprint, with more than 30 cargoes announced publicly so far.
The current tightness in the global LNG market means emissions and offsets are less of a concern right now, but low-carbon LNG could be a key differentiator when the market rebalances.
Notably, many of the carbon-neutral cargoes announced have yet to mention methane emissions. Both the International Group of Liquefied Natural Gas Importers and Singapore's Pavilion Energy have published frameworks to standardise LNG emissions accounting.
Carbon-neutral LNG remains a fairly niche market with interest mainly coming from the traditional Northeast Asian LNG consumers of Japan, China, Taiwan and South Korea. Japan has taken delivery of 10 emissions-offset cargoes, followed by five for China, four for Taiwan and two for South Korea, according to public announcements. By comparison, Singapore is the sole recipient of carbon-neutral shipments in Southeast Asia.
However, a considerable number of these cargoes originate from export plants in Southeast Asia, such as Pertamina's Bontang LNG in Indonesia, Brunei LNG and Petronas's Bintulu LNG complex in Malaysia. Some of the offsets used are also generated from projects in the region.
A standard 70,000 mt cargo is estimated to have 200,000-300,000 mt of CO2e emissions, which would require around $11-15mn worth of offsets assuming a cost of $50/mt CO2e – equivalent to an additional $3.0-4.3/mn Btu.
While this is a considerable premium in today's LNG market, Southeast Asian countries are expected to implement carbon pricing policies over time. So far only Singapore has a carbon tax, but Indonesia is set to roll out a scheme covering coal power plant emissions in July.
As more countries launch carbon trading markets, the efforts of LNG suppliers to lower emissions and gain access to lower-cost offsets could add up and act as a differentiator when selling into these markets.
Hope for hydrogen
Hydrogen is under exploration by NOCs in Southeast Asia as it can be blended with gas to supplement domestic gas supply. The region's hydrogen output totaled around 11mn mt of oil equivalent last year – nearly all of which was emissions-intensive grey hydrogen from refineries. Converting this output into blue hydrogen by retrofitting refineries with CCS would represent low-hanging fruit and help catalyse CCS adoption in the region too.
Given blue hydrogen is presently significantly cheaper to produce than green hydrogen, this indicates it will feature prominently until Southeast Asia can build up substantial renewable energy capacity.
That being said, countries are exploring alternative hydrogen pathways with Malaysia an early mover in progressing toward commercial-scale projects. The country set up a demonstration solar-wind hybrid electrolyzer as early as 2006 and launched Southeast Asia's first integrated hydrogen production plant and refuelling station in 2019.
The Malaysia Renewable Energy Roadmap published at the end of last year also identified hydrogen as both a transport fuel and energy storage solution, while Petronas singled out hydrogen as a core part of its future with plans to start producing blue hydrogen as soon as 2024.
Elsewhere, Thailand's PTTEP is working on an initiative in Singapore to produce methanol from captured CO2 and green hydrogen that will be used as a marine bunker.
Although Southeast Asian governments have not published any official national-level hydrogen plans yet similar to China's first roadmap, hydrogen has started to feature in their long-term planning. For instance the Electricity Generating Authority of Thailand expects hydrogen to be burned for power generation by the 2040s, while Singapore's Energy 2050 Committee Report forecasts hydrogen to be a key part of the local energy mix, making up 10% to 60%.