South Stream to Make Serbia Economically Prosperous
Prime Minister Ivica Dacic said today that in the next eight years, Serbia will invest €10 billion in the development of the energy sector.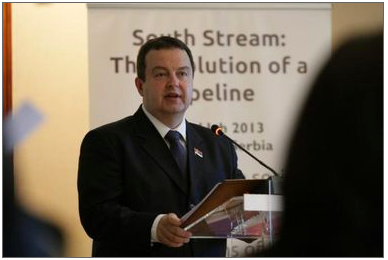 Speaking at the conference "South Stream: evolution of a gas pipeline," Dacic said that €3 billion will be invested in the oil sector, €2 billion in renewables and €2 billion gas sector over the next three years.

According to him, very important are relations with the Russian Gazprom and the construction of the "South Stream" with a length of 440 kilometres.

He stressed that it is the most important project in the gas industry, along with the construction of gas storage facilities in Banatski Dvor and Itebej, which will make Serbia a significant factor in the region in terms of energy stability.

The Prime Minister said that "South Stream" will make a significant contribution to employment of local businesses and citizens.

This project is the support of a common European future for all countries that it will go through, he said and stressed that the Serbian government is aware of its obligations and will fulfil them on time.

Dacic said that gas production in 2016 will be 11.8 billion cubic metres a year, while in 2020 and 2021 it will be 36 billion cubic metres, and in 2025 40 billion cubic metres of natural gas.

He pointed out that the gas ring will connect Romania, Bulgaria, Croatia, Macedonia, and it is planed to be connected with Republika Srpska and Bosnia-Herzegovina.

The development of energy policy will provide a secure supply of energy for Serbia and a rapid economic development, said Dacic and stressed that the Serbian energy development will be based on clean technologies.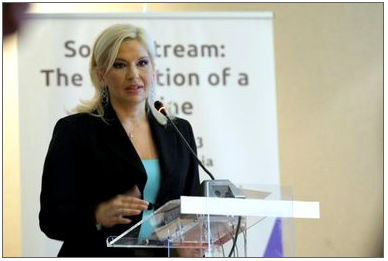 Minister of Energy, Development and the Environmental Protection Zorana Mihajlovic said that the project "South Stream" will make Serbia a leader in the gas sector in the region.

Mihajlovic said that the pipeline "South Stream" will make Serbia economically prosperous and competitive.

Without energy infrastructures there is no economic recovery, development, arrival of investors, nor improving competitiveness, said Mihajlovic.

Speaking of plans in energy policy, the Energy Minister said that in addition to the project "South Stream", activating local companies is also planned, which will be an investment of €300 million and creation of 6,000 new jobs.

The construction of gas power plants is planned as well as continued gasification of Serbia, said Mihajlovic.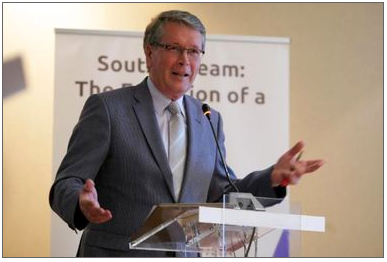 Russian Ambassador to Serbia Alexander Chepurin said that Russia attaches great importance to the implementation of a pan-European project "South Stream", which will allow the eastern and western parts of Europe to connect.

Chepurin said that this will be another step in the booming of Europe, which is why Russian President Vladimir Putin attended the start of construction on this major infrastructure project.

The Ambassador of the Russian Federation noted that "South Stream" in addition to Russian involves shareholders from Germany, France and Italy, while 10 countries are involved in the project.

According to him, by 2020 the "South Stream" will provide about 10% of Europe's gas needs, providing 63 billion cubic metres of the required 630 billion cubic metres.

Chepurin pointed to the positive prospects of development of the gas market in Europe, given that this year the EU gas consumption increased by 12%.

He expressed hope that Serbia and Russia as partners in the project will meet its contractual obligations.

The pipeline "South Stream" will carry Russian gas under the Black Sea through a 900 kilometre long pipeline through Bulgaria, Serbia to other European countries.
Government of the Republic of Serbia