South Africa Plans for New FSRU
Keen interest is expected once the authorities in South Africa open the bidding for the supply of a new floating LNG import terminal (FSRU) to help tackle the country's severe energy challenges. A formal tender is expected to be issued early in 2017.
The announcement of plans for the terminal came as part of a wider initiative to increase the profile of gas, in a policy statement released last month in Cape Town by South African Energy Minister Tina Joemat-Pettersson. It forms part of a new strategy to secure additional power capacity, as the country grapples with severe generating constraints, which led to widespread rolling blackouts last year.
In August 2015, the Department of Energy first outlined its 'LNG to Power IPP Procurement programme'. On May 16 in a follow-up document, it sought 'expressions of interest' (EOIs) for up to 3,126 MW of new independent power plants (IPPs), to be supplied with gas by means of LNG imports. It also requested EOIs to develop a 600-MW gas-fired plant outside the above framework; international law firm White & Case described the latter as 'not a substitute for' the LNG to Power IPP programme.
Saldanha Bay north of Cape Town (Photo credit: Western Cape provincial government)
"Natural gas will provide the country with a measured step in the direction of a lower carbon future and improved energy security," said the minister last month.
The plan to procure the new floating LNG import terminal is part of a new gas-to-power programme, and Joemat-Pettersson suggested the process "will be an important development to stimulate our economy and promote investor confidence."
The government intends to seek bids for the supply of one Floating Storage and Regasification Unit (FSRU) vessel "or FSRU-based bundled natural gas-to-power solution," she explained. Details of the FSRU are being put together, with a request for proposals expected early in 2017.
"We are currently in the design phase of the gas programme. Information relating to FSRUs will be made available to the market through the procurement documentation which will outline specifications of FSRUs and any other relevant information for interested parties," said Desiree Otto of South Africa's IPP office.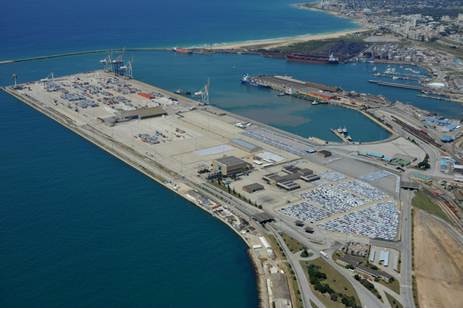 The port of Ngqura (Coega) near Port Elizabeth in the south (Photo credit: Coega Development Corp)
The FSRU is expected to be located at one of three ports: Ngqura (Coega) near Port Elizabeth, Richards Bay 150 km northeast of Durban, or Saldanha Bay. A free trade zone is already being developed at Saldanha, on the Atlantic coast 110 km north of Cape Town, to help service offshore oil and gas exploration activities. The other two ports are both on South Africa's Indian Ocean coast.
Shell, Total and Cheniere are among the companies understood to be following South Africa's 'LNG to Power IPP' programme with interest. For example, Shell vice president for integrated gas, Ajay Shah, told NGA last month that the company would try to develop a market in South Africa, which is "long on coal, but we have had encouraging talks about LNG." This marks a change from the usual strategy of selling ex-ship and letting others figure out the interfaces.
Companies that own FSRUs, and therefore could be in the market to charter out such a vessel to a developer, include Hoegh LNG, Golar LNG, Excelerate and Exmar.
Niall Kramer, the CEO of the South African Oil & Gas Alliance (SAOGA), said that once the procurement process is formally launched, he would expect keen interest from companies to build the floating terminal.
"There is huge international interest to bid as evidenced by many global players being in South Africa recently," he said. "Clearly they see this as a major global gas project now. The next step will be to see the IPP memorandum and that will give more direction. My understanding from many potential players is the floating terminal is a good first step as it gets projects going softly with some flexibility, and it can grow demand. Then if a land unit is warranted, it can be commissioned. The FSRU can also then move on to another of the three potential ports."
Johannesburg-based independent economist Chris Hart agreed that the FSRU is designed to help meet South Africa's growing energy challenges. "The recent announcement by the energy minister to launch a procurement process for a gas-to-power programme, along with the associated gas infrastructure development, is part of a plan to diversify the mix of energy sources in South Africa away from coal," he said.
"However, the announcement comes at a time of low global energy prices. The plan must be viable against higher energy prices, as it raises South Africa's dependence on foreign energy against an abundant potential supply of domestic coal. This proposal will ultimately place additional pressure on the rand, and currency weakness may render the project unviable.
"If the project also enables the unlock of potential indigenous supplies of gas, such as fracking, it would help reduce the balance of payments risk."
Currently about 90% of South Africa's electricity is generated from coal, 5% from the Koeberg nuclear plant near Cape Town, and 5% from hydro nad solar. Some 95% of power is generated by state utility Eskom which has severe problems over the adequacy of its plants and its nationwide grid.
John Fraser