Sonatrach Counters Total-Repsol Arbitration Case
Algerian state oil and gas producer Sonatrach said at the weekend it will defend itself against a recent arbitration referral by Total and Repsol against the introduction of a 'tax on exceptional profits' that applies to production when prices top the equivalent of $50/barrel.
Total and Repsol made their arbitration referral in Geneva in May 2016.
The special tax is retroactive to 2006 so Total and Repsol contend it represents a considerable amount, although neither has given a figure.
Total told NGE on July 11: "The dispute, which is with Sonatrach, focuses solely on the interpretation of a contractual provision in the Tin Fouye Tabenkort (TFT) PSC. It does not involve any other contracts, nor does it involve the Algerian state. The dispute has been taken to the International Court of Arbitration, via the International Chamber of Commerce in Geneva. We remain open to a negotiated compromise."
Sonatrach though in its statement said that special tax payments from Repsol and Total combined from TFT represent less than 0.3% of total [annual] production in Algeria. Reuters quoted an Algerian government official saying that the amount claimed from Total back to 2006 is €180mn ($200mn).
"Sonatrach, while remaining open to finding acceptable solutions to this dispute, will mobilise, to protect its interests, its potential to respond effectively to this situation," its statement – dated July 10 but issued to state news agency APS on July 9 – said.
Repsol is continuing to develop the Reggane North gasfield and to explore two permits in the Boughezoul region, said Sonatrach – a hint that arbitration might worsen its future relations in Algeria. Repsol and a Spanish partner Gas Natural have already lost – in 2009 – an unrelated arbitration case against Sonatrach, relating to the latter's decision to cancel their Gassi Touil upstream/LNG project; in that case the Spanish duo had claimed $3.6bn.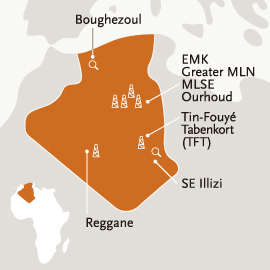 Map of Repsol's interests in Algeria (Map credit: Repsol 2015 Annual Report)
US Anadarko and Denmark's Maersk Oil went to arbitration against Sonatrach over the tax on exceptional profits, but subsequently reached settlements in 2012 worth some $4.4bn and $920mn respectively.
In its July 10 statement, Sonatrach listed several developers with whom it was having more constructive talks than with Repsol and Total.
"Various agreements especially with Eni have as their objective to reinforce upstream oil and gas partnership and demonstrate a willingness to develop more cooperation in jointly developed fields as well as to explore other opportunities in Algeria as abroad in refining, petrochemicals and renewable energy," said Sonatrach.
Agreements in principle reached with Eni have been extended to the Eni-BHP Billiton partnership which produces at the Rhourde Elouh and Sif Fatima fields, said Sonatrach.
Discussions with Spain's Cepsa – wholly owned by Abu Dhabi's IPIC – have concluded in agreements that follow the same logic, citing the latter's Rhourde el Khrouf, Ourhoud and Timimoun projects. It said start-up of the latter "will take place in the coming months."
Cepsa remains "totally engaged", said Sonatrach, in exploration of the Rhourde er Rhouni II block awarded to it in Algeria's third licensing round in 2011 – and noted that Cepsa is a partner in the 9bn m³/yr operational Medgaz subsea pipeline linking Algeria to Spain.
Sonatrach has signed preliminary agreements with three major foreign producers – Russian Gazprom, China's Sinopec and CNPC – aimed at developing the full hydrocarbons chain down to petroleum services, with significant joint investments and cooperation.
Sonatrach also said it had "initiated a series of meetings with its partners BP and Statoil" with a view to "reinforcing and developing further their upstream oil and gas cooperation." The Algerian state firm said that an MOU is also being worked on with Danish firm Maersk by Sonatrach to identify new opportunities, while Sonatrach and Indonesian state Pertamina were in upstream talks intended to "lead to conclusion of new agreements on joint investment in new hydrocarbon fields."
Mark Smedley