Cepsa Signs Algeria Deals: No Word on Medgaz
Spain's Cepsa and Algerian state Sonatrach signed agreements in Algiers November 22 to extend their work together, but a veil was drawn over its strategic stake in the subsea Medgaz pipeline.
Sonatrach, cited by Algerian news agency APS, said that Cepsa's production-sharing contract for the 11,000 b/d Rhourde El Krouf (RKF) oilfield was extended for 25 years, while its Ourhoud oilfield PSC was extended for ten years from its expiry date of December 2019. Both are in the Berkine basin of eastern Algeria. At Ourhoud, the duo works alongside Anadarko, Maersk, Pertamina, Repsol and ENI at Ourhoud while Cepsa and Sonatrach jointly operate other oilfields including BMS (Bir el Msana) and Rhourde er Rouni II.
Present in Algeria for 30 years, Cepsa's activities there also include its stake in the Timimoun field under development. An Oxford Institute study six months ago estimated that the 1.6bn m³/yr Timimoun field, also in the Berkine basin, would start up in 2018 – two years behind schedule; partners there are Total and Sonatrach.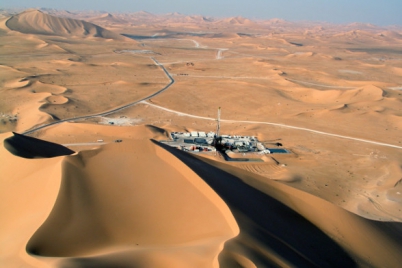 Cepsa's Ourhoud oil field in eastern Algeria (Photo credit: Cepsa)
Cepsa also has a 42% stake in the 8bn m³/yr subsea gas pipeline Medgaz linking Algeria and Spain. But it declined to tell NGW whether that stake figured in its discussions on November 22. In September, the Spanish firm was reportedly keen to sell the stake for some €300mn, but Sonatrach is thought to have objected on the grounds it wants Algerian gas importers in Spain like Cepsa and Gas Natural to remain core shareholders in Medgaz.
In January, Cepsa divested its 9.15% stake in Spain's oil products pipeline network CLH to the Canadian fund Borealis, also for a reported €300mn.
Also November 22, Sonatrach and Cepsa signed a memorandum of understanding in Algiers to study collaborating on new opportunities, both upstream "and beyond upstream", in other business areas where both companies share interests as much in Algeria as in other countries.
In its statement a day later, Cepsa said the agreements signed by its CEO Pedro Miro and his Sonatrach counterpart Amine Mazouzi stressed their excellent bilateral relationship and that between the United Arab Emirates, where Cepsa's owner IPIC is based, Algeria and Spain.
Mark Smedley