Somalia-Kenya dispute flares up [NGW Magazine]
A marketing conference held by Somalia in London on February 7 has rekindled tensions between the Horn of Africa nation and regional economic powerhouse Kenya over a potentially gas-rich offshore zone they both claim.
Somalia met potential investors in the UK capital and showcased the hydrocarbon potential in a 100,000 km² triangle in the Indian Ocean that it says is within its maritime borders. It draws the maritime border projecting about 40° southeast of where Kenya draws it.
Kenya responded nine days later, accusing its neighbour of actually auctioning off 15 oil and gas blocks, four of which it says are in the contested territory. Kenya recalled its ambassador to Somalia and expelled Somalia's in an escalation of tensions unseen in recent years.
"The summons is a consequence of a most regretful and egregious decision by the government of Somalia to auction off oil and gas blocks in Kenya's maritime territorial area that borders Somalia," Kenya said in a strongly-worded statement February 16.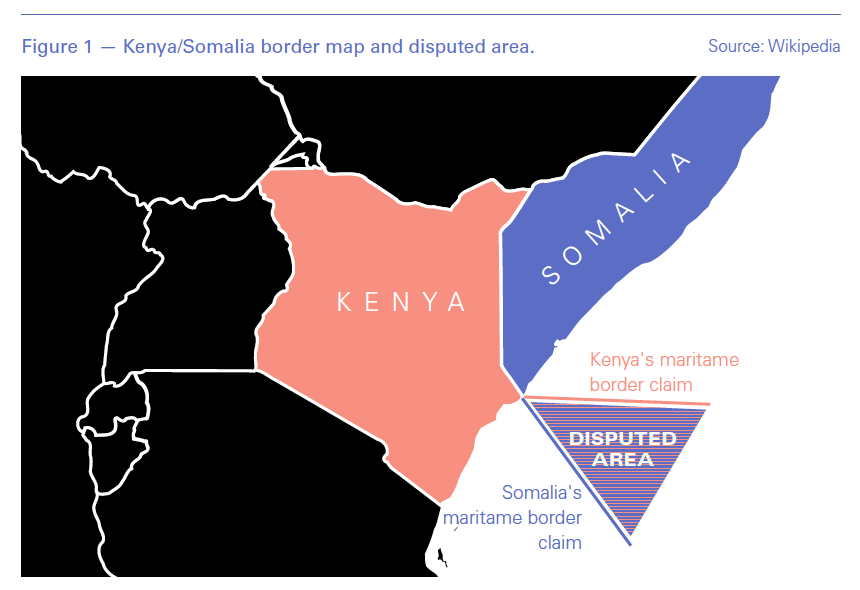 "This unparalleled affront and illegal grab at the resources of Kenya will not go unanswered and is tantamount to an act of aggression against the people of Kenya and their resources. This outrageous and provocative auction deserves and will be met with a unanimous and resounding rejection by all Kenyans as well as all people of goodwill who believe in the maintenance of international law and order and the peaceful and legal resolution of disputes. Kenya is prepared and ready to defend its territorial integrity at any cost and considers all those directly or indirectly involved, whether Kenyan or non-Kenyan in encroachment of Kenya's territory as enemies of the state and as adversaries of the Kenyan people."
However, Somalia and Spectrum Geo, the Norwegian company that jointly put together the Somalia Oil and Gas Conference in London with the Somali government and conducted a 2-D offshore seismic survey for that country from 2014 to 2016, immediately rejected Kenya's claims that blocks had been auctioned.
Responding a day later, Somalia said it was "not now offering nor does it have any plans to offer any blocks in the disputed maritime area until the parties' maritime boundary is decided by the International Court of Justice."
Separately, Spectrum said the data that was showcased was acquired from Somali territory, not from the disputed area.
However, reports say Somalia told investors that they have until July 11 this year to apply to be qualified for consideration for the gas and oil blocks. Thereafter, there will be three months of discussions to reach a final agreement on revenue-sharing. Consortiums should be formed by October 17, the Somali offer reportedly adds; and successful bidders will be notified by November 7 with the winners being asked to sign production agreements by December 9.
Rich potential
The east African side of the Indian Ocean has, in recent years, shown massive natural gas potential. Further south from Somalia and Kenya, international oil companies – among then Anadarko, Eni, ExxonMobil, Equinor and Shell – have discovered some 57 trillion ft³ offshore gas in Tanzania and 180 trillion ft³ off Mozambique.
While there has been less exploration activity in Kenyan and Somali waters, potential for both natural gas and oil abounds, Zachary Donnenfeld, a senior researcher at South Africa's Institute for Security Studies, told NGW.
Tullow Oil discovered reserves that could yield 1.2bn barrels of oil in Kenya's Turkana area. Commercial production is expected to begin in 2022. In 2012, Kenya awarded an offshore block each to Anadarko and Total. Three – L21, L23 and L24 – were awarded to Eni. It is these three assets that are directly affected by the dispute and Kenya says were auctioned by Somalia at the London conference.
Somalia accuses Kenya of ignoring its objections against the award of the blocks to the Italian oil and gas giant in the contested triangle thus approached the International Court of Justice (ICJ) at The Hague, The Netherlands in August 2014 seeking a legal settlement to the maritime dispute.
In the papers before the ICJ, Somalia is arguing that the boundary must extend to the southeast as an extension of the land border, slanting substantially towards Kenya.
For its part, Kenya says that the marine boundary should run on a parallel line of latitude due east, a principle it claims was used by colonial powers to determine maritime borders of other east African countries – Tanzania, Mozambique and South Africa.
In addition, Nairobi asserts, it signed an agreement on the border with Somalia in 1979, and accuses Mogadishu of trying to repudiate the pact.
Security concerns
Donnenfeld said immense discoveries in Tanzania and Mozambique suggest more gas is probably available elsewhere in the region including in Kenyan and Somali waters. However, he said, exploration in the two countries remains comparatively poor, owing to the formal dispute at the ICJ as well as traditional maritime security concerns in the Horn of Africa.
Al Shabaab, a militant Islamic group, is very active in parts of Somalia and has from time to time mounted attacks in Kenya. This state of affairs forced Kenya to deploy 3,500 soldiers in Somalia for joint peace-keeping operations.
"My guess (which is nothing more than that) is that the ICJ will decide on some kind of temporary settlement," Donnenfeld said, "either a new border that draws a line down the middle of the disputed territory, or perhaps some kind of shared agreement with both parties receiving some concessions from gas deposits and other mineral reserves. If they can get this to work, I think it would be the ideal settlement. Kenya appears to be 'first' (which is everything in patent law), having auctioned off deposits in the disputed territory, but I am not sure how much this matters in this legal area."
Although Kenya filed its papers in response to Somalia's in December 2018, it has always favoured a negotiated settlement. The Kenyan position, reiterated by its foreign affairs principal secretary Macharia Kamau on February 17, is according to east African governance expert Amukowa Anangwe, possibly influenced by a realisation by that country that, read against international maritime law, it has a weaker argument.
"Frankly, this matter may be beyond negotiation, in the short run, unless Somalia is persuaded to reconsider its recourse to the ICJ," Anangwe told Kenya's Daily Nation on February 24.
"That failing, perhaps, Kenya should brace itself to slug it out with Somalia at the ICJ. Although it is difficult to predict what the outcome will be at the court, Kenya stands to win the case by presenting a different argument from that of Somalia which is pursuing the provisions of Article 15 of the 1982 Convention of the Law of the Sea."
The CEO of oil- and gas-focused Amsas Consulting, Ali Adawe Abdullahi, accuses Kenya of attempting to arm-twist the Somali government which he says lacks military and intellectual fire-power.
However, in a February 25 paper published by the Development Institute of Good Governance in Africa, Abdullahi called for restraint on both sides."Both countries should refrain from igniting more diplomatic and economic confusion," he wrote.
"Further, proper and objective technical evaluation is required before jumping to conclusions. As for multinational corporations in the oil and gas sector it would be wise to avoid areas of contention between two countries until a final judgment is made from the ICJ."
---
Mozambique LNG attack 'chance' event
Following an attack in February in which one of its contractors was killed, US producer Anadarko said the incident was not aimed specifically at its giant LNG export project, for which final investment decision is expected in the coming few months.
It said in a statement that it had fully assessed the February 21 security event that occurred at a village on the road from Palma to Mocimboa da Praia about 20 km from the site of its future LNG facility.
"The evidence to date indicates both the convoy and a car belonging to a contractor encountered an existing event, which did not directly target our contract personnel, nor the LNG project, nor airstrip. As previously reported, there was one fatality and six people sustained non-life-threatening injuries.
"The Mozambique government recognises security in the region requires additional attention and action. Accordingly, the government is providing additional security resources in the area. Given this response and other ongoing security measures, we expect to continue moving the project toward FID according to our current schedule."