Socar Talks Up Turkey's Tanap Gains
The BP-led consortium developing the giant Shah Deniz gas and condensate field offshore Azerbaijan has the obligation to deliver 2bn m³/yr to Turkey from the field's second phase (SD2) in mid-2018. "That year, the total gas supply amount agreed is 2bn m³," State-owned Socar told NGE. The expected start date is July 2018. Socar is the operator of the Azerbaijan Gas Supply Company (AGSC), which sells gas produced in Shah Deniz on behalf of consortium partners.
The following year supply will be 4bn m³, gradually increasing within three years from the beginning of export to 6bn m³ when SD2 is at plateau.
The gas supply to Turkey will be executed under the contract signed in 2011 between Shah Deniz partners and Botas by Trans Anatolian pipeline (Tanap).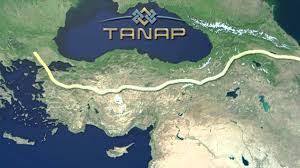 The annual reserved capacity of Tanap held by AGSC starts at 6.1bn m³/yr in the build-up period and reaches plateau of 10.5bn m³/yr after 18 months. According to Socar, the gas transportation agreement with Tanap provides 100% ship-or-pay condition on the capacity reservation.
Tanap's fee will yield payments to Turkey of $5.95/'000 m³ of annual capacity booked. The company's general director Saltuk Duzyol told Turkish paper Hurriyet that tariffs for transportation will be $70/'000 m³. "The Turkish state-owned gas pipeline operator Botas will get 30% of this payment," he said.
But it is not only a matter of money, tariff and taxes. "Turkey will not only gain income from Tanap, it will provide an alternative energy supply source and lessen the nation's dependence on Russian gas," he said. Turkey will also continue to receive gas from SD1, Socar said, or about 6.6bn m³/yr until 2019.
Kama Mustafayeva