Socar determined to complete Desfa deal
Azerbaijan state oil company Socar is still interested in becoming a stakeholder in Greek gas network operator Desfa, but the government needs to lower the price tag, the company CEO said September 5.
"They [the government of Greece] made changes that contradict the tender procedures; the agreed terms for privatisation were changed and now we are waiting the explanation from the government," Socar president Rovnag Abdullaev told reporters.
In July the Greek parliament ratified an amendment severely limiting Desfa's ability to hike tariffs and, therefore, the company's revenue potential.
Abdullaev said now the value needs to be halved as the owner could not achieve the revenue that was calculated earlier. "It should cost less than estimated during the tender," he said.
Nevertheless, Socar was the winning bidder of a Desfa international tender and the company is determined to defend its claim for completion of the deal, Abdullaev said.
According to him at this stage Socar will not appeal to a court but willing "to defend its interests till the end... Why should we abandon the deal if we won the tender?" he asked.
Socar agreed to buy 66% of Desfa for €400mn ($446mn) after winning an international tender in 2013. After being ordered by the European Commission (EC) to surrender a 17% share to a certified European operator, Socar agreed to resell part of its 66% to Italy's Snam. "Snam is with us in all talks with the Greece government," he said, adding that the deal with the Italian company will only be finalized only after resolution of the current situation.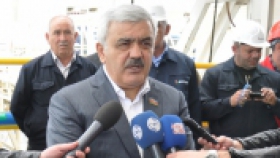 Socar president, Rovnag Abdullaev
"The operator's market value has been reduced and the risk level has increased, which is why we expect specific moves from the Greek side in order to cover the damages caused," says Azerbaijan's ambassador to Greece Rahman Mustafaev, Greek weekly To Vima reported September 5.
The sources hinted that if the deal was abandoned, the Greek government, which inherited the Desfa sale from the country's previous administration, will need another grid operator sale plan, based on the IPTO (power grid operator) sale now in progress.
Kama Mustafayeva